Sock & Waters Earn Their Way to the Finals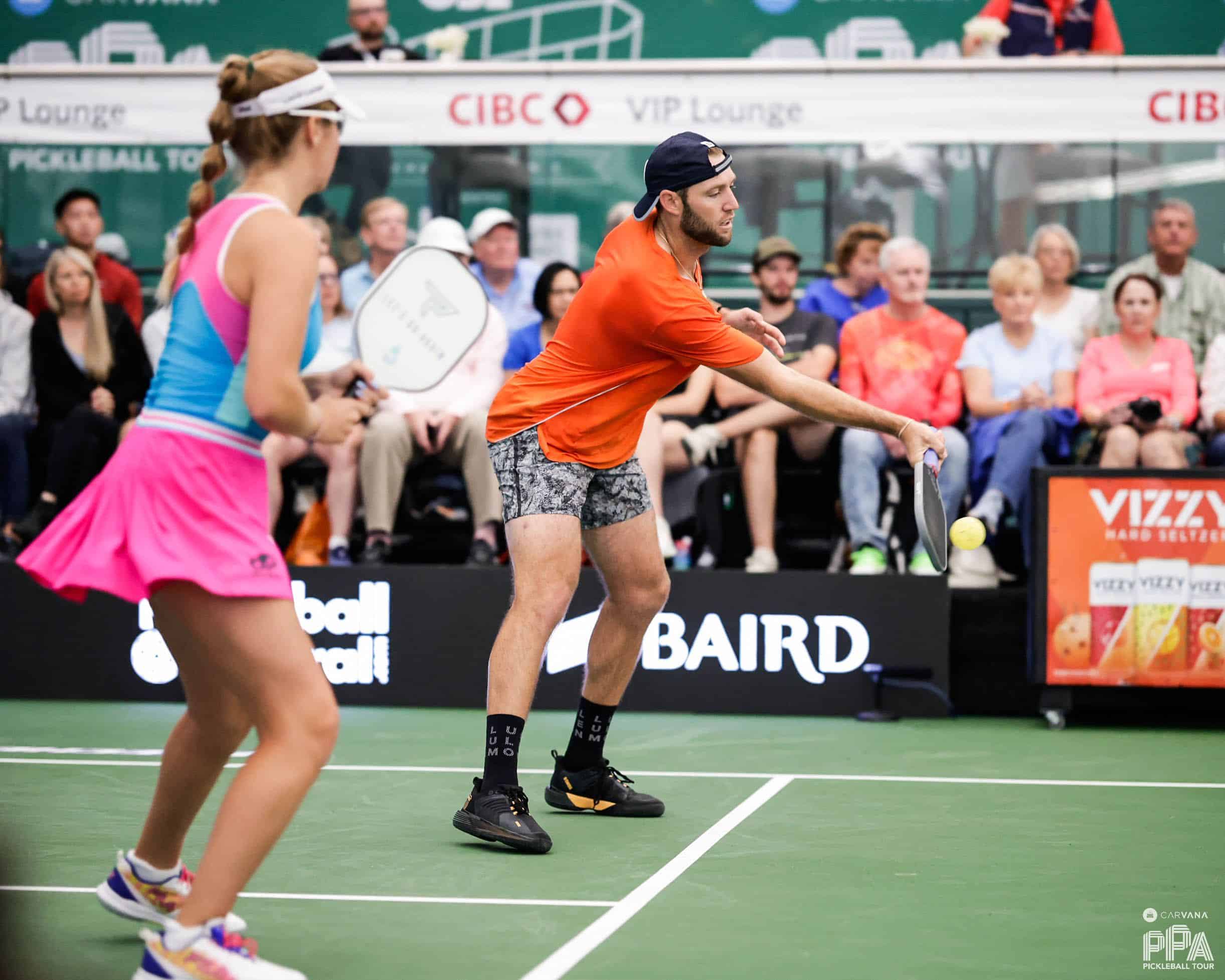 There's the forehands and the backhands and the athleticism. Jack Sock has all of that.
He said it's the nuances of the game that are the hardest thing to figure out with pickleball.
But after staring down Julian Arnold and doing a bit of chirping with one of the high-profile players on the PPA Tour, it sure looked like Sock fit in just fine.
"It's all in good fun. I'm competitive," Sock said. "In tennis there's not a lot of that, so it's fun to get out there and say some stuff. I love the energy."
That energy, the backward hat, and the smile will be on display at 6 p.m. (EST) Sunday as ESPN2 will broadcast the final of the North Carolina Open as Sock and Waters take on Riley Newman and Allyce Jones.
Not only did Sock have all the shots, plenty of energy, and "the" partner (Anna Leigh Waters), Sock was also a winner on Saturday, teaming up with Waters, making just enough noise, and rolling his way into the mixed doubles final in his first tournaments as a pro, losing just a single game along the way.
"She's used to it," Sock said of playing on Sunday. "I wanted to help get us there and we accomplished it. It's super fun and I'm excited."
With an array of wild athleticism and unconventionality, Sock made more unforced errors than any player in the semifinal victory, but he also created more chances. That, along with the fact Waters was her usual self, led to a 9-11, 11-6, 11-7 victory over Arnold and Vivienne David in the semifinal.
According to @statsrealclear, a Twitter account that tracks pickleball statistics, Sock made 34 unforced errors in the three-game victory, but Waters had just 10. Waters more than made up for Sock's errors, helping the pair to outscore David and Arnold 26-13 after falling behind 10-5 in the first game. 
Meanwhile, Sock took his tennis power to the pickleball court. He and Waters had 57 speed-ups in the match, according to @statsrealclear, compared to just 32 from Arnold and David. Basically, Sock was willing to attack while aware that he'd make more errors. The trade-off was worth it. It worked.
"There's not one style of play in pickleball," Waters said. "He uses his athleticism and does what wants to do. He plays to his strengths."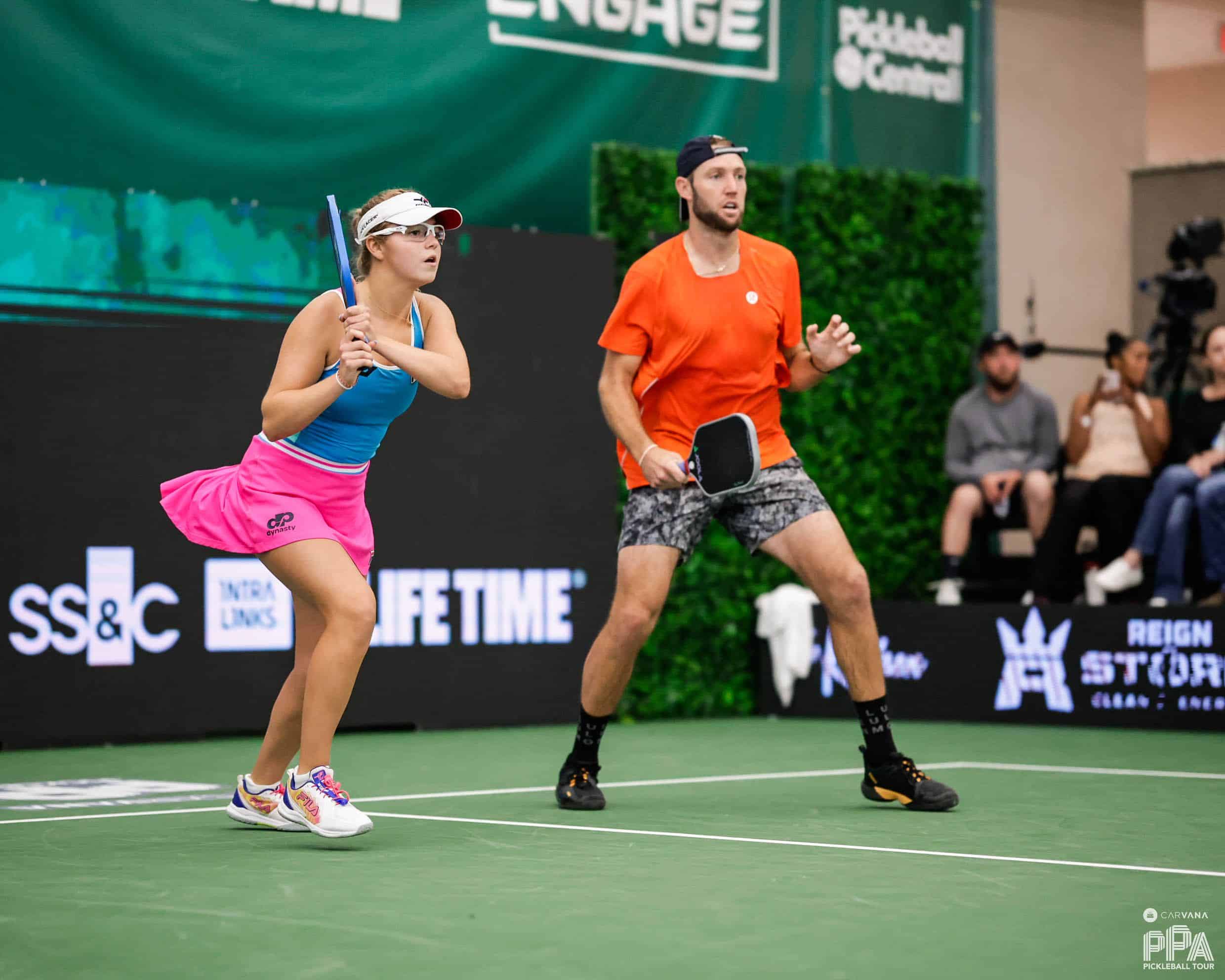 Speaking of which, so did Newman. A self-admitted "ball hog," Newman took over Friday, where he and Jones upset the No. 1-seeded team of Tyson McGuffin and Catherine Parenteau, 11-5, 15-13, and earned a spot opposite Sock and Waters in the final.
"It was just both of us going after everything," Jones said with a smile and a laugh. "I do a pretty good job of getting out of his way."
Jones was joking, but while Newman definitely takes up a lot of the court, Jones was sensational defensively in a match where the crowd was decidedly in McGuffin and Parenteau's favor.
"The crowds were against us," Jones said. "Everyone wants him to lose."
Like Sock and Waters, Newman and Jones were playing together for the first time.
"Sometimes that can be difficult," Newman said. "But Allyce makes things easy. She gets everything back and lets me take a lot of the court, which I like. I'm kind of a ball-hog. I'm sorry."
Hey, it worked and no apologies necessary. ESPN2 is going to get a great match Sunday evening.
"I love team sports," Sock said. "It's a blast being out here. I'm just hoping to carry my weight."