There's no Ben Johns in Minnesota.
Anna Leigh Waters was somewhere warm, posting videos of her dog on Instagram.
And for the first time in PPA Tour history, Championship Sunday is void of all the Waters, all the Johns and all the Newmans.
But guess who's still around?
There are up-and comers, there are new faces, and there have been some upsets, but Callie Smith has demonstrated that she is still one of the top names to beat. She and partner Lucy Kovalova earned their way back to the finals with a 9-11, 11-2, 11-7 victory over Andrea Koop and Anna Bright.
"It's awesome to be here in the finals again with my partner Lucy," Smith said. "Do you see these smiles right now? This is what it means to play pickleball. I love my partner, I love pickleball, I love Minnesota. Let's go!"
It's not like Smith's showing on Saturday was a surprise, to be clear. She and Kovalova were the No. 1 seeds and they're also the defending champs here at the Indoor National Championships in Lakeville, Minn.
But Smith and Kovalova have been pursuing another title together for most of the latter end of 2022 with no success and they're hungry for a big finish. And at a tournament where several players have grabbed headlines for a number of different reasons, Smith is still at the top of the women's game.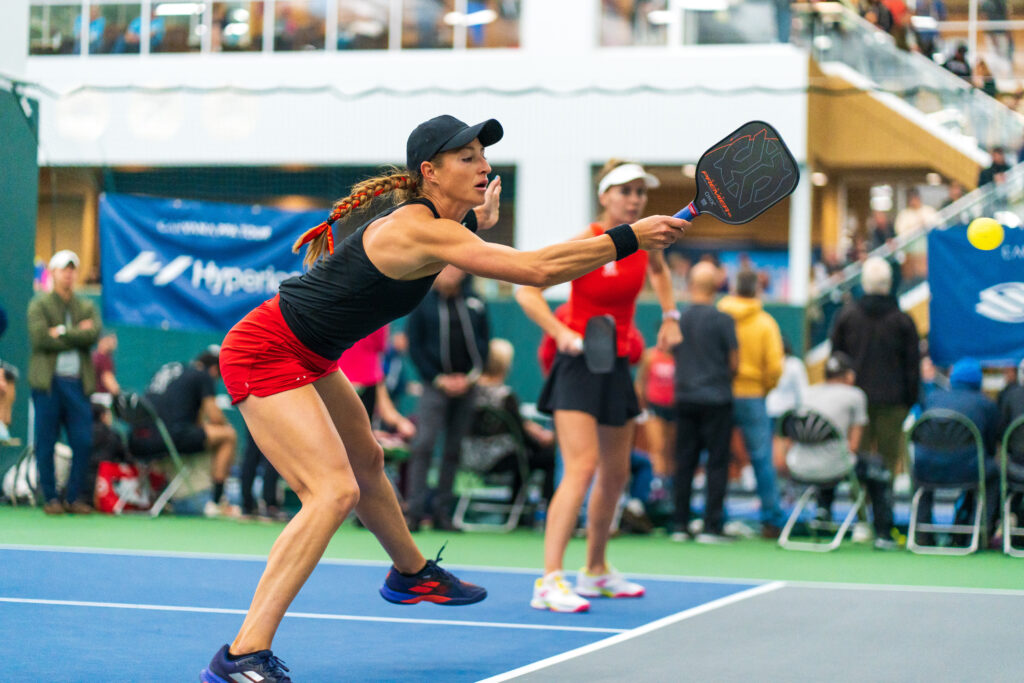 JW Johnson is going for a pair of golds. So is James Ignatowich, who has stolen a large portion of the spotlight this weekend thanks to his incendiary interviews as well as his stellar play. On the women's side, Lea Jansen and Catherine Parenteau are also going for "double crowns" Sunday in Minnesota. We've also got a compelling storyline in the shape of the Julian Arnold-Lauren Stratman pairing in mixed doubles, too.
So, where does that leave Smith?
Well, she and partner Dylan Frazier made it to the semifinals in the mixed draw and then earned the bronze with an 11-8, 11-7 victory over the top-seeded team of Riley Newman and Bright. Smith, who earned silver last year in Minnesota in singles, skipped that draw this year.
Now she and Kovalova have quietly made their way to the finals Saturday allowing just five points total in four games in their first two matches before facing Bright and Koop in the semifinals.
Not bad for a player who kinda, sorta, maybe admitted to not wanting to be here in the cold and snow of the upper Midwest.
"First of all, Minnesota is amazing," Smith said after her semifinal victory. "I'm not going to lie, I wasn't super excited to travel from cold weather in Utah to cold weather in Minnesota, but you guys made it worth it. Thank you for being here and cheering and supporting me."
The top-seeded duo will take on the second-seeded team of Lea Jansen and Allyce Jones in Sunday's final. Jansen and Jones topped Yana Grechkina and Etta Wright in the semifinals, 11-4, 11-9.
Grechkina and Wright beat Koop and Bright to earn themselves a big third-place finish, 11-2, 11-7.
On the men's side, JW Johnson and partner Dylan Frazier, upset the No. 1-seeded team of Riley Newman and Matt Wright, 11-5, 11-9. Johnson, the No. 8 seed in singles, also made the final. He'll face James Ignatowich in the first match of the day in the men's singles draw.
Johnson and Frazier will play against surprise finalists Federico Staksrud and Pablo Tellez. Tellez and Staksrud, as the No. 11 seeds, won against the No. 6 seed in the second round, beat No. 3 seeds Dekel Bar and AJ Koller in the quarterfinals, and then topped the seventh-seeded team of Jay Devilliers and DJ Young in the semis, 11-5, 11-9.
Newman and Wright earned the bronze with an 11-6, 5-11, 11-5 victory over Devilliers and Young.