Slovakian native Lucy Kovalova is known for her tough demeanor on the court and wicked two-handed backhand. A fierce contender in the doubles divisions, Lucy has a set partnership with Simone Jardim (Women's) and Matt Wright (Mixed). Lucy is 29 years old, a former college tennis player, and is currently ranked #3 in Mixed Doubles and #2 in Women's Doubles. We spent some time chatting with her about life as a pro pickleball player.
What does an average day in the life of Lucy Kovalova look like?
My average day starts with a big breakfast with coffee (my favorite meal of the day), going to work – either tennis or pickleball, more coffee, workout – either cardio or weights or both if I feel like an overachiever (haha), probably more coffee, a healthy lunch, quick nap if I have time, and then back to work for a couple of hours. After a long day, I'm hoping to be asleep by 10 pm (very boring, I know, haha).
What have your interactions with fans been like?
My interactions with fans have been amazing. I appreciate every single person that cheers for me/us or comes by and chats or asks for a picture. During Covid, we played many tournaments without fans and it wasn't the same. I love all of our fans and the atmosphere they bring. And especially to my fans – thank you! 😘
What is something most people might not know about you?
Something that people might not know about me is that I came to the USA when I was 18, in 2011, to join the tennis team at Wichita State University. I barely spoke any English, so let's just say that my first year wasn't easy. A couple of years later, I graduated with my MBA in 2019.
What are some of the differences between American and Slovakian life?
I would say that American life is full of opportunities and options. People can follow their dreams and everything is possible. I'm glad I grew up in Slovakia because that shaped me as a person for sure. I think Slovakian life, at least what I remember (haha), is definitely more structured and doesn't have that much potential for growth. Also, I would say we are more family and vacation-oriented – that's why I'm trying to bring the "Slovakian side" into my American life.
How did you start playing pickleball?
I started playing pickleball in the fall of 2015. I was playing some sort of paddle tennis with a group of guys, led by Matt Wright, over the summer, and then later that year, we discovered pickleball. I don't really know how I got invited into this guys' group, but I'm glad I did. We learned the rules and how to play from YouTube because we were the first ones in town to play pickleball. After a couple of months of playing, we all decided to play the first US Open in 2016. I didn't have any expectations going into my first tournament but we did very well surprisingly.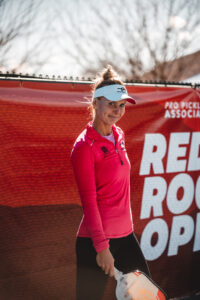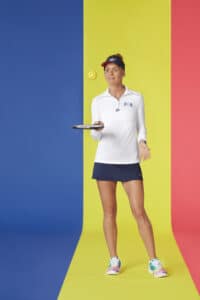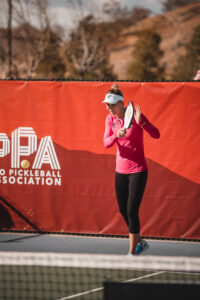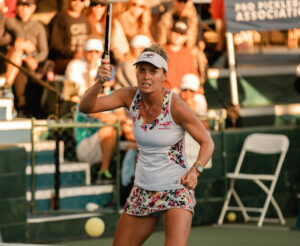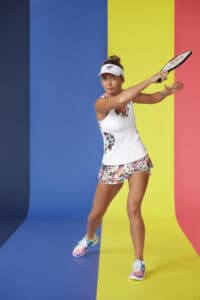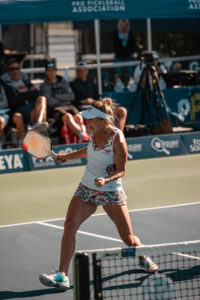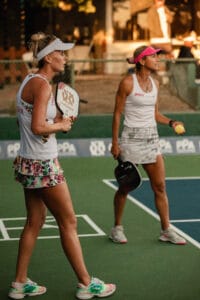 Can you describe yourself in five words?
Athletic, Fun, Slovakian, Competitive…..& Shopaholic.
What do you think are your greatest assets on the pickleball court?
I think my greatest assets are my partners, Simone and Matt. I can always count on them and they have never let me down, at least so far (haha). Besides that, maybe my two-handed backhand and forehand put-aways.
Do you have any sponsors that support you in your pickleball career?
I couldn't be much happier with my awesome sponsors:
ONIX – the best paddles and accessories. I love my amazing Evoke Premier Paddle.
Jigsaw Health – the best hydration and supplement company on the market. My favorite products are Pickleball Cocktail and Electrolyte Supreme.
FILA Pickleball – awesome clothes and accessories. My favorites are the tie-dye shoes and the new clothing line that was introduced this year.
Another organization that supports all pickleball players is the Professional Pickleball Association. The PPA is doing an amazing job hosting our tournaments, taking care of players and fans, and growing the sport. Can't wait to see what this year and the next few years will look like.
Tell us a little bit about your latest partnership with FILA Pickleball!
I think FILA getting involved in pickleball is amazing for the sport. To see such a legendary brand paying attention to pickleball will only help the sport to grow. So far, working with FILA Pickleball has been a great experience; they truly care about what players want, what they are interested in, and also what will make them look good. I really couldn't ask for a better sponsor, and I look forward to what the rest of the year holds for the partnership.
What are your pickleball goals for the rest of the 2021 season? What are your career goals?
As a competitor who doesn't handle losing well, of course, I would like to win every time I step on the court to play a match. Unfortunately, many players have the same goal…to win. So, I think my goal is to stay at the top of the game for as long as I can, keep getting better, and don't let my partners down.
My career goal is to compete in front of my parents and family. My parents are in Slovakia and they have always been my biggest fans my whole life. Currently, they live-stream every single match that has been posted online and my dad loves to coach me when we FaceTime (even though he only knows the theory because he hasn't played pickleball yet haha). I really miss them, so I hope one day they can see me compete in person. I would definitely want to win for them that day.