McGuffin, Parenteau try for the Double Triple Crown and Newman is back in a final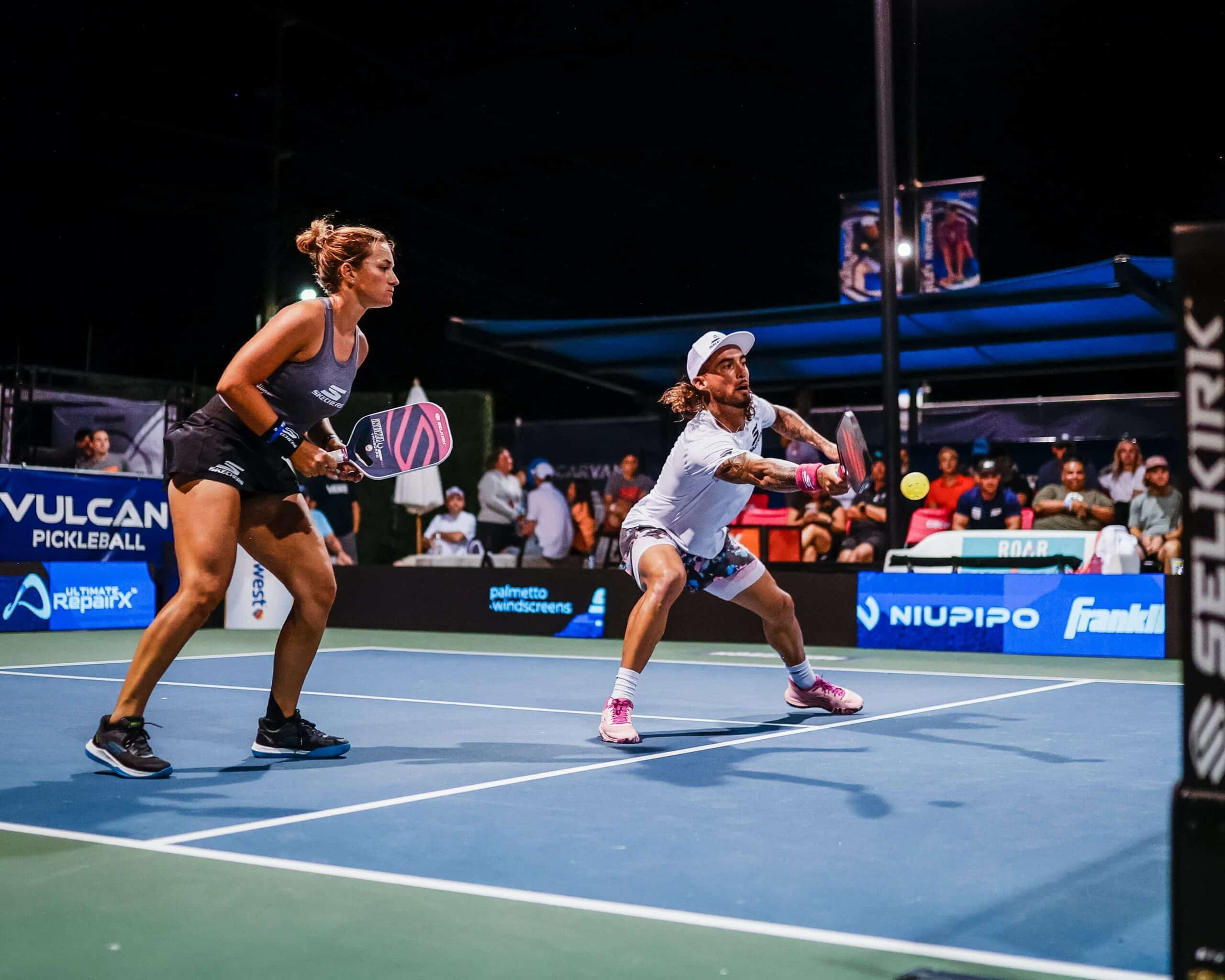 It's Championship Saturday at the Tournament of Champions in Utah and there's a bit of a throw-back feel to heading into today's schedule of matches.
Not exactly, "Old School," but certainly not what we're used to seeing. At least not lately.
There's no Anna Leigh Waters and there's no Ben Johns, but there ARE two players vying pickleball's greatest triumph today – the Triple Crown.
Catherine Parenteau and Tyson McGuffin are both lined up for an attempt at the Triple Crown. If achieved, it would be Parenteau's second ever and McGuffin's first. In fact, were McGuffin to capture his Triple Crown today, he would be the first male player, outside of Ben Johns, to ever achieve the Triple Crown.
How about that?!
Parenteau and McGuffin are two of the biggest names in the PPA game. McGuffin has 62 medals all-time on tour but has never gone gold in all three events at the same tournament. Parenteau has 82 medals and a single triple crown.
The two will be taking up most of the court time today as each will be playing in three of the five matches.
However, there's no one who takes up more court than Riley Newman – and Newman is back in a final for the first time since splitting with long-time partner Matt Wright.
Newman is among the giants of the game – right up there with McGuffin, Parenteau, Johns, and Waters. A top-tier talent who has won 70 medals on tour, 12 coming in men's doubles where he will be going for his first gold since October of 2022. It's also Newman's first finals showing since May.
"I wasn't playing my best and I took about six weeks off," he said. "I needed to go home, relax and recharge. The game is coming together again and I'm getting back into the grind and happy to be back in the championship where I hope to be taking names."
Newman's game is magnanimous. He charges all over the court, without much use for conventional pickleball and no real sense of boundaries. Hawklike, Newman poaches and hunts down shots in a predatory fashion. He's the kind of guy you want on your side of the court if winning is the primary objective.
Newman's game is known, but the name he's most associated with is Matt Wright. Along with Wright, who he partnered with for 18 months, the two were the second-best team in pickleball. They managed seven golds and 15 silvers over that span. However, Newman shocked the pickleball world when he made the announcement he was going to split with Wright in early June. Since then, neither has medaled in the past three tournaments.
And now Newman is back in a final, alongside AJ Koller, and the two will take on McGuffin and James Ignatowich.
"It was a tough decision," Newman said of moving on from Wright. "We played for a year and a half and we did so well. We were getting medals in almost every tournament and those were typically silver and bronze, and as much as those were good results, I wanted to get gold. It was a difficult conversation but Matt and I are still good off the court. There's no bad blood. It was a good run."
The run on Friday for Newman and Koller was impressive, knocking out fourth-seeded Jay Devilliers and Patrick Smith in three games in the semifinal.
"AJ has a lot of funk to his game, and he's really difficult to read when you play against him," Newman said. "I've noticed that when I've played against him, so I wanted to team up and be on the same side of the court. There are a little bit of kinks. It's not super smooth, but you're going to have that with a new partnership, and we're getting more reps. We'll be able to dial in who has what shots. He told me, 'I don't care. I just want to get to the finals.' He's been a good partner, doesn't have a big ego, and just wants to win. I love that." 
The day starts with the men's doubles match. After that, it's mixed doubles with Smith and Tina Pisnik taking on McGuffin and Parenteau. After that match, Parenteau and Parris Todd will take on Callie Smith and Allyce Jones. 
The day finishes with singles matches. The first is McGuffin vs. Connor Garnett and the finale is Parenteau vs. Salome Devidze.
Click HERE to watch Championship Saturday live on YouTube!