Did you hear what they said? Podcasting in Pickleball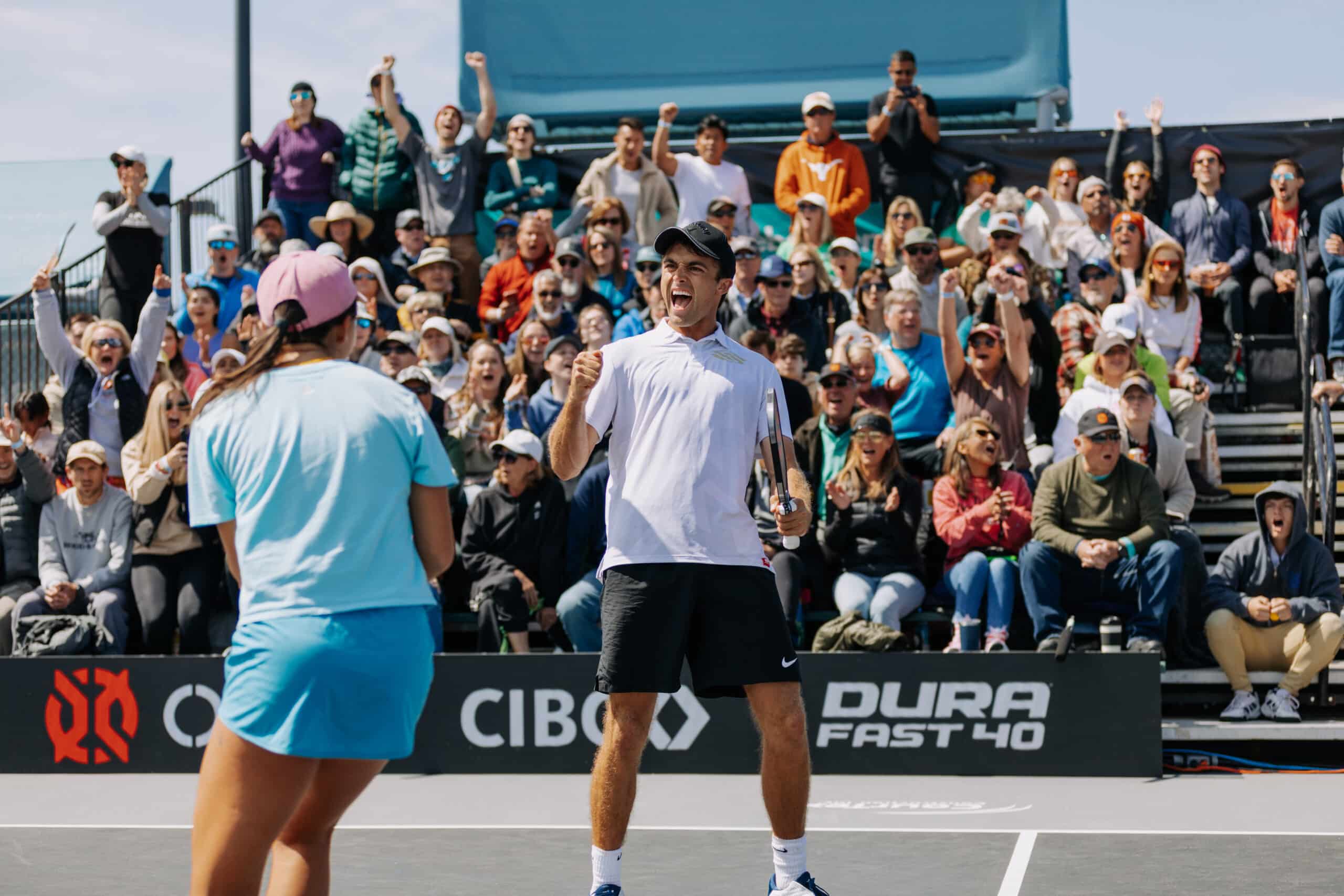 Pickleball podcasts, driven by players, are gaining in popularity.
The Wild West of pickleball isn't only what's happening on the court.
It's what's said off of it. Done with a headset and a microphone, blasted out for the world to hear.
Unlike other sports – football, basketball, baseball, golf – which have been around forever, pickleball is new, and there are voices shouting from the mountaintops to be heard.
Podcasts are "the thing" these days – popular and filling a niche for fans desperate for more pickleball. And players are talking, filling the airwaves with their personalities, opinions, hot takes, accusations, and more.
Winning is important, sure, but not everyone can do that. But building a brand? Yep. That's unclaimed territory where players can invent and reinvent themselves without a volley or a dink.
"There's a lot of personality in pickleball right now," said Tyson McGuffin on his latest episode of 'The McGuffin Show.' "There are a lot of players trying to make it, and players trying to use other people's clout to build their brand. It's very entertaining to see how players are trying to make it."
McGuffin is a natural. One of the most established names in pickleball, McGuffin has a fanbase that he's cultivated based on his play and his flashy looks which include a mullet, bright colors, and a landscape of tattoos. He also has a flawlessly produced podcast. McGuffin weaves his way between talking about his sponsors, bantering with his wife who is the co-host of his show, and talking about the game, competitions, and other topical events in the sport.
Anna Bright and Dylan Frazier team up for "The Drop," which is hosted by the popular pickleball social presence, The Kitchen. Zane Navratil and Thomas Shields of the pickleball media platform, The Dink, do the "Pickle Pod." Ben Johns has dabbled in podcasting, and the "James Ignatowich Show" features Ignatowich interviewing a different guest each week. PPA player Travis Rettenmaier is the host of the "Tennis Sucks" pod along with his close friend and MLP owner, Graham Damico, where Rettenmaier is not shy about dishing on any and every topic. Plus, just recently, Tyler Loong released his first episode of "King of the Court." 
Basically, there's a traveling pickleball circus of players and guests serving their opinions all over the podcast internet.
"It's important for players to have an outlet to say what they are thinking and build a relationship with fans," Ignatowich said. "You want to be able to get to know players, and this is something that can build a connection and that can build a long-term fan base."
As pickleball grows and fans of the game are looking for entry points into the sport, podcasts are an excellent way for pro players to get a few words in, control their own message, and have some fun, too.
"It's necessary to get your voice out there and grow your brand," Navratil said. "We are sort of the pioneers of professional pickleball at the moment, so making your mark and establishing a personal brand could easily have long-lasting benefits. It is only going to continue to get more difficult to establish yourself in pickleball."
Navratil and the Kitchen are an established brand, achieved through Facebook and other social media platforms, including podcasting. Success on the court is important, but personality off the court is invaluable. Because fans are listening and reading and gobbling up whatever juicy pickleball tidbits are available to be devoured, and players and podcast hosts are desperately rushing to invent themselves as a voice that people want to hear from.
Check out what's happened recently. In the past few months, on a variety of pickleball podcasts, players have accused others of cheating, being bad teammates, urinating on garden plants, engaging in sexual dalliances, using illegal paddles, being a bad sport, and more. Pickleball podcasts have become reality shows with a paddle. There's no protocol or standardized way for players to talk. Most players in the game haven't been in a media spotlight, and even fewer have done any sort of media training. All of that leads to some interesting gossip and "did you hear what they just said," kind of content. But there's a downside to all of the off-the-cuff discussions, too.
"In some ways, it's great," said Loong. "Fans and players can interact a little more. However, I think players should be careful saying things they might not have thought out all the way. That could affect sponsorships, partnerships, and overall perception. Once something is said and put out on social media, oftentimes it's impossible to go back."
Being forthright is admirable. Saying what you feel is, as well. But people get hurt. Relationships can get strained and apologies may not be accepted. However, with the proliferation of podcasts in the past year, it's obvious some players, hosts, and guests understand that talking a big game into a microphone is a calculated way to becoming a big brand.
Fire it out there now. Say you're sorry later. Or maybe don't. If people are listening, commenting, and clicking on all those socials, is it something we should be worried about?
"It's a weird thing, talking about your peers and your friends," Bright said. "In a sense, I don't want some of them to listen. I try to be well-liked, and when I make a criticism, I want it to come across as just my take."
"Takes" come cheap these days in pickleball. There are paddle controversies to be discussed regularly. There are partnerships to be dissected, tournaments to recap, and stories to tell. The more interesting, the better, and really, is a show without an opinion or "take" even worth listening to?
"My main thought on doing a podcast is that it's fun," Ignatowich said. "That's the biggest thing. I think it probably helps the brand to be transparent and controversial. It's fun to say what just comes to your mind and, overall, it's kind of cool that people will listen to what I have to say now."
So many voices, new topics, and a frontier of possibilities that can attract advertisers and even bring in some passive income. It's a never-ending battle against your peers to get paid to play pickleball. Making some money talking about it is a viable option, and comes with less pressure.
"I'm like a right-side, probably like a 3.5 level podcaster," Frazier said of his social media/podcasting skills, comparing himself to the average pickleball player. "I don't have any experience in this stuff. I wouldn't consider myself really strong at podcasting, but I try to keep Anna going. She's the host. I'm the continual guest. I'm just trying to talk about things that people out there haven't heard."
There's plenty. No one outside of a few people deep in the weeds of pickleball knew what delamination was until a few months ago, and now everyone in the game talks about it like it was the latest episode of "The Office."
"None of us were famous for anything from a previous profession," Ignatowich said. "Now it's amusing that I can say something and get a reaction."