Wright and Johns back together and back in a final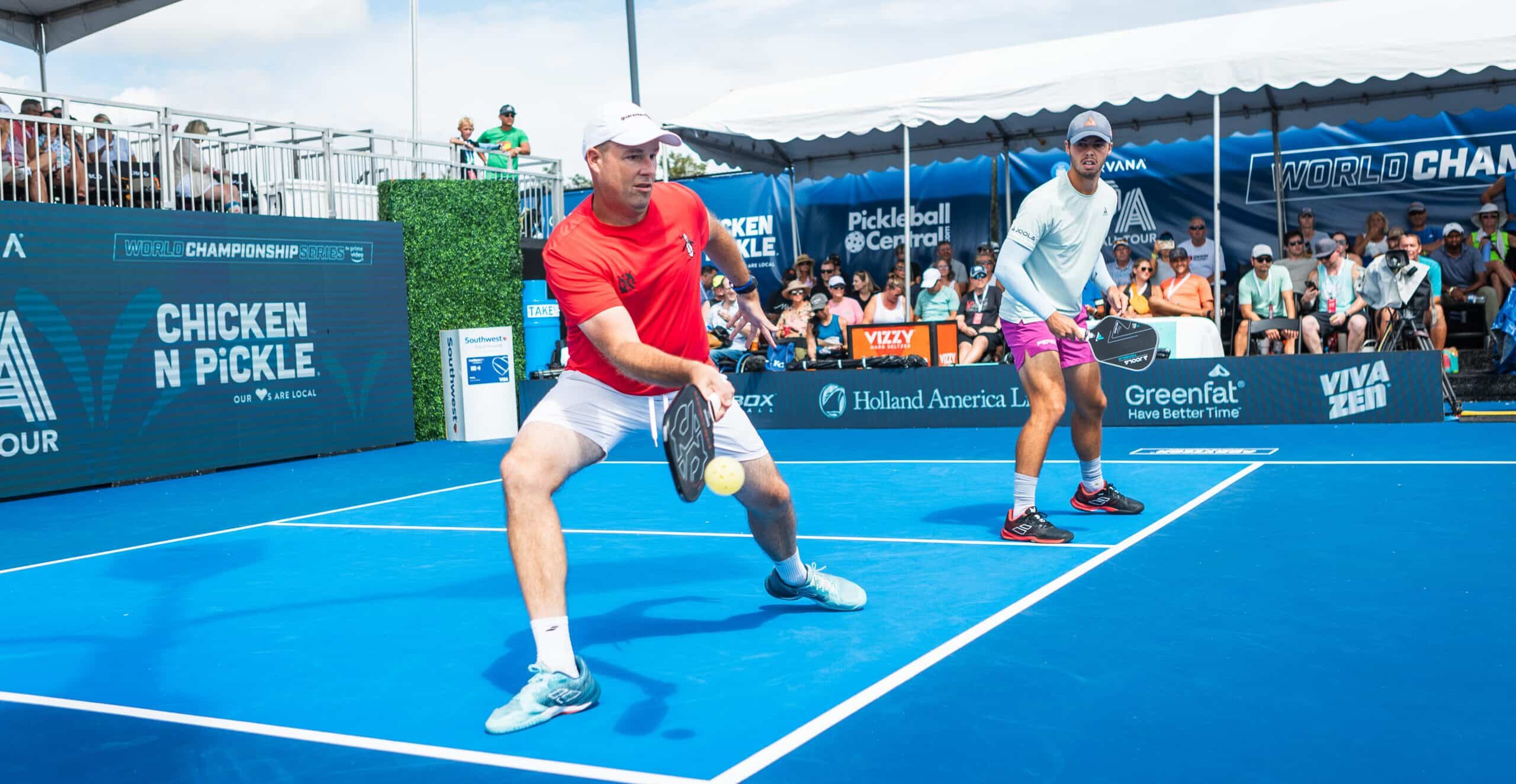 Matt Wright has won too many medals and has won too often to feel the need to prove anything. 
But you just have to think he may have a little bit of, "I told you so," attitude attached to his paddle on Saturday in Kansas City.
Wright is back in a final for the first time since early June after longtime partner Riley Newman split the team apart.
But it's Wright, not Newman, who is in line to win gold this week in men's doubles at the Kansas City Open. He and partner Ben Johns will play hometown boy Dylan Frazier and JW Johnson later today.
"I don't feel like I have anything to prove," Wright said. "I focus on being the best I can be as a player and partner and do everything I can to help the team win."
OK. That's a fair answer. After all, Wright isn't a guy who has just sort of hung around on tour and won a few times. He's been prolific, earning 63 medals and a healthy haul of 17 golds. But when Newman distanced himself from Wright earlier this summer, there was a feeling that Wright's better days were behind him.
However, when Collin Johns went down with an achilles injury a few weeks ago, Ben Johns snapped up Wright to pair up for the Kansas City Open and knew Wright was someone who wasn't just taking up space on the court.
"The chemistry felt great," Ben Johns said. "His energy is easy to play with."
Vulcan Kansas City Open 2023

Vulcan Kansas City Open 2023
Wright and Ben Johns have a successful history together, too. They have teamed up to win in the past, taking seven golds on the PPA Tour, so it wasn't like Ben Johns was just blindly selecting a partner. He knew Wright's abilities and he also knew the backstory of what happened with Newman.
"I'm always out to win full tilt, no matter what," Ben Johns said. "So I wouldn't really say there's anything extra there for me, but if it makes winning any better for Matt, then I'm happy to assist."
And nothing like having the best player on the PPA Tour "assisting." Ben Johns is in line for a triple crown today, and when paired with Wright Friday, the two dropped just one game all day.
"Playing with Ben was so much fun," Wright said, referencing their time playing together as set partners. "He is – by far and away – the best player in the world, and it was a treat to be on the same side of the net as him. There is a reason he is the GOAT and has distanced himself so much from everyone else."
They dropped the first game in their second match of the day to Ben Newell and Daniel De La Rosa, but gave up a total of six points in the final two games and won. In the quarters, Wright and Ben Johns allowed only six points and then the two beat Zane Navratil and Christian Alshon in their semi, 11-8, 11-5.
"There was definitely some nostalgia on and off the court today," Wright said of playing alongside Ben Johns for the first time in about 20 months. "Ben and I have a great history together, and I think we both thought about some great memories throughout the day."
"We did a little bit of talking," Ben Johns said. "But we just kind of assumed once we started playing things would fall into place again. It wasn't weird. It felt pretty natural and easy to play together again."