Maybe it's just mom worrying about her daughter and wanting what's best for her, but Leigh Waters proved again on Saturday that she's certainly good enough to play at the very highest level of professional pickleball and will continue to be for the foreseeable future.
A week ago, Waters wasn't quite as confident in her abilities, as Team Waters was knocked out in the semifinals at the Baird Wealth Management Open and did not medal. However, this week at the Peachtree Classic in Peachtree City, Ga., the game and the smile were both back, as Waters proved once again that she belongs at the top.
Saturday, Waters and daughter Anna Leigh Waters won 22 of the final 23 points and cruised into Sunday's Championship women's doubles final with an 11-5, 11-1 win over third-seeded Catherine Parenteau and Lea Jansen.
The victory means a rematch from last week's semifinal in Cincinnati won by Jessie Irvine and Anna Bright.
"Last weekend, I would have said I never wanted to play again," Leigh Waters said with a bit of smile after failing to make the final in the women's doubles and mixed doubles in Cincinnati. "The level wasn't there. This weekend I really tried to focus and up my game and be there for Anna Leigh. As long as I'm playing well, I want to play with her, but as soon as the level drops, that's when it's time for her to find a new partner."
Well, we can delay the search for now. The level was there all day Saturday for the second-seeded duo. They gave up just 14 points while working their way through the bracket. Meanwhile, the pairing of Irvine and Bright seem to be getting better and better. After winning gold last week, the two beat top-seeded Lucy Kovalova and Callie Smith, 11-6, 2-11, 11-5 Saturday in Georgia.
"We're just enjoying what we're doing," Irvine said. "We try hard for every point. Our goal is to be No. 1, but also just to play good pickleball and have fun."
The partnership of Bright and Irvine has had a lot of success recently after the two joined forces late this year and came away with a Grand Slam finish in Cincinnati just last week.
Kovalova and Smith went on to win third place, earning an 11-9, 12-10 victory over Parenteau and Jansen.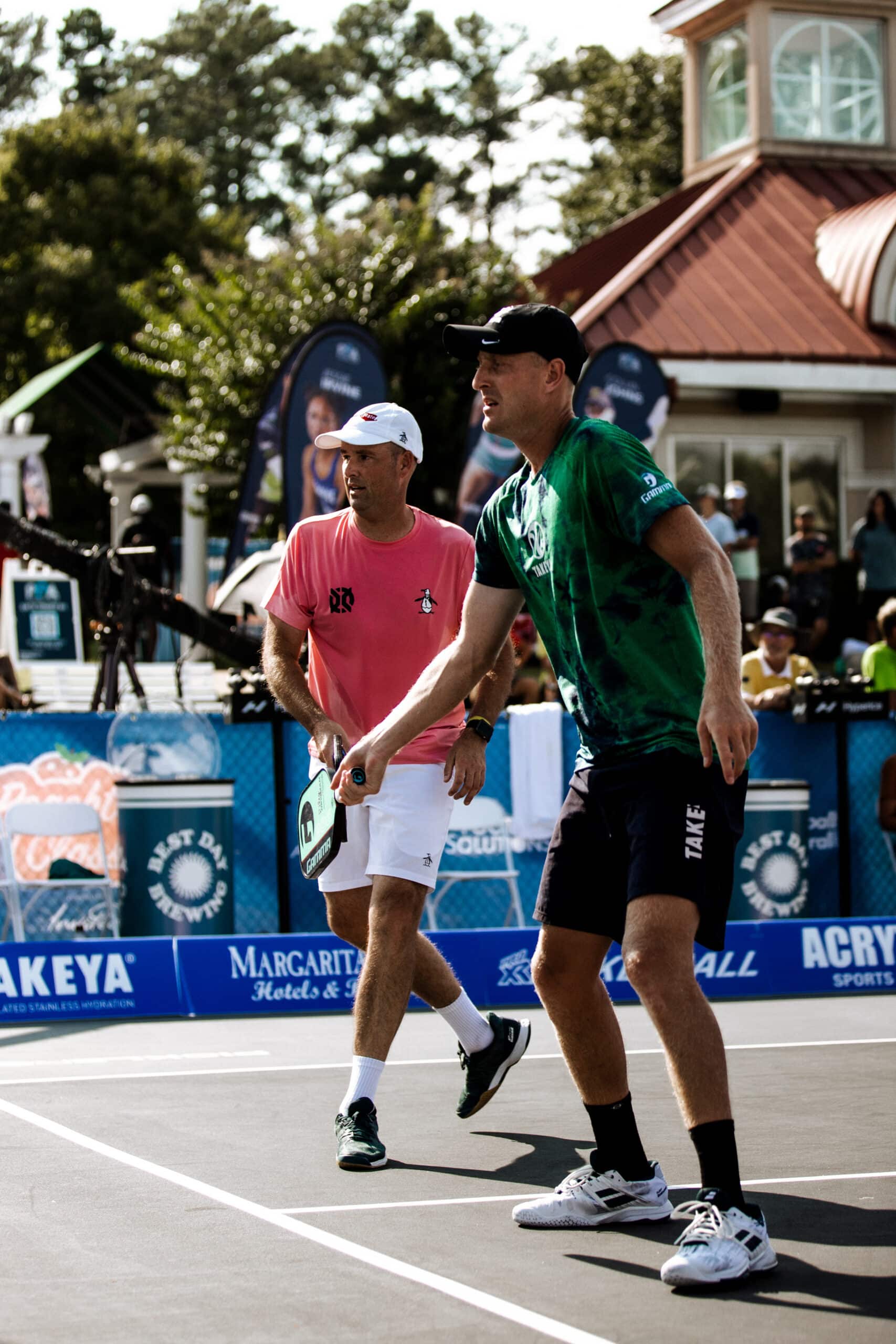 Meanwhile, on the men's side, after a week of neither Riley Newman or Matt Wright playing on a Championship Sunday due to Newman's absence, the second-seeded team is back. They beat No. 3 seed Tyler Loong and Spencer Smith, 11-13, 11-8, 11-4 in their semifinal and will take on the Johns brothers – Ben and Collin, who advanced with an 11-6, 11-9 win against Tyson McGuffin and Jay Devilliers.
Newman missed last week's grand slam event in Cincinnati, as he was in Seattle throwing out the first pitch at a Mariners game. Wright missed out on Championship Sunday after losing on the men's side, paired with Smith, and falling in the mixed doubles semis as well.
"I didn't think we played our best," Newman said on Saturday after they fell behind 6-2 in game two before rallying for six points in a row and earning the victory. "We were mentally tough. We stayed in there and tried to get just one more ball back."
JW Johnson and Dylan Frazier, who played Thursday against each other in a singles semifinal, fell to Newman and Wright in the quarterfinals, but won four matches in the back-draw, including a victory against Devilliers and McGuffin, 15-6. This led them to the bronze medal match where they defeated the eighth-seeded team of Chuck Taylor and Patrick Smith 11-6, 11-2.
Anna Leigh Waters will play three events on Sunday, including a singles match against Callie Smith. She'll also play in the mixed doubles final alongside Johns against Parenteau and Newman, as well as the women's doubles final with her mom beside her. Johnson will take on Julian Arnold in the singles final.
Watch all the action from Championship Sunday in Peachtree City today on PPA TV starting at 10 a.m. EST or on Tennis Channel starting at 4 p.m. EST (delayed air).