Stats Desk: Preview to TOC Championship Saturday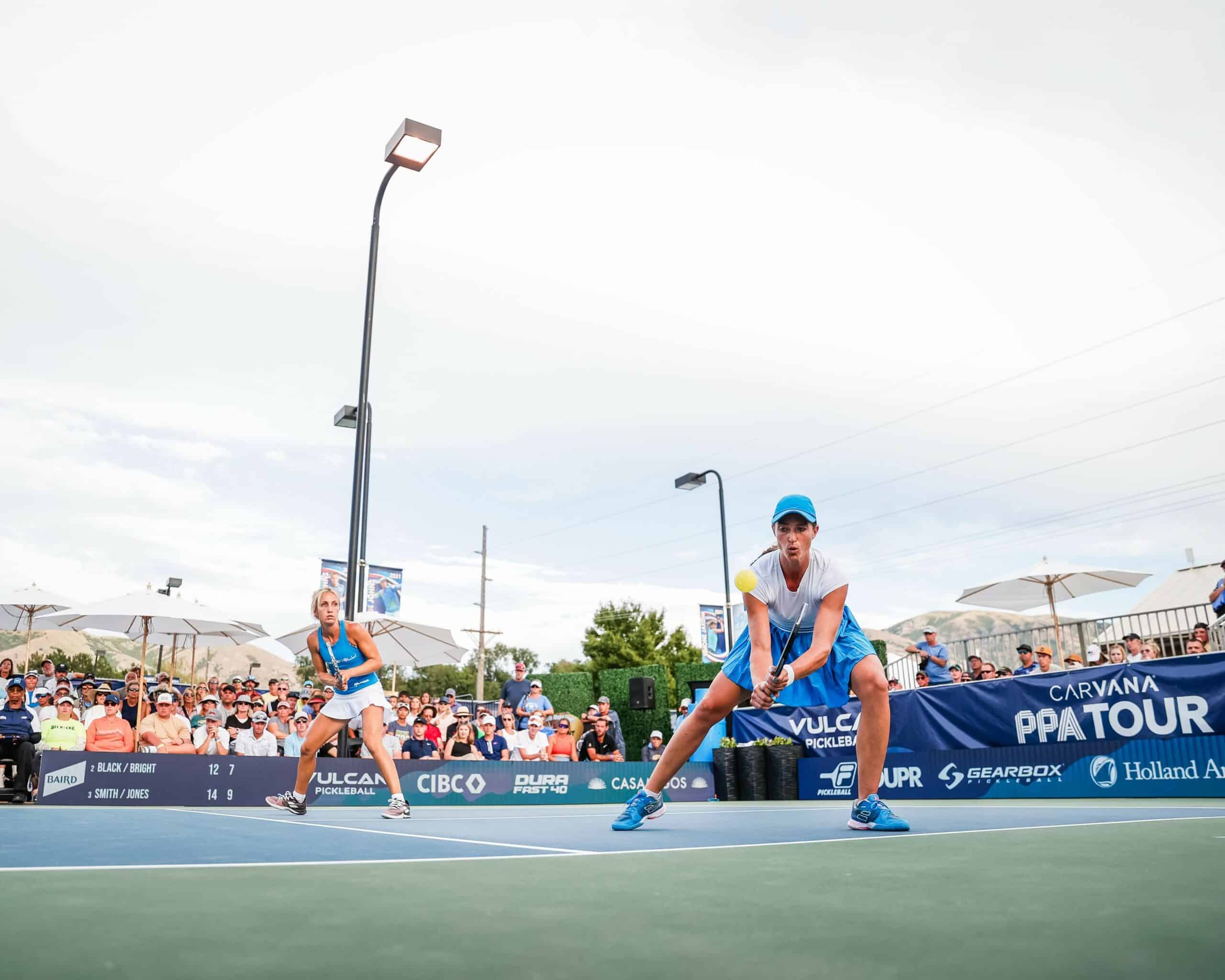 Elevation (4,436 ft), may be a factor, both for conditioning, and the ball flying faster.
A new combo for "Double Triple?"
Tyson McGuffin is trying to become the first male player other than Ben Johns to win a Triple Crown. Catherine Parenteau is trying to earn her second career Triple Crown. (The other was at the North Carolina Open in May 2022). Both Parenteau and McGuffin will have a quick turnaround because their Mixed Doubles semifinal did not end until 10:30 local time Friday night.
=== MEN'S SINGLES ===
#2 TYSON McGUFFIN is in his fourth singles final since April, earning two titles and a silver in that span. McGuffin beat Garnett in the final at Orange County in June, 12-10, 11-3.
#4 CONNOR GARNETT had a battle with top-seed Federico Staksrud in the semis, prevailing 14-12 in the third game. This is Garnett's fourth singles podium in seven tournaments. He has two silvers and a bronze.
Bronze: (1) Federico Staksrud beat #22 Christopher Haworth, who raised eyebrows by upsetting seeds 11, 6, and 3.
=== WOMEN'S SINGLES ===
#1 CATHERINE PARENTEAU needed three games to get past Yana Newell in the Quarterfinals. Newell picked up a silver at the Takeya Showcase two weeks ago. Parenteau has three singles titles this year, including one over Devidze at the final of the Red Rock Open in April, 11-1, 11-6.
#2 SALOME DEVIDZE is back after some time away from the Tour. She earned five singles medals in a six-tournament span from February to May.
Bronze: (5) Lauren Stratman def. (3) Irina Tereschenko (withdrew).
=== MIXED DOUBLES ===
#4 CATHERINE PARENTEAU and TYSON McGUFFIN are in their third final together this year, dropping both of those matches to Anna Leigh Waters and Ben Johns. Parenteau returns to action after winning a gold and two silvers at the Orange County Cup in June. McGuffin's only career Mixed Doubles title was when he played with Callie Smith at the Texas Open in June 2021. Parenteau and McGuffin beat the top seeded team of Jessie Irvine and Riley Newman in the semifinals.
#19 TINA PISNIK and PAT SMITH reach their first PPA Final. After the #2- and #3-seed both lost in the second round, that half of the bracket was wide open, and they seized that opportunity. The 42-year-old Pisnik was once ranked number 29 in the world in tennis (singles). Smith is coming off a Men's Doubles bronze-medal performance at the Seattle Open.
Bronze: ​(1) Jessie Irvine and Riley Newman vs. (15) Andrea Koop and Zane Navratil.
=== MEN'S DOUBLES ===
#1 AJ KOLLER and RILEY NEWMAN are in their first final together. It wasn't easy: they needed three games to beat the number 17 seed, then an 11-6, 14-12 win in the quarterfinals, and another three-game battle in the semis. Koller's only Men's Doubles gold medal was 23 months ago, playing with Newman in Las Vegas in 2021. A win for Newman would be his 20th career title. (He has 13 in Men's Doubles and 6 in Mixed Doubles.)
#7 JAMES IGNATOWICH and TYSON McGUFFIN defeated Christian Alshon and Connor Garnett in the semis and the number two seeds Andrei Daescu and Dylan Frazier in the quarterfinals. Ignatowich and McGuffin won a bronze medal at the Orange County Cup in June.
Bronze: ​(11) Christian Alshon and Connor Garnett def. (4) Jay Devilliers and Pat Smith (withdrew).
=== WOMEN'S DOUBLES ===
#3 ALLYCE JONES and CALLIE SMITH battled to reach the finals in their home state. They needed ten match points to win their quarterfinal match, then in the semis, they trailed 3-9 in Game One before winning 14-12, 11-7 against Hurricane Tyra Black and Anna Bright.
#4 CATHERINE PARENTEAU and PARRIS TODD stormed into the finals by beating the top-seeded team of JESSIE IRVINE and LEA JANSEN, 11-9, 11-5. Parenteau has won five gold medals in Women's Doubles with Anna Leigh Waters this year, and Todd is possibly best known for beating Waters in the Orange County Cup's singles gold medal match in June of 2022.
Bronze: (1) Jessie Irvine and Lea Jansen vs. (2) Hurricane Tyra Black and Anna Bright.