Two days, two top players, two issues in game two, and too much firepower after that.
For the second day in a row, the second game has been a problem for Ben Johns. Thursday, he did it on his own. Friday, he had help.
Just like Thursday when Johns came back after losing game two in his singles semifinal, he and partner Anna Leigh Waters were able to fight back on Friday, easily winning the deciding game. 
The result was an 11-4, 9-11, 11-1 victory over Jay Devilliers and Jessie Irvine, and the big picture result means that both Johns and Waters are in a singles final and a mixed doubles final apiece on Championship Sunday at the PPA's Hertz National Championship in Orlando.
"Game two, we got too relaxed," Johns said. "It's a game of runs, and they scored six points in one run and five in another. When you give up that many in one side-out, it's momentum based. We pulled it together in the third game and didn't make unforced errors, and that's what made the difference."
Devilliers and Irvine dominated the second game Friday. Devilliers also dominated the second game against Johns in their semifinal singles matchup on Thursday. And Johns pointed to a lack of focus in both situations. The effort was more pointed in both matches' third games, with Johns beating Devilliers in their singles match 11-2 in the third.
Both Ben and Anna Leigh go for a shot at the Triple Crown as they move through the men's and women's doubles draws on Saturday in Orlando – Ben beside partner Collin Johns and AL paired with Catherine Parenteau.
Meanwhile, Johns and Waters, the top seed in the mixed doubles field, will take on the No. 2 seeded team of Riley Newman and Catherine Parenteau. Newman and Parenteau cruised into the finals with an 11-3, 11-6 victory over Lea Jansen and Thomas Wilson, looking perfectly in-sync and playing clean, high-percentage pickleball.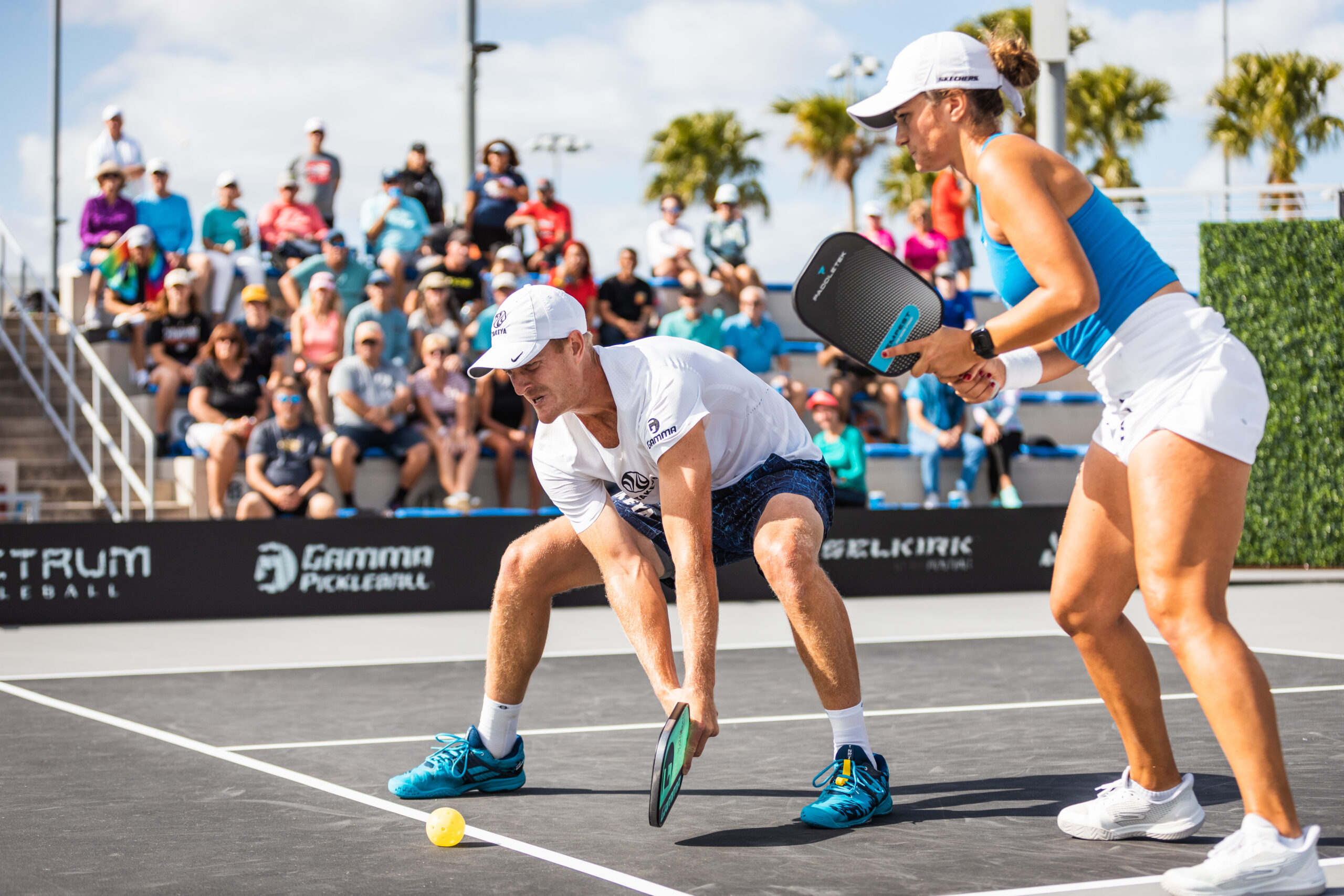 "We had some great chemistry and great energy out there," Parenteau said. "I hope we can bring that same energy on Sunday."
Parenteau and Newman had their toughest match-up in the quarterfinal against newly-minted, twinning-Selkirk-paddle partners – Parris Todd and Tyson McGuffin. The match went to three, with surprisingly decisive game scores, but Parenteau and Newman triumphed 11-1, 3-11, 11-2.
"Putting pressure, one more ball back, it's something I love to do," said Newman. "I love scrambling, I love playing defense, especially in slow, humid conditions in Florida." 
The 10th-seeded team of Anna Bright and Tyler Loong earned the bronze with a 7-11, 11-3, 11-5 win against Jackie Kawamoto and James Ignatowich. The match was a fiery one, with Ignatowich and Bright, who date each other off-court, taking turns getting loud as the match ebbed and flowed.
After an early loss in the main, Bright and Loong won an impressive six matches in the consolation bracket to earn the third-place prize.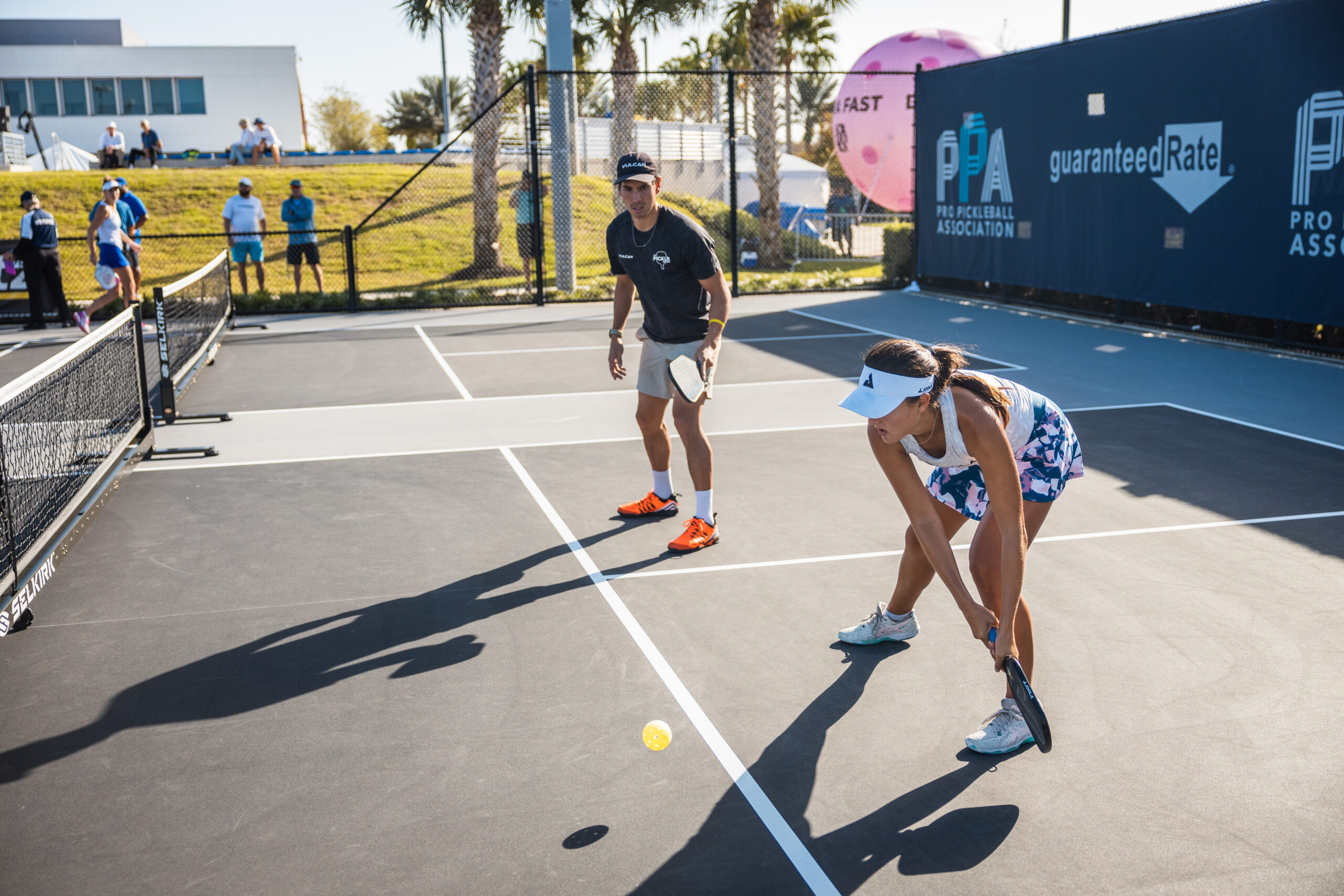 There are 33 teams in Saturday's men's field. The Johns brothers are the top seed. The second seed is Newman and Matt Wright, who took down the Johns brothers just two weeks ago.
On the women's side, there are 18 teams, featuring the top-seeded duo of Lucy Kovalova and Callie Smith. Waters, who usually pairs with her mother, Leigh Waters, will be playing with Parenteau. Leigh Waters announced earlier this week that she is out for the rest of the year and the entirety of 2023 due to an ACL tear and resulting surgery.