Tennis players' relationship with pickleball is evolving in real time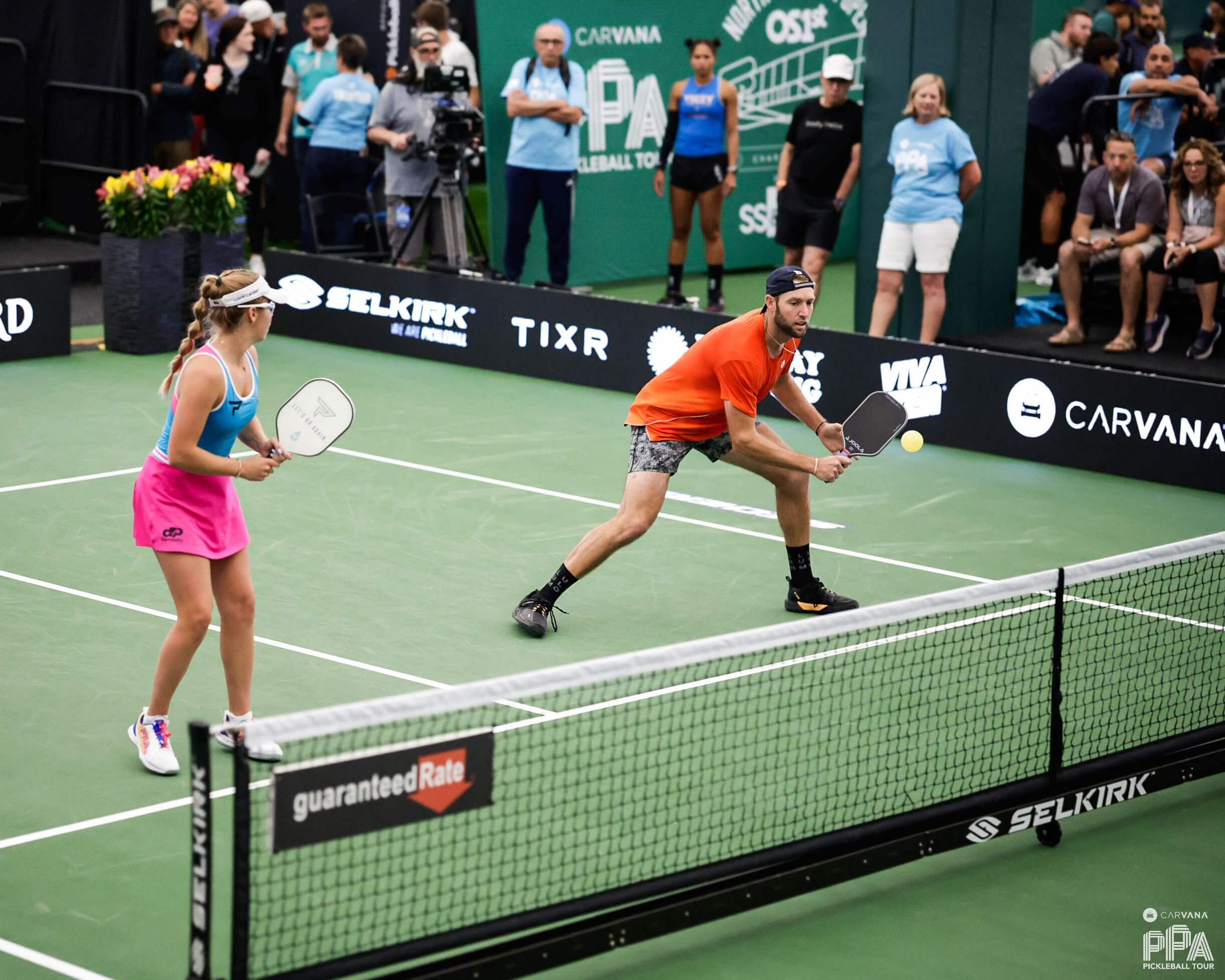 Last December, Jack Sock and Sam Querrey had Ben Johns and Matt Wright a little worried.
OK, maybe not worried, but perhaps a tad surprised. After all, Sock and Querrey had a 10-8 lead against Johns and Wright in game one and there's no way Johns and Wright, two of the best players on the PPA Tour and two of the best players in all of pickleball, could possibly lose a game to a couple of tennis players, right?
It didn't happen. Despite the two-point lead.
Querrey served one into the net and the pickleball pros got the ball back, rallied for the win, and then routed the tennis stars in the second game, 11-4, as part of an exhibition match at the bubly Team Championships at the Mandalay Bay Casino and Resort in Las Vegas.
What we saw was top tennis players against top pickleball players. What we also saw was how difficult it is to win at the very highest level of pickleball, even with top-level racquet skills and athleticism. But while those things seemed obvious, there's still a question that is forever timeless:
What do the tennis players who are the die-hards, the purists, not see in pickleball? Why are they fighting it so hard and getting so upset about it?
Recently, there's been an aggressive uptick on social media from tennis players talking down about pickleball. Maybe it's because of the meteoric rise of the sport, the surge in popularity combined with the fact that professional pickleball has taken off, featuring great players, in destination locations, big payouts, and increased TV presence with matches and tournaments being shown on everything from the Tennis Channel to ABC.
The most likely reason for the animosity that's cited by tennis enthusiasts comes from how easy pickleball looks to play. But tennis pros who have given pickleball a chance see things differently.
"It's the nuances and the positioning, the changing of direction," said Querrey. "It's so many little things. At the highest level, it's a lot harder than it looks."
Pickleball's entry point is open to everyone in a way most other sports aren't. Tennis is wildly difficult to start playing. So is golf. Pickleball is accessible and even the most unathletic among us can immediately experience success, have fun, and improve. The barrier to entry is low.
"A lot of tennis players don't have a great feeling toward pickleball," ATP professional John Isner said. "They look down on it. But there's no reason to begrudge the game."
There's been an overarching sense that choosing one sport or the other is a necessity. But so many of the top pickleball pros were tennis stars. And now many tennis stars are gravitating toward not just accepting pickleball, but embracing it, from Kim Clijsters, who recently bought a pro pickleball franchise with Major League Pickleball, to James Blake and the four players who headed up teams in Las Vegas for a three-day tournament – Isner, Querrey, Sock, and Donald Young. There are a number of other pro pickleball players who have signed to play with the PPA Tour in 2024, too, including former Wimbledon finalist Genie Bouchard, Querrey, Sock, and Donald Young.
"I was there," said Wright. "I was one of those 'tennis people.' I rejected pickleball for months. The name is corny, the ball is a whiffle ball with holes. The slow dinking. The mini-court. I get it. I mean, I was there 100 percent."
That feeling of pickleball being so simple translates to many thinking the sport can't be truly taken seriously. Yes, certainly just about everyone can pick up a paddle and start playing, but no, not even some of the world's top tennis players can just come in and take over the sport.
"There are a lot of similarities," Isner said, comparing the two sports. "So much variety in shots in both pickleball and tennis and a lot of nuance to the shots, too. The last few days [playing the bubly Team Championships] have been great."
We saw that all weekend in Las Vegas. While Sock, Querrey, Donald Young, and Isner are kings of the tennis court, when paired with the pros and playing against the pros, it was evident there was still a great divide.
"I won't be going pro any time soon," Sock said back then.
But he changed his mind. In just about 9 months, too. That was December. Since then, Sock has played and won a PPA Tour mixed doubles event, and has signed a contract to play on the PPA Tour next year.
Querrey, who was the first high-level tennis player to transfer over to pickleball, offered his thoughts on playing against pickleball pros:
"I expected to be exposed a bit," he said. "That's nothing to be ashamed of either."
Renowned sports journalist Jon Wertheim, in a 2022 article for Sports Illustrated, seemed to encourage active crossover between the two sports.
"If I am one of these pickleball leagues, I'm combing college tennis for players," said Wertheim. "Most of them will never become tennis pros. Take—as an example—the No.2 player at Indiana or Purdue, male or female, and tell them, 'You can scavenge for tennis ranking points playing challengers in Tegucigalpa, sleeping on hammocks and spending more in travel than you'll ever make in prize money. Or you can earn a nice living in this ascending sport.'"
Where will it all end and what do tennis and pickleball look like ten years from now? Are they complimentary cousins or something else entirely? Only time will tell, but the future looks bright.