Storylines: OGIO Newport Beach Shootout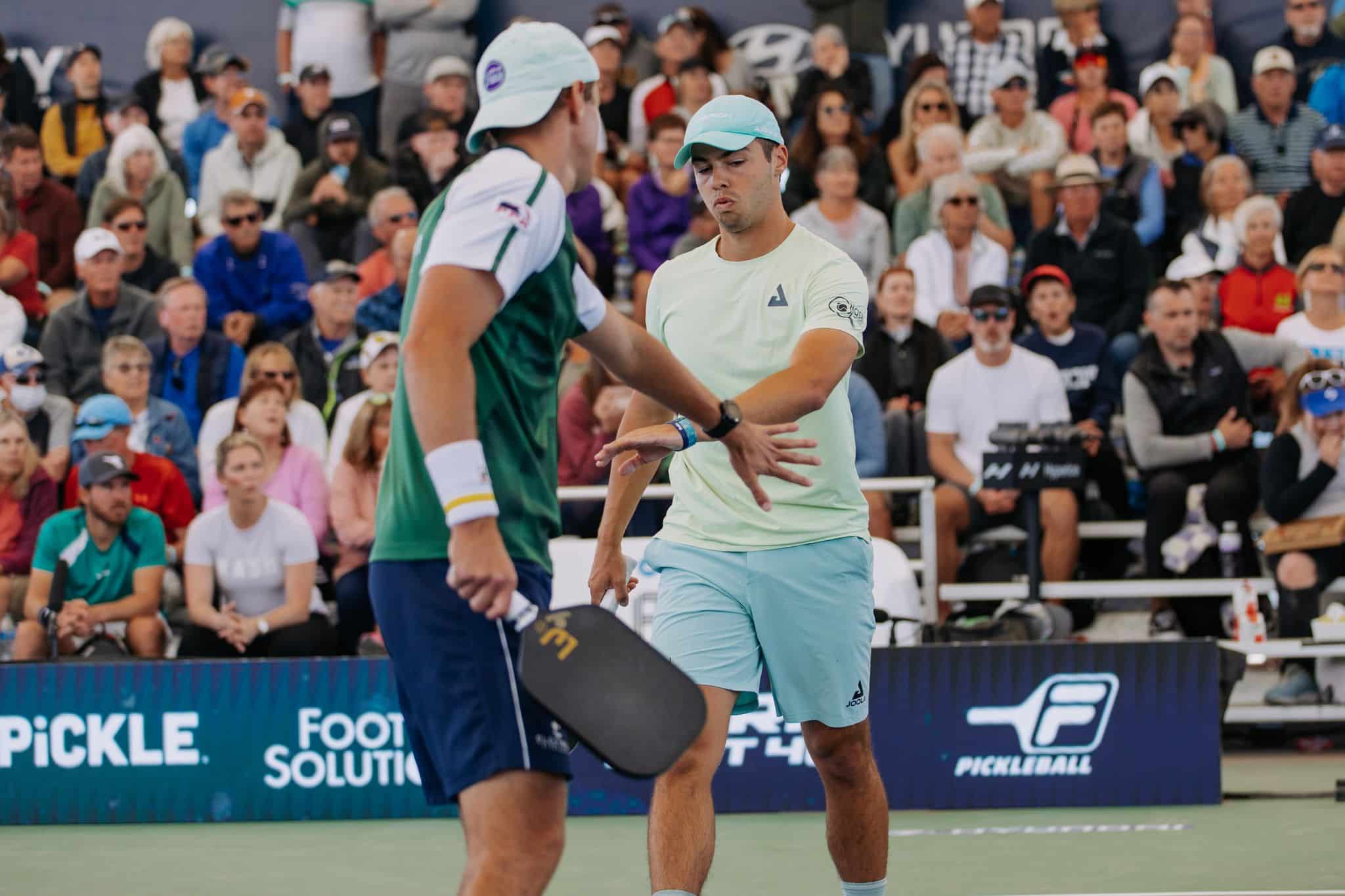 OVERALL TOP 5:
EYES ON CBS: The mixed doubles final will air on Saturday, April 22 from 1-2pm Eastern on CBS– more national coverage of pickleball.
ALL DUBS: 4 on the court for all the action this weekend – no singles.
REVOLVING DOOR: Dylan Frazier has played with a different mixed partner every time, 6 total, in 2023…Mary Brascia is #7.
BACK TOGETHER IN CALI: Johns brothers, Newman/Wright, Johnson/Frazier, McGuffin/Ignatowich all with their traditional partners.
NO CP or AL: Women's doubles is wide open without Anna Leigh Waters and Catherine Parenteau in the field.
VENUE/EVENT:
The Tennis and Pickleball Club at Newport Beach last hosted the PPA at the Takeya Showcase in November of 2022.
Championship Sunday will feature just two finals (men's and women's doubles) as there is no singles and mixed doubles will be completed earlier. However, to round out Sunday's schedule, the bronze medal matches from men's and women's doubles will also be played on Sunday for a total of four epic matches!
Will the doubles play be even better as the players will be fresher without singles in the mix?
Anna Bright and James Ignatowich are the only Red Rock gold medal team playing together in Newport.
MIXED DOUBLES:
Extra incentive to make the finals and play on CBS (the final will be best 2 out of 3 in order to fit the coverage block).
Ben Johns is playing with Andrea Koop – they have played one PPA event before (Austin in March 2022 and did not medal). However, they did team up to win the first MLP event ever played.
WATCH OUT FOR: First-time partners Allyce Jones and Riley Newman.
WOMEN'S DOUBLES:
Lea Jansen and Allyce Jones have been so consistent in hitting the podium in 2023 (3 silvers, 2 bronze) but have yet to reach the top – is this their week?
Meghan Dizon is coming in as one of the hottest players on tour (MVP of MLP and winner of women's doubles with Etta Wright in Red Rock) – she's paired with Irina Tereschenko.
WATCH OUT FOR: Jessie Irvine and Etta Wright – this first-time pairing has the offense and the defense to do serious damage in this field.
MEN'S DOUBLES:
Ben and Collin Johns arrive undefeated in 2023, with Collin narrowly missing a 6th crown with Dekel Bar at Red Rock.
Tyson McGuffin is throwing strikes coming into this event – won 2 golds in Red Rock (men's singles and men's doubles) and threw out the first pitch at an Arizona Diamondbacks game directly following his stellar tournament.
WATCH OUT FOR: JW Johnson and Dylan Frazier – 1 gold (without the Johns in the draw) and a few bronze medals in 2023 – fast hands looking for another title.