STORYLINES FOR THE HERTZ GOLD CUP POWERED BY TIXR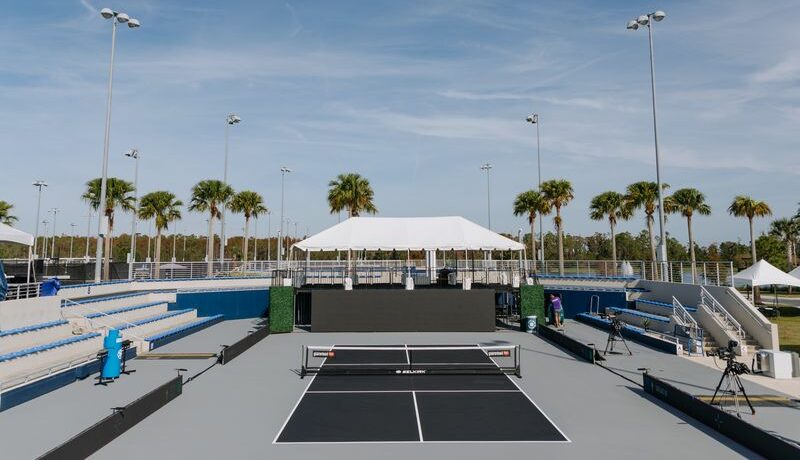 OVERALL TOP 5:
RACIN' TO THE FINALS: Last chance to earn points to qualify for the PPA Finals in San Clemente
PICTONA PART DEUX: PPA returns to Holly Hill for the 2nd time in '23 (1st time was in March)
NO POPPA JIMMY: Sitting this one out
J DUB: JW Johnson looks for more medals after great results in Dallas (gold singles/silver men's), but is a last-minute scratch from singles – tournament fatigue?
DURA-BALL: Players will have to adjust back to using the Onix Dura Fast 40 (X-40 in Dallas)
BROADCAST & VENUE HIGHLIGHTS (all times Eastern):
Thursday-Saturday: Amazon Prime Video and PickleballTV.com 10:00am-6:00pm ET
Championship Sunday: Amazon Prime Video and PickleballTV.com 10:00am-6:00pm ET; Tennis Channel 2:30-4:30pm ET
The Pictona location in Holly Hill gets its name from combining Pic(kleball) and (Day)tona.
MEN'S SINGLES:
MEDALISTS IN MARCH at Pictona: Ben Johns, Collin Shick, Pablo Tellez
Over 100 players competing in men's singles – will we get another Shick-like performance?
Wow, top half of the draw: Johns (1), Garnett (4), Martinez Vich (9), Tellez (8) 
WATCH OUT FOR: Potential Frazier (11) vs. Alshon (6) matchup in the round of 16
WOMEN'S SINGLES:
MEDALISTS IN MARCH: Catherine Parenteau, Lea Jansen, Salome Devidze
Parenteau beat Waters in March in the semis here but is sitting out singles, playing doubles
WATCH OUT FOR: Mary Brascia (3) – full of confidence after reaching the women's doubles final in Dallas
MIXED DOUBLES:
MEDALISTS IN MARCH: Waters/Johns, Parenteau/McGuffin, Devilliers/Irvine
Big fella Siljestrom takes Big Poppa's place next to Bright (7).
Jorja Johnson/JW Johnson (3) – the only team to beat ALW/Ben Johns this year.
WATCH OUT FOR: Smith/Frazier – can they rebound from a tough Dallas event?
WOMEN'S DOUBLES:
MARCH MEDALISTS: Waters/Parenteau, Schneemann/Jade Kawamoto, Jansen/Jones
A rested Lea Jansen plus Hurricane Tyra Black (7) are a dangerous duo.
Allyce Jones/Lauren Stratman (5) – unique pairing, how will they fare?
WATCH OUT FOR: Bright and Jardim (4) – can they make a run?
MEN'S DOUBLES:
DEFENDING MEDALISTS: Johns/Johns, Arnold/Wilson, Johnson/Frazier
Dekel Bar is this week's auditionee next to Riley Newman as the #4 seed
McGuffin/Brendan Long running it back – they won the St. George event in April over Bar/C. Johns
WATCH OUT FOR: Matt Wright and Travis Rettenmaier (3) – how will the "old" guard gel?