Prime Video Inks Multiyear Deal With the Professional Pickleball Association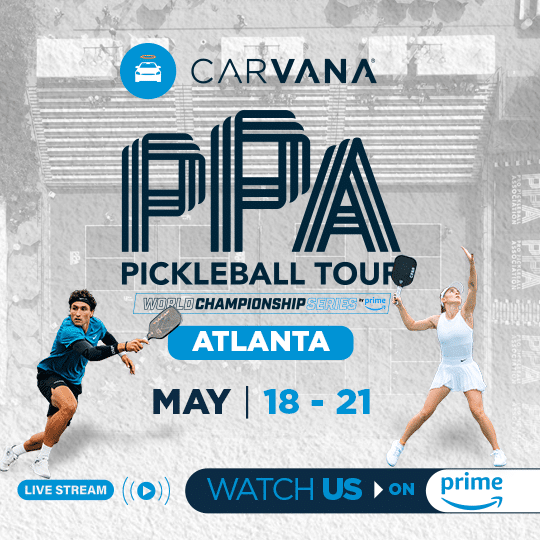 NEW YORK (May 16, 2023) — Widely known as America's fastest growing sport, pickleball is coming to Prime Video for the first time, thanks to a multiyear agreement with the Carvana Professional Pickleball Association (PPA) Tour, giving Prime Video exclusive global streaming rights to four live PPA Tour events per year, including the 2023-24 PPA Tour World Championship Series. Prime members, who enjoy savings, convenience, and entertainment all in a single membership, can now add pickleball coverage to their list of Prime benefits.
Coverage on Prime Video starts Thursday, May 18, with the Acrytech Atlanta Open presented by Vizzy
from Life Time in Peachtree Corners, Georgia. The four days of tournament coverage will begin at 10:00
a.m. EDT daily. Hosted by on-air analysts Dave Fleming and Kyle McKenzie, as well as play-by-play
announcers Michelle McMahon and Camryn Irwin, the event is one of four Majors on the PPA Tour this
year and will offer teams double the typical ranking points. The complete 2023 PPA Tour World
Championship Series schedule on Prime Video can be found below:
May 18-21
Acrytech Atlanta Open presented by Vizzy, Atlanta, 10:00 a.m. EDT – 6:00 p.m. EDT (Daily)
August 24-27
Vulcan Kansas City Open, Kansas City, 11:00 a.m. EDT – 7:00 p.m. EDT (Daily)
October 5-8
Guaranteed Rate Championships presented by Thorlo, Las Vegas, 1:00 p.m. EDT – 9:00 p.m. EDT (Daily)
October 12-15
CIBC (USA vs. World) Boca Raton Open, Boca Raton, 10:00 a.m. EDT – 6:00 p.m. EDT (Daily)
Coverage of the PPA Tour on Prime Video will feature top pickleball athletes, including the No. 1-ranked
men's doubles team of Ben and Collin Johns, the No. 1-ranked women's doubles team of Anna Leigh
Waters and Anna Bright, the No. 2-ranked men's doubles team of Riley Newman and Matt Wright, the
No. 2-ranked women's doubles team of Lucy Kovalova and Callie Smith, and the No. 1-ranked mixed
doubles team of Ben Johns and Waters.
Fans across the world can watch PPA Tour events live at home or on the go, and across hundreds of
compatible devices, streaming from the web, or using the Prime Video app on smartphones, tablets, set-top boxes, game consoles, and connected TVs. For a complete list of compatible devices, visit
amazon.com/howtostream.
See here for more information on the PPA Tour and the Acrytech Atlanta Open, including how to watch,
our full 2023 schedule of tournaments, and how to purchase tickets to watch an event on-site.
About Prime Video Sports
Prime Video supports a growing lineup of live sports globally, including Thursday Night Football, the
WNBA, the Seattle Storm, the New York Yankees, and Overtime Elite in the United States; ONE
Championship in the United States and Canada; Premier League in the United Kingdom; ATP and WTA
tennis in the United Kingdom and Ireland; UEFA Champions League football in Germany and Italy;
Roland-Garros and Ligue 1 in France; Australian Swimming globally; New Zealand Cricket in India; as well as Copa do Brasil football and the NBA in Brazil; and boxing and the 2023 World Baseball Classic in Japan. While availability varies by marketplace, fans can also subscribe to streaming services such as
Eurosport, FOX Sports (Mexico), Viaplay Sport, MLB.TV, NBA League Pass, NBA TV, DAZN (Germany and Spain), and Premiere FC (Brazil) through Prime Video Channels. This is in addition to a selection of
Amazon Original documentaries including Good Rivals, Coach Prime, Reggie, Redefined: J.R. Smith, and the Amazon Original All or Nothing franchise, including All or Nothing: Arsenal, All or Nothing:
Juventus, All or Nothing: Toronto Maple Leafs, and All or Nothing seasons with various NFL teams, as
well as the NCAA's Michigan Wolverines football team.
About Carvana PPA Tour
The Carvana PPA Tour is the professional tour of pickleball, organizing events and rankings for the top male and female pickleball players worldwide and awarding more than $5.5 million in annual prize money with equal play and pay. The Carvana PPA Tour is set to host 25 events in 2023 at world-class facilities like the Lindner Family Tennis Center in Cincinnati, Mission Hills Country Club in California, and the Darling Tennis Center and Mandalay Bay in Las Vegas. Inviting all to compete and "play where the pros play," the Carvana PPA Tour offers amateur divisions of play for every level, unparalleled experiences for fans and spectators, gorgeous venues, pro player meet-and-greets, food/beverages, live entertainment, VIP upgrades, giveaways and games, shopping, vendors, and more. Founded in 2018 and based in Salt Lake City, the Carvana PPA Tour is owned and operated by parent corporation, Pickleball.com. For more information, go to www.ppatour.com. See Pro Player Profiles and follow us on social: Twitter Instagram, YouTube, Facebook and LinkedIn.