Player-of-the-Month: Kyle Yates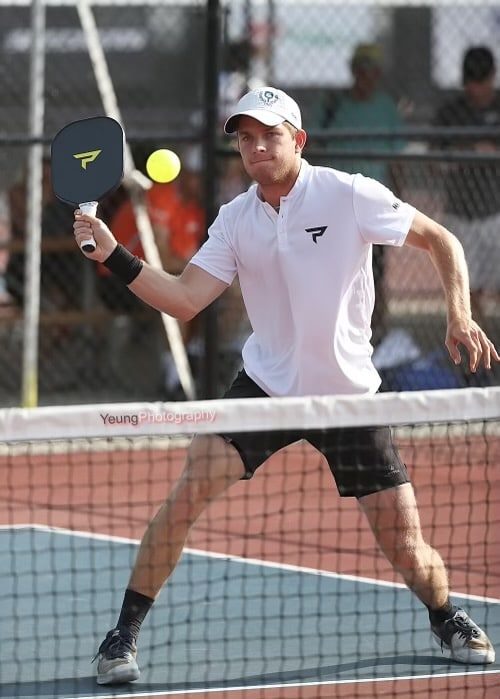 1. As a legend in the game, what would you tell an aspiring junior pickleballer who wants to follow in your footsteps?
A "legend," huh? Is that what they call me? My focus has never been about becoming a legend. I've only ever wanted to play pickleball because it's what I love to do. Life doesn't always turn out according to plan… but if you're passionate about something and you put 110% of your heart and soul into it, things have a way of working out for the best.
2. I know you are really close with your family, who are also connected to pickleball. Can you share a little bit about them?
I may not be the most talented athlete in my family, and I'm certainly not the hardest working! My older sister Sarah, who is both a mother and a nurse practitioner, was a college soccer player, has had 5 ACL surgeries, and still managed to win 2 gold medals at the 5.0 level at the US Open Pickleball Championships. My Uncle Mike, who taught me tennis as a kid and later pickleball, suffered a stroke a couple years ago and is now partially blind, yet still competes in pickleball tournaments and wins medals. My mom, Julie, was a college gymnast and cheerleader at UK, a professional golfer, and is now one of the top pickleball referees in the world along with my stepdad, Larry Scott. My dad is currently a golf pro who also competed in wrestling, basketball, and football in school. I think I naturally gravitated towards soccer and tennis so I had a better chance of beating him at something! Although he doesn't play pickleball, I directly attribute some of my pickle skills to our weekend table tennis battles.
3. What do you think your legacy in pickleball is?
I do believe I was the first "professional" pickleball player ever (first player with a pickleball social media, and first contracted professional player). I was certainly the youngest. I actually sacrificed a college scholarship to the University of Florida to pursue a once-in-a-lifetime opportunity to live out my childhood dream of being a professional athlete… against the advice and judgement of my parents, my peers, and everyone else. I don't know what my legacy is exactly, but I certainly feel like I helped open the gate to other players' opportunities in the sport by establishing pickleball as a respectable full-time career. It was bound to happen eventually, but it's a great feeling to be a part of history and see so many other people follow in my footsteps to a happier, healthier lifestyle.
4. Can you tell us something most people don't know about you?
Despite some of my on-court theatrics, I'm actually quite introverted. I enjoy peace and quiet, and doing things like surfing, reading, drawing/painting, video games, golf, relaxing in a hammock – all things I can do alone. I enjoy the attention when I compete, but in a social setting I'm definitely a lot more reserved.
6. What types of activities do you enjoy off-court?
I like to be outdoors. I'll go swimming, biking, hiking, etc. If I'm worn-out, I like to relax at home and watch movies or play video games (I'm insane at Battlefield and Fortnite).
7. Favorite match or moment you've had up to this point in pickleball?
My all-time favorite moment in pickleball was winning the U.S. Open with my sister Sarah on Center Court. Being able to compete with her and see how amazing she is despite all the obstacles she's had to face was so inspiring to me. I just had to win for her. Of course, my mom was in tears watching court-side!

8. What are your plans now with the sport of pickleball ?
I plan on competing as long as possible, but I am also starting to shift my focus into more financially productive aspects of the sport. I am starting the Yates Pickleball Academy and will be teaching a lot more, which I've found to be a passion of mine. The only thing I like more than playing pickleball is talking about pickleball! I am also working on building my apparel brand PB1965, which is named after the year that pickleball was founded.

9. Where do you see yourself in 5/10 years?
Hopefully running a successful pickleball facility! My dream is to open up a pickleball/racquet sports club. Sports, especially the smaller niche sports like pickleball, are such a great way to meet people and build friendships. I don't know where I'd be today without the hundreds of hours I spent practicing tennis and pickleball.