Get to know Jessie Irvine, who turned pro in 2019 and ended this year ranked #3 in Doubles and #2 in Mixed. Well-known for her on-court passion and vocal "come-ons!" after winning crucial points, Jessie is a fierce competitor with a strong fan base behind her, particularly in her home state of California. We spent some time off-court with her in a recent interview.
1. What are your favorite moments from your pickleball career thus far?
I think one of my favorite moments of my pickleball career would have to be winning the gold medal in the Mixed Pro Doubles at the 2019 Tournament of Champions. I had just started playing professional pickleball tournaments earlier that year and this was my very first TOC and only my second major; and winning that gold medal was a huge accomplishment for me. Also, playing in the 2019 Nationals' Women's Pro Doubles Finals, a few months later, was another favorite moment of mine. It was my very first Nationals and it was held at the Indian Wells Tennis Garden. Playing the finals on that center court was just an amazing experience. And finally, a more recent favorite moment was playing in the finals of the Pro Mixed Doubles and Pro Women's Doubles at the end-of-year 2020 PPA Vegas Championships. These moments helped me realize that I have what it takes to be a top professional pickleball player.
2. Can you tell us something that most people don't know about you?
I love to dance and was a dancer before I started playing tennis. I began dancing at age 4 and joined a dance school company soon after that. We competed and won many elite competitions, including Showstoppers and Star Search.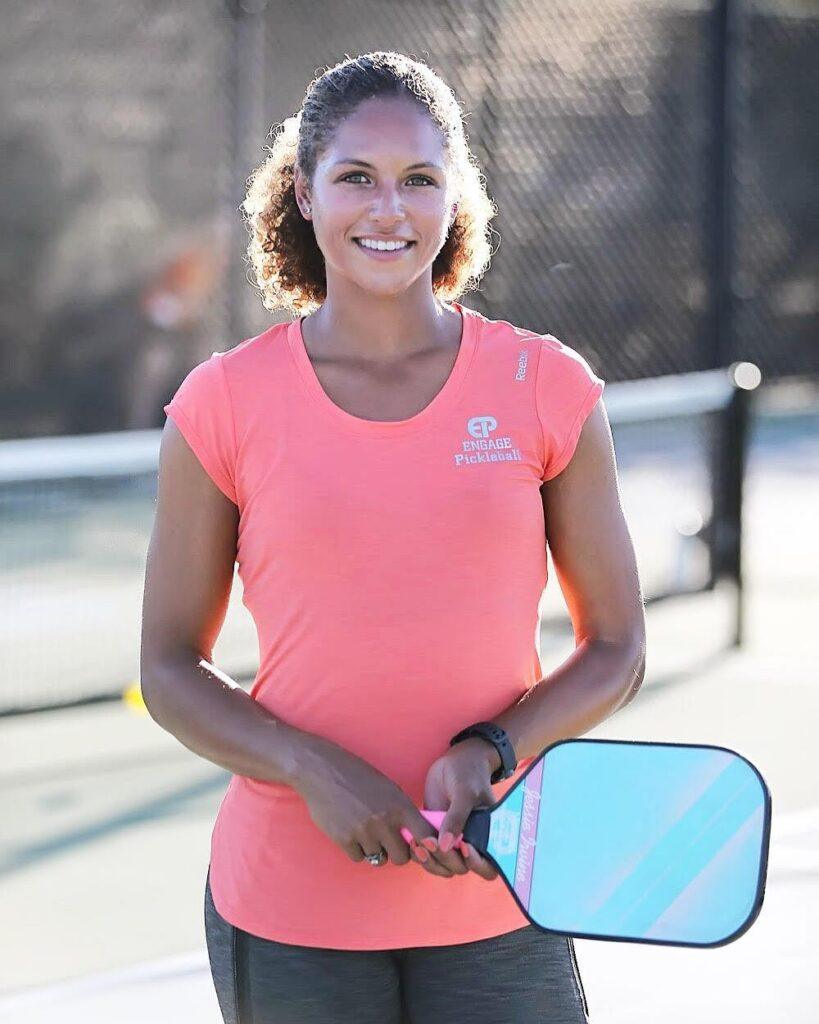 3. If you weren't a professional pickleball player, what would you be doing?
If I wasn't a professional pickleball player, I would definitely continue to be a youth tennis coach, which is what I do now alongside professional pickleball. I've been coaching for almost 11 years and I love the challenge of working with different playing styles and finding new ways to connect with my students. I understand their desire to succeed, and I love being part of their game plan and helping them overcome obstacles and accomplish their goals.
4. Favorite food and dessert?
I would have to say my favorite food is Asian and Italian food. I love rice and pasta with either chicken or beef. I have a big sweet tooth, so I love fruit, smoothies, and açaí bowls as well. As for my favorite dessert, I would have to say ice cream is my favorite. My favorite flavors are Vanilla Amaretto ice cream, Haagen Dazs' Vanilla Swiss Almond, and Ben & Jerry's Cherry Garcia.
5. Can you share a little bit about your family?
I am the eldest of 3 girls, and my two younger sisters are in their early 20s. My mom is from Barbados and my dad is from Jamaica. My sisters and I grew up in Cary, NC. My mom and dad first got me interested in racket sports and taught me to play tennis. I am definitely the most athletic one in the family; however, my family has recently started learning and playing pickleball because of me. They are incredibly excited and supportive of my pickleball career.
6. What kind of music or specific songs get you pumped up before matches?
I enjoy dance music—anything with a good beat. I love DJs like Robin Schulz, Kygo, David Guetta, Diplo, Major Lazer, and Garmiani. I don't usually listen to music before my matches, but if I did it would definitely be something from one of these artists.
7. What sports or hobbies do you enjoy outside of pickleball?
I absolutely love tennis, which I grew up playing. In my mid-20s, I tried out other sports that I really enjoyed like POP Tennis/Paddle Tennis and golf. I still enjoy playing golf occasionally with my friends when I get the opportunity.
8. Who are your pickleball sponsors?
I have a few major sponsors in pickleball. They are:
Engage Pickleball—which is my main paddle sponsor. My paddle of choice is the Engage Elite Pro Maverick. Having a paddle with a long handle was crucial for me because I wanted to have the option of using my two-handed backhand. The paddle's power and control are one of the reasons that I fell in love with it almost from the very beginning of my pickleball career.
Liquid I.V.—They are great when it comes to hydration and refueling the body with quality ingredients. I use Liquid I.V. during training and tournament days to keep me hydrated and energized. It gives me the fuel I need to train and play hard every time I step out on the court.
Mixed Chicks—This company specializes in products for mixed hair, like my own. It keeps my curly hair moisturized and prevents it from drying out, especially while I'm out in the sun for long hours. It's important for me to have the right products to protect my hair from sun damage, as well as make my curls look and feel amazing.
9. How would you describe your pickleball game?
I'm very passionate about the game of pickleball, and I think this comes across in my style of play. I bring as much energy as possible to each point. I also make sure to focus on my mental game as much as my physical skills. I think people often want to describe my style as intense when they see me play in tournaments. But I try to bring my own kind of humor into my practice sessions and just enjoy playing with my friends. Learn from your mistakes on the court but also be able to laugh at them as well, sometimes. You have to enjoy the process.
10. Can you share some of your life mottos?
If you don't like something, change it. If you can't change it, change your attitude.
The energy you give is the energy you get.
Why worry? Does it help?