What a week for James Ignatowich. 
Sure, people knew about the ultra-talented pickleball player, but Ignatowich treated the Indoor National Championships in Lakeville, MN like it was his own, personal pitch on Shark Tank.
He called himself Big Poppa Jimmy and told everyone, "Daddy's home."
He called out his fellow competitors.
He talked trash and ate mustard packets.
His legs cramped but his mouth made it the distance.
But it wasn't just talk, bluster, and bravado. Ignatowich walked away with a pair of gold medals, taking the singles title over JW Johnson and teaming up to win the mixed doubles championship with Catherine Parenteau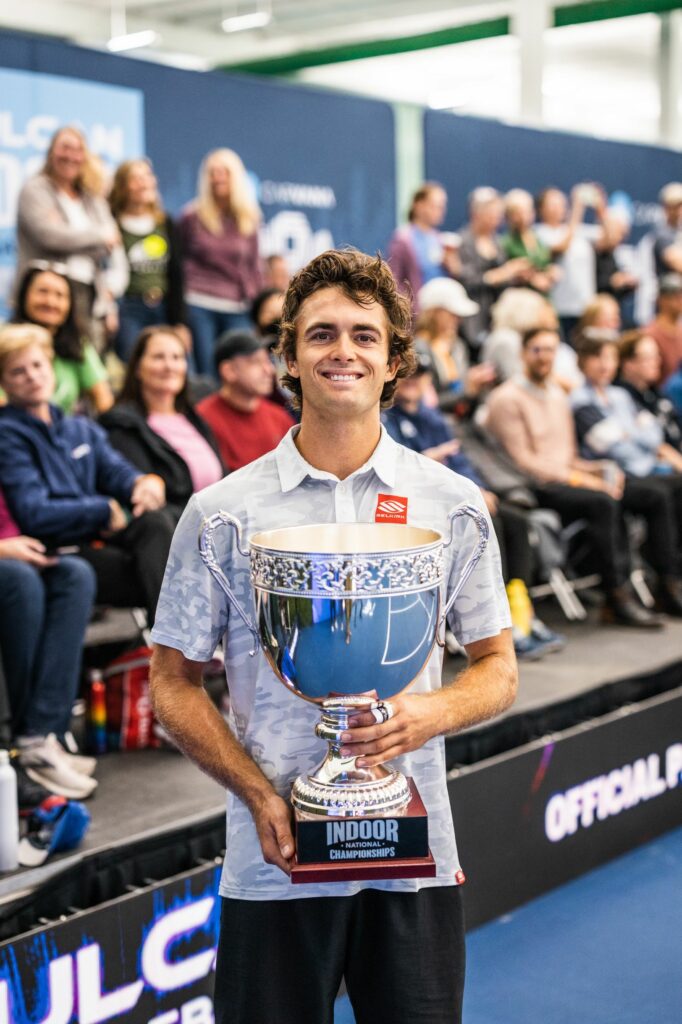 The Indoor National Championships was a party for James Ignatowich, and it appeared he was truly the guest of honor.
"If you want to act normal, don't eat mustard for your cramps," Ignatowich said vaguely, taking his interview as an opportunity to give out random medical tips. "It goes to your head."
If the tournament was a bit of a rager for Ignatowich, it was more like a relaxed night on the couch for Parenteau.
Ignatowich was manic, Parenteau was measured, and she was just as successful.
Just like "Big Poppa Jimmy," Parenteau won two golds, finishing off the day with a come-from-behind, three-game victory over Lea Jansen in the women's singles final to go along with her mixed doubles victory she earned earlier.
Jansen had beaten Parenteau the past two times they had played and Jansen was in her third-consecutive gold medal singles match. But Parenteau scored 11 points in a row after falling behind in game three to win her sixth PPA singles title.
"I'm really proud of winning two events in Minnesota," she said. "I feel like the results are a reflection of the work I've been putting in the past few months. With so much talent on the tour, it takes a lot to get to Championship Sunday, and even more to win the gold, so I'm really happy to have succeeded in that. And I'm going to keep working hard to hopefully continue winning."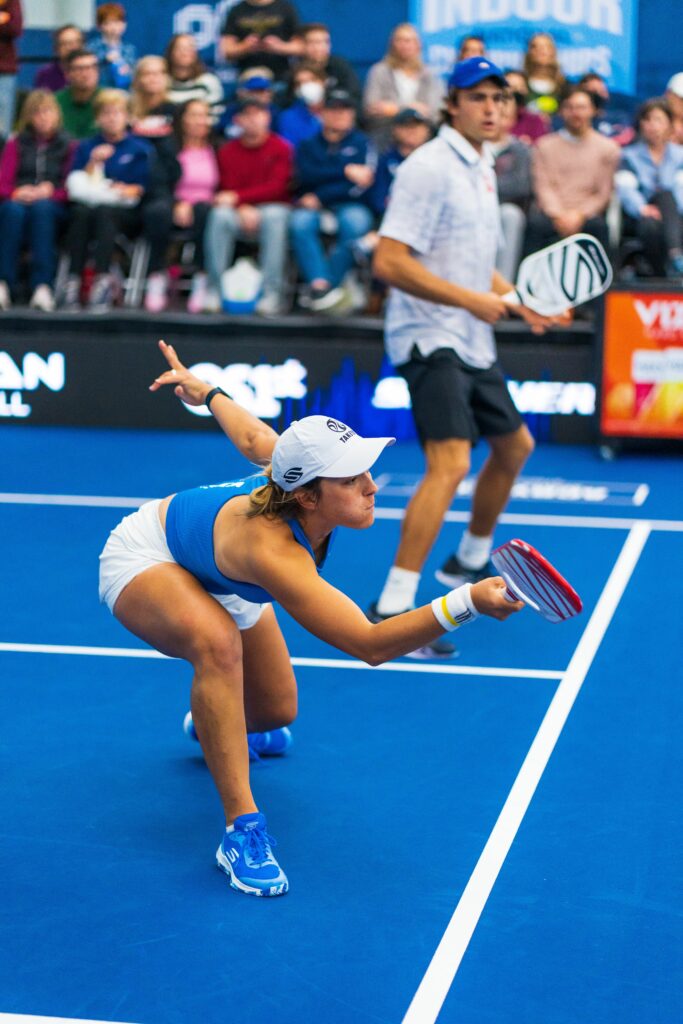 Ignatowich went all "When Animals Attack" – calling out fellow opponents, celebrating wildly, and becoming the show the pro tour didn't know it needed. Parenteau was more, "Ted Lasso" – avoiding the negative, finding the positive, and coming out as a happily-ever-after success story that everyone can enjoy.
Against Jansen, Parenteau lost the first game 11-2 and after winning game two, found herself down 5-0 in game three.
"A negative and frustrated mindset can easily result in a lot of unforced errors and ultimately a quick loss," she said. "Singles is definitely the most challenging event, because you are out there on your own. You really have to force any negative thoughts out of your head and convince yourself that you can still win this. Once you believe in yourself, anything is possible. Stick with your game plan, always tell yourself 'it's not over till it's over' and keep fighting."
The two won their first gold medal together in their first tournament together in mixed doubles as the No. 4 seed, outlasting the No. 14-seeded team of Julian Arnold and Lauren Stratman in the final, 11-4, 11-5, 9-11, 11-5.
"It's our first tournament, so it's pretty crazy we won," Ignatowich said. "Catherine played so well – all I had to do was hold my own and let her do her thing. I think I passed the tryout. I guess we'll see."
Ignatowich definitely passed the test in singles, dominating Johnson, 11-1, 11-8.
"It feels great," he said. "Going in, I didn't know what to expect. He [Johnson] is a great friend, so talented. If I stayed solid, I knew I'd have a chance. Luckily, I came away with the win. It feels good because, for the seven people who follow Christian Alshon on Twitter where he said he would be a PPA gold medalist before me, I've done it twice and he has zero times, so thank you everybody."
In terms of other action in Minnesota … 
J-Dub and Frazier Get it Done in Men's Doubles
The fourth-seeded JW Johnson and Dylan Frazier beat the 11th-seeded team of Federico Staksrud and Pablo Tellez, 11-6, 11-3, 11-7.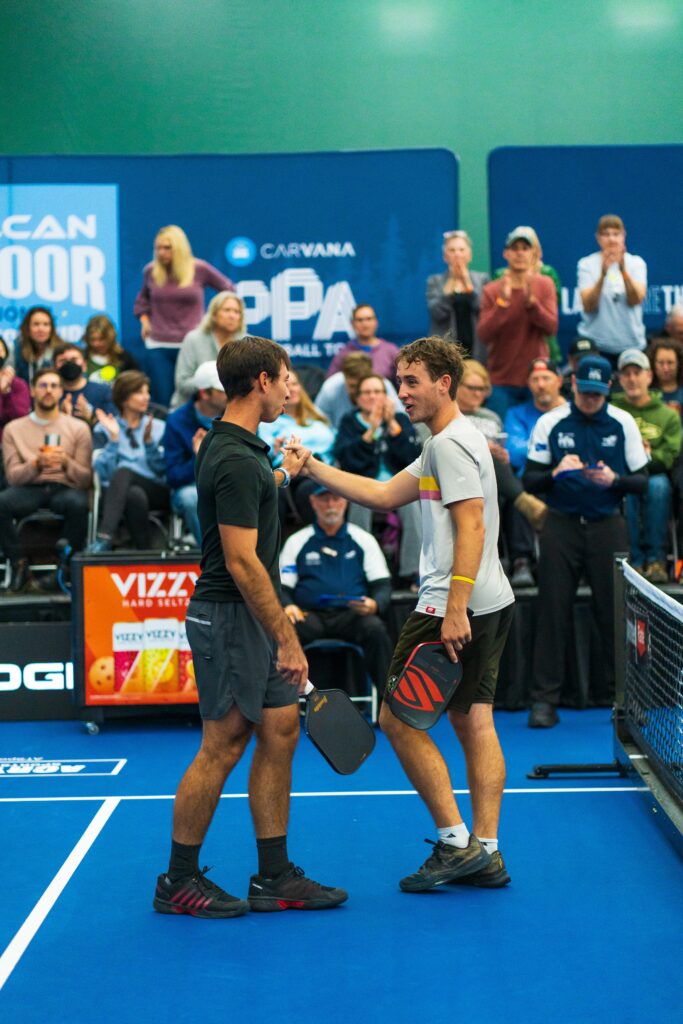 It was the first PPA title for the young duo, who have demonstrated that they are here to stay at the top in pickleball. Frazier posted a great clip giving fans an update on their win with Johnson smiling in the background. Watch that here.
It was the first time in the finals for Staksrud and Tellez playing together, and while the two were not able to make it a closer match in the final, they have wins under their belt to be proud of, along with a silver medal.
Top-Seeded Veterans Take Women's Gold
Lucy Kovalova and Callie Smith won the Indoor National Championships for the second year in a row, this time with a tight 3-11, 11-8, 13-11, 12-10 victory over the second-seeded team of Jansen and Allyce Jones, who kept the match close until the end.
Jansen and Jones were down 7-2 in game four, rallied to take a 10-8 lead, and missed out on four game points before falling to the No. 1 seeds, 12-10.
"It was a great atmosphere and a great match," Kovalova said. "We dug deep. My goal was to just keep it going until Callie could put it away. We're super happy to have won this tournament again."
It was the 17th total trophy for Kovalova in her career in women's doubles.