Doubles Sends Crowd Favorites to Sunday's Finals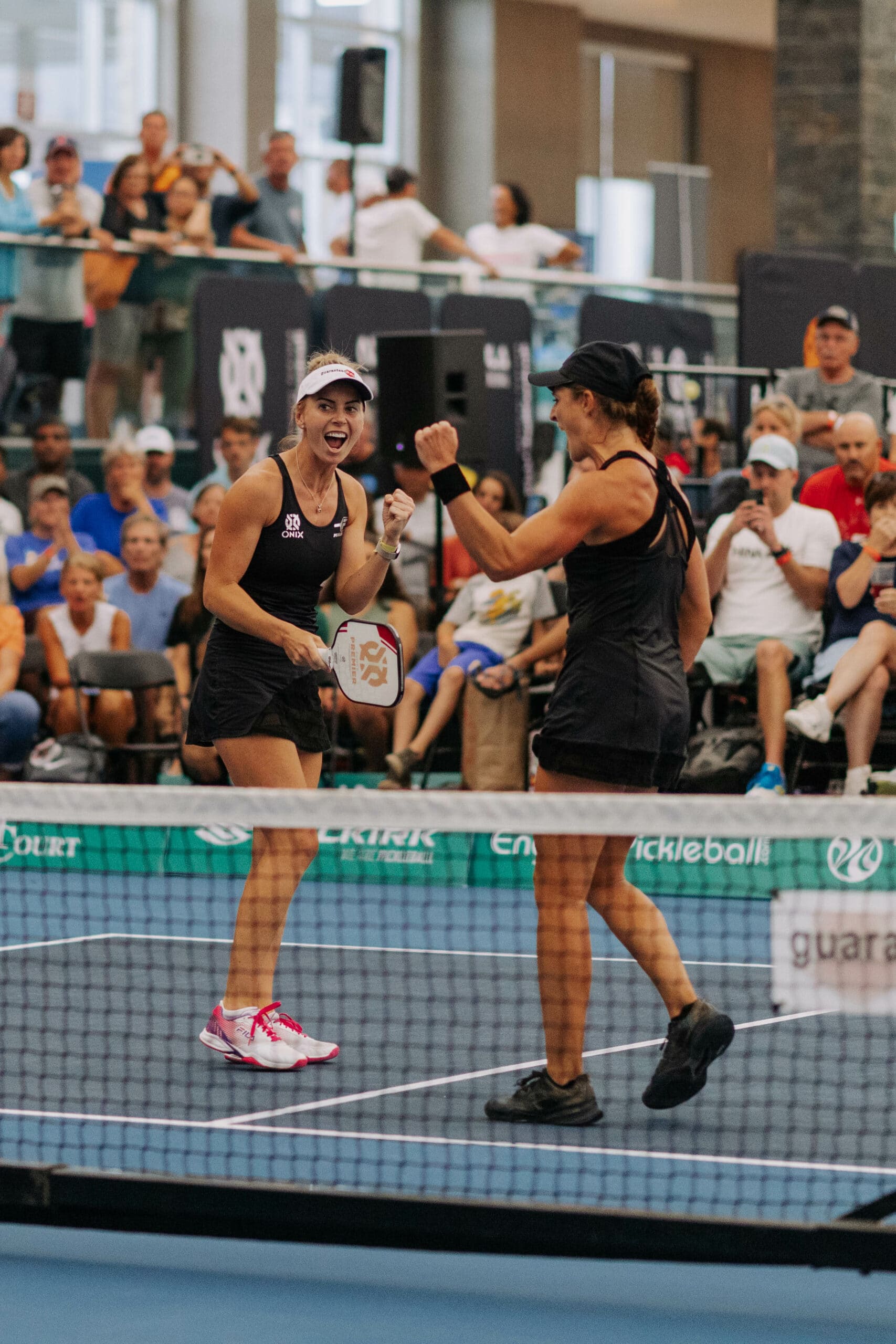 For gender doubles day, both the women and the men saw the top two seeds reach the finals in fiery fashion. In women's doubles, the red-hot team of Catherine Parenteau and Lea Jansen rolled to the finals without dropping a game in any of their matches. After dispatching Megan Charity and Rosie Johansen, 11-3 and 11-6, Parenteau and Jansen also proceeded to send the #3-seeded team, Irina Tereschenko and Lauren Stratman to the back draw, 11-7, 11-8.
On the other half of the women's bracket, Meghan Sheehan-Dizon and Allyce Jones pulled off a 1st round upset over Jessie Irvine and Yana Grechkina, 11-4, 11-7, and took the first game from Lucy Kovalova and Callie Smith 12-14. But the #1 seed bounced back with a vengeance, winning the next 2 games, 11-1, 11-4. This sets up an exciting Kovalova/Smith vs. Parenteau/Jansen final on Championship Sunday.
In the back draw, after Irvine/Grechkina eliminated Tereschenko/Stratman, they had their opportunity to exact revenge on Sheehan-Dizon/Jones in the bronze medal match. However, Sheehan-Dizon and Jones held fast, winning in three sets and making their first doubles medal stand appearance on the 2022 PPA Tour.
In the men's bracket, the talented pool of teams competing were narrowed to the favorites by the end of the day. Riley Newman and Matt Wright went 3-0 on the day, reaching the finals with a convincing 11-9, 11-2 victory over Julian Arnold and Spencer Smith, who were playing hot and had just come from a thrilling quarterfinal win over #4 seeds, Callan Dawson and Chuck Taylor.
On the bottom half of the men's bracket, it was a much different journey for the #2-seeded team of Tyson McGuffin and Tyler Loong. Two of their three wins required an extra game, including a marathon 11-13, 11-5, 11-9 first-match victory against the #18 seeds, Jordan Kinney and Tito Lladro.
On the same side, #6 seeds Anderson Scarpa and Greg Dow were able to upset the #3-seeded team of Collin Johns and Patrick Smith in an exciting 3-game quarterfinal match.
In the back bracket, both the #3 and #4 seeds won their next three matches to advance to the bronze medal match. Dawson and Taylor defeated Scarpa and Dow 15-8 to advance to bronze. Johns and Smith found another level after their main draw loss, winning their three backdraw games with a combined score of 45-4 (15-0 over French/Jakovljevic, 15-2 against Castleberry/Mullane, and 15-2 over Arnold/Smith). The Johns/Smith freight train would come to a screeching halt in the bronze medal match however, as Dawson/Taylor derailed them, 11-8, 12-10, to claim their first medal stand appearance together.
Thanks for watching this weekend, and tune in today to PPA YouTube at 10:00am ET and FOX Sports at 6:00pm CT to watch all five of the exciting finals on Championship Sunday.