Double Shots on Championship Sunday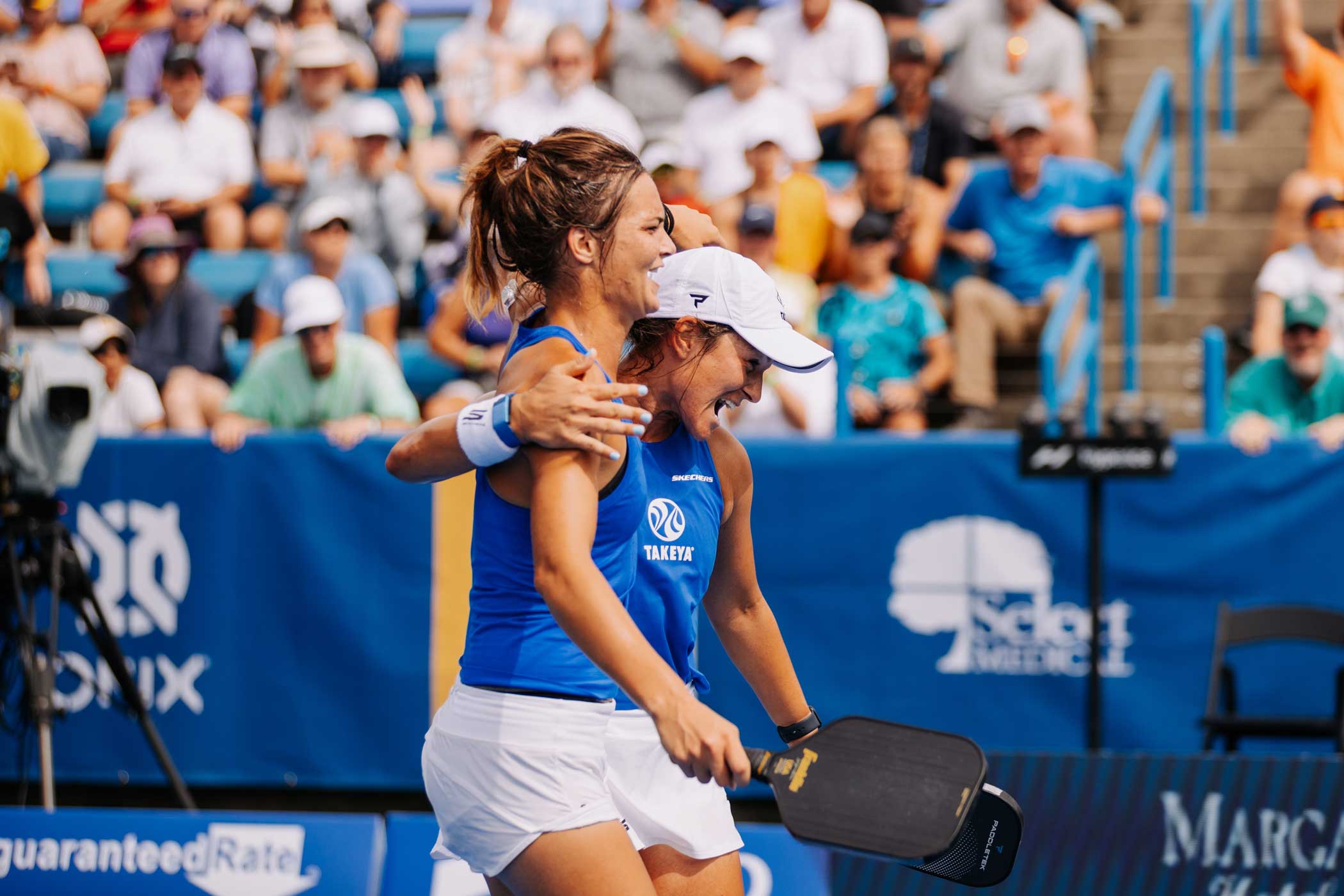 We're used to seeing Anna Leigh Waters and Ben Johns being a staple of Championship Sunday on the PPA Tour.
And we're going to see plenty of her in Cincinnati this Sunday, too, but this weekend has been about Jessie Irvine and Jay Devilliers.
Set partners Irvine and Devilliers will pair up for the mixed doubles final after an upset of the top-seeded team of Matt Wright and Lucy Kovalova on Friday.
And Saturday, Irvine teamed up with Anna Bright and worked her way into the women's final after she and Bright upset Waters and Leigh Waters, 11-5, 3-11, 11-8.
After the match, Jessie Irvine spoke a bit about turning her competitive switch on and off.
"Honestly, I've always kind of been that way, my dad raised me that way, things that happen off the court stay off the court, things on the court stay on the court, you know, you compartmentalize. You come out here, you try your hardest, you have a good time, and then, once you're off the court, completely different, it's over."
Irvine's life/work balance seems to be serving her well at the moment with the showing and upsets she's had this weekend already.
Meanwhile, on the men's side, Devilliers and Tyson McGuffin had their own upset in their semifinal, taking down the second-seeded team of Wright and Spencer Smith: 11-8, 11-3. Devilliers and McGuffin cruised all day long, losing just one game on Saturday.
"Yeah, you know, this is the midwest, I live in the midwest," said Devilliers when asked about his stellar performance in both doubles divisions. "I'm excited to be here and hopefully I can win those two finals tomorrow."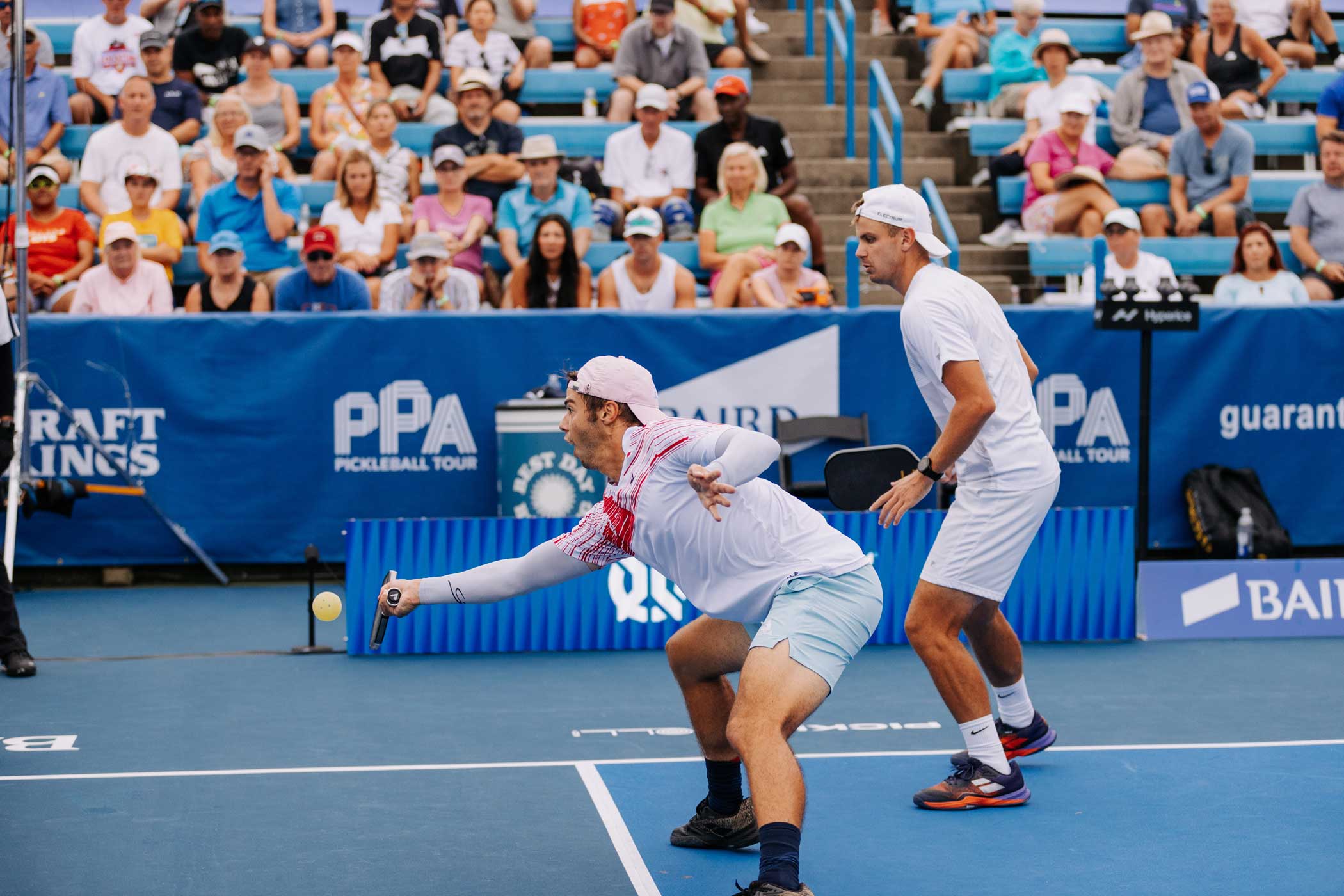 All this means a double-shot of Devilliers and Irvine on Championship Sunday at the Baird Wealth Management Open in men's doubles, women's doubles, and mixed doubles.
All the action for all the gold medals can be seen on the Tennis Channel today.
On the men's side, it will be the Devilliers-McGuffin pairing against the Johns brothers – Collin and Ben, the top seed. The Johns brothers swept their first two matches, but needed three games against AJ Koller and Thomas Wilson in the semifinals, 9-11, 11-2, 11-2.
On the women's side, Irvine and Bright weren't the only team that surprised. Fourth-seeded Catherine Parenteau and Lea Jansen beat the top-seeded team of Callie Smith and Kovalova, 11-9, 11-7 and earned a spot opposite Bright and Irvine in the final.
After the semifinal, Lea responded to a question about Kovalova's antics with a bit of a smile.
"Lucy's got some good finger wags, so it wasn't too shocking. We knew it was going to come out sometime… we just decided to keep bringing our own energy."
That means we'll see Jansen in the women's singles final against Waters and Jansen in the final on the women's doubles side, too. Sunday will be a day of possibilities for Jansen, Devilliers, and Irvine!
Working their way through the backdraw, Jackie and Jade Kawamoto were able to beat Meghan Sheehan-Dizon and Allyce Jones, 11-2, 11-5, and take home the bronze, marking their first PPA medal finish.
The fifth-seeded team of Callan Dawson and Tyler Loong won four matches, including a 15-10 upset of Wright and Smith in the backdraw, allowing them to earn the bronze medal. The medal came after an 11-5, 11-9 victory over Travis Rettenmaier and Patrick Smith.