Acrytech Atlanta Open: Championship Sunday Preview from the Stats Desk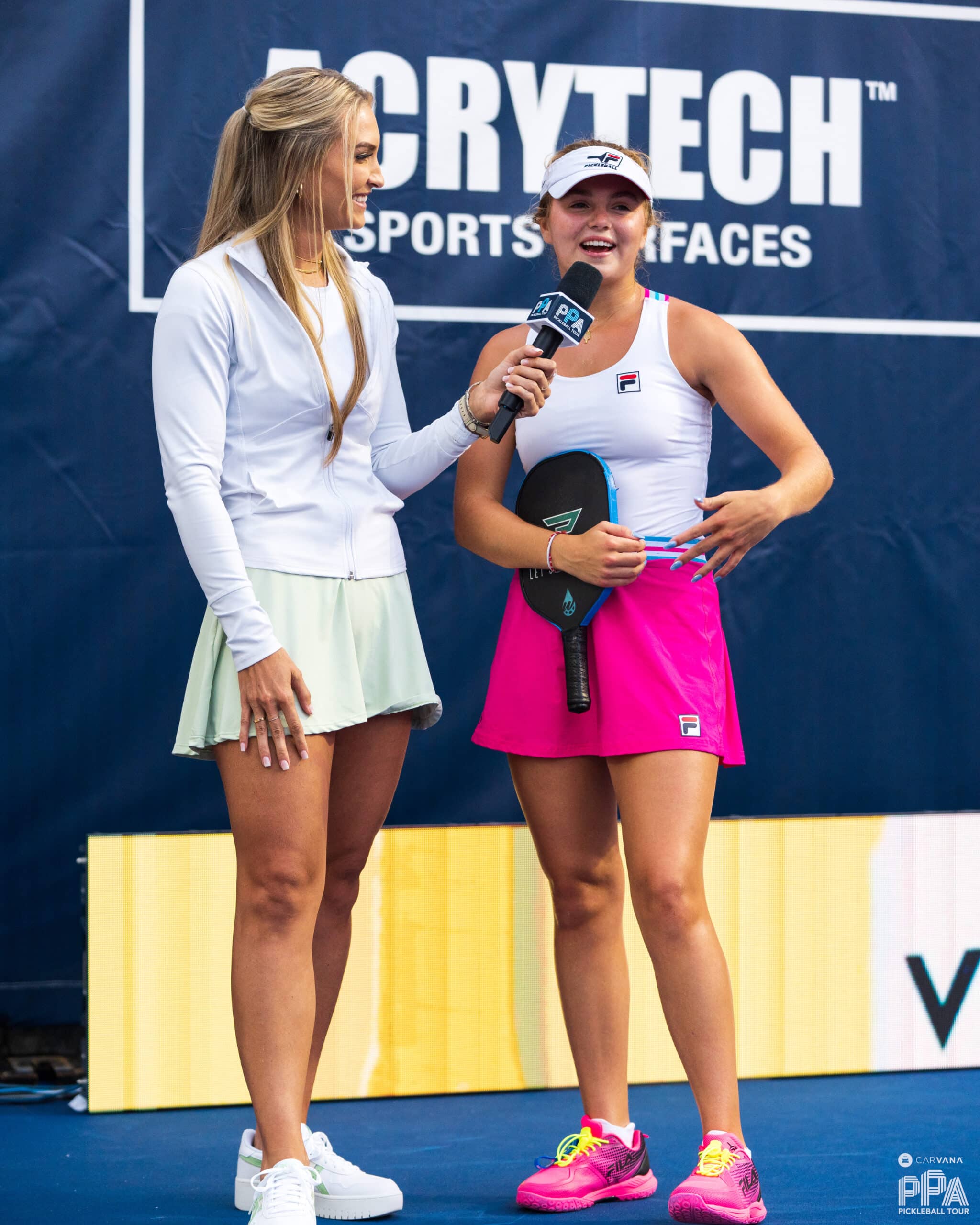 === MEN'S SINGLES ===
UPSETS! A huge bracket with 32 players led to several upsets, including nine of the top ten players. Christian Alshon, ranked in the Top Ten for the first time at #8, upset top-seed Ben Johns. #15 Jake Kusmider beat #2 Federico Staksrud (and Jack Sock two weeks ago in Charlotte).
#11 CONNOR GARNETT'S path to his first final included wins over #6 Julian Arnold and #3 Tyson McGuffin.
Garnett faces JW JOHNSON, the #5 seed. His four PPA titles, including one the Peachtree Classic last September, is second-most all-time behind Ben Johns (26). Johnson earned a silver at the National Indoor Championships in February, losing to James Ignatowich.
=== WOMEN'S SINGLES ===
#1 ANNA LEIGH WATERS blasted past #4 Catherine Parenteau in the semis, 11-1, 11-0. Waters said after the match she is now playing the best singles of her life. Waters has more singles titles (23) that the rest of the field combined.
#6 MARY BRASCIA upset #3 Salome Devidze and #2 Lea Jansen. Brascia, currently ranked #7, is looking for her first PPA Tour Singles title.
=== MIXED DOUBLES ===
Top seeds ANNA LEIGH WATERS and BEN JOHNS allowed only 41 points in their minimum of eight games (four matches) to reach the final. Their 16 Mixed Doubles gold medals together is the most all-time.
PARRIS TODD and RILEY NEWMAN, the #6 seeds, is a new partnership that meshed well to reach the finals. They beat the #2 team of Catherine Parenteau and Tyson McGuffin in the semis.
Newman has reached the Mixed Doubles final with six different partners. (Todd, Allyce Jones, Anna Bright, Jessie Irvine, Catherine Parenteau, Lindsey Newman)
Todd is the last woman to beat Waters in a PPA Singles Final…that was last June. While she has silver and bronze medals in Women's Doubles, this will be her first Mixed Doubles medal. Will it be silver or gold?
=== MEN'S DOUBLES ===
Top-seeds BEN and COLLIN JOHNS resume their rivalry with #2 seeds RILEY NEWMAN and MATT WRIGHT.
The Johns Brothers have owned this rivalry recently, winning five straight gold medal matches since last November. In three of those matches, (Desert Ridge, Arizona Grand Slam, and Austin Showdown), the Johns Brothers successfully defended potential game points before winning those games and matches.
Newman and Wright are trying to win back-to-back events for the first time since a year ago, when they ran three straight in North Carolina, Atlanta, and Orange County.
=== WOMEN'S DOUBLES ===
Top seeds ANNA BRIGHT and ANNA LEIGH WATERS are looking for their fourth title this year, and seventh in 2023 for Waters.
Jorja in Georgia! JORJA JOHNSON and VIVIENNE DAVID, the #7 seeds, were on the ropes in their semifinal with the Brascia sisters. The Brascias led 9-3 in the third, then had -six- match point opportunities. David and Johnson won ​14-12 in the third. Johnson is looking for her first women's doubles title, while a PPA title here would be David's second ever.