Why Federico Staksrud's Cincinnati Title Means Something a Little Extra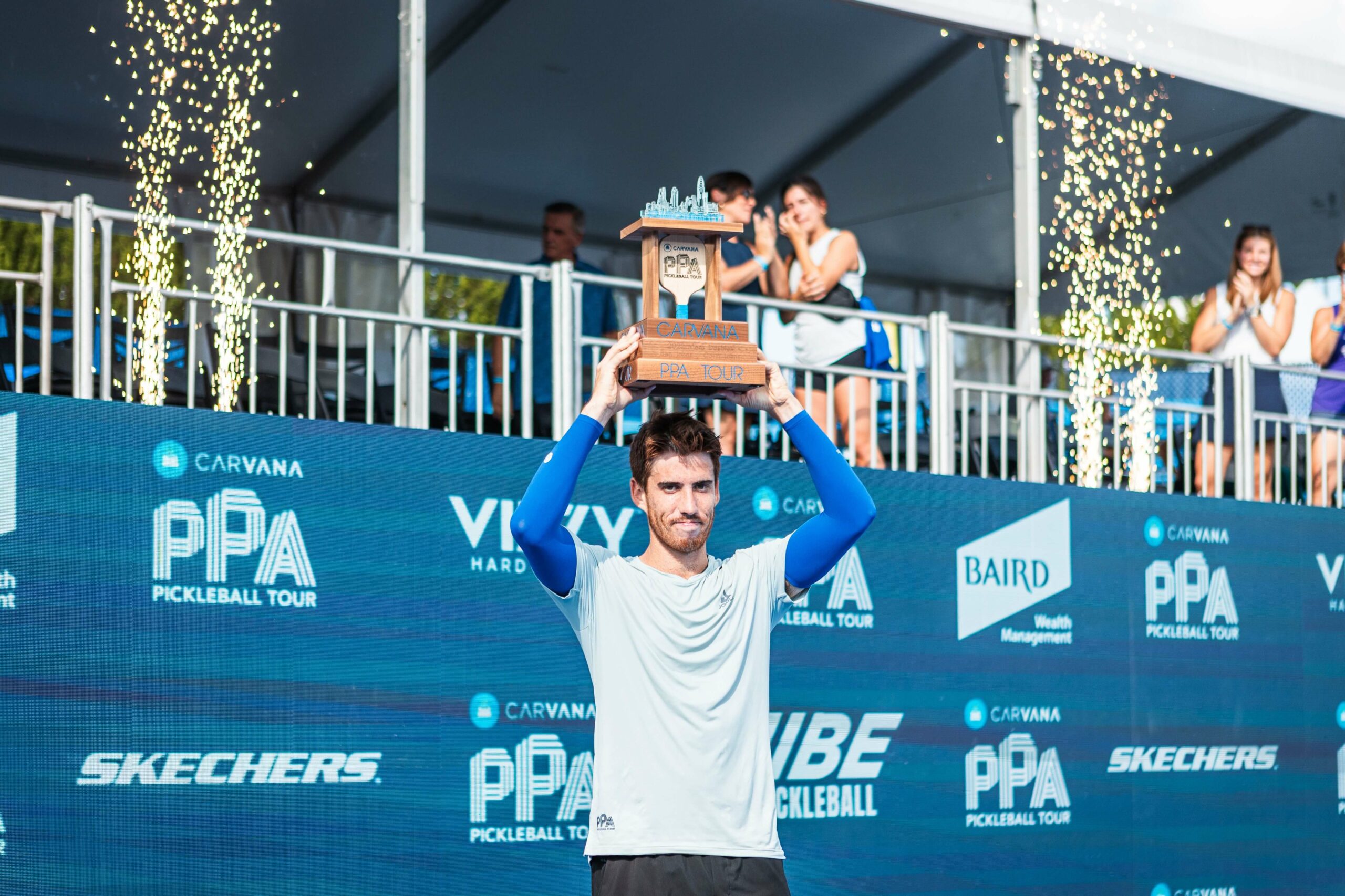 "Just when you think he's in trouble, he rallies back."
That's what PPA commentator Michelle McMahon said of Ben Johns during the first game of the Men's Singles final at the Baird Wealth Management Cincinnati Open on Sunday.
She's not wrong—earlier in the day, Johns had captured his milestone 100th and 101st titles on the PPA Tour. And as McMahon spoke, the sport's undisputed GOAT had just won four points in a row to even the score at 7.
Just under 50 minutes later, though, it was the man across the net from Johns who hoisted the trophy for the Cincinnati crowd. It had been the No. 2 seed, Federico Staksrud, who had rallied back after trailing 3-8 in the deciding game to close out an 11-9, 2-11, 11-9 victory.
Now, this is a big result for the Argentine for all of the usual reasons. It's his 4th gold medal on the PPA Tour, and this victory puts him ahead of Johns in "The Race," which refers to tour points earned since the start of the year (Johns still remains #1 in tour standings because of the 52-week rolling system of point compilation). It's also Federico's first win against Johns since his semifinal victory at the Carvana Arizona Grand Slam in February. 
But it's more important still because it's the first time in five tries that Staksrud has bested Johns on Championship Sunday.
And Ben Johns doesn't lose singles matches on Championship Sunday.
Going into this final, Johns had competed in 31 gold medal singles matches on the PPA Tour since 2020. He had won 30 of those matches. That's a 96.7% win percentage, if you're wondering, in what are usually the most difficult matches to win.
His only Championship Sunday singles loss during that period came at the hands of Tyson McGuffin, a titan of the sport in his own right, at the Baird Wealth Management Texas Open in 2022. Staksrud now joins McGuffin as the only other man to beat Johns in singles when stakes are at their highest.  
Over this same time period since the inception of the tour, Johns had lost only nine main draw singles matches, never losing to the same player twice. 
And when he has played an opponent in a final who has beaten him previously, he has been more than up to the challenge. This is evident most recently in his encounters with Christian Alshon, a dangerous opponent in any event despite being a relative newcomer to the sport.
Alshon got the better of Johns in the quarterfinals of May's Acrytech Atlanta Open in three games. Their next matchup came in the finals of the OH SNAP! Denver Open in July, where Johns dismantled Alshon in a dominant 11-1, 11-2 display that lasted just over 20 minutes. 
It is Johns' resilience to consistently best his foes on Championship Sunday that has helped him remain at the top of the sport. It's also why this victory for Staksrud should mean a little more than it would if he had beaten anyone else for the title. Johns is a different beast in finals, yet Staksrud was able to prevail for his biggest title to date, his fifth medal in as many tournaments, and a massive win against the world's best at a Major.
While Johns will continue to wreak devastation on the men's game and may very well close in on 200 titles before any other man makes it to 100, Staksrud's confidence should be sky-high going into MLP Atlanta beginning Sept. 21.
The match was not one to miss. Watch it below on PPA TV.