Waters Walks It and Talks It in Atlanta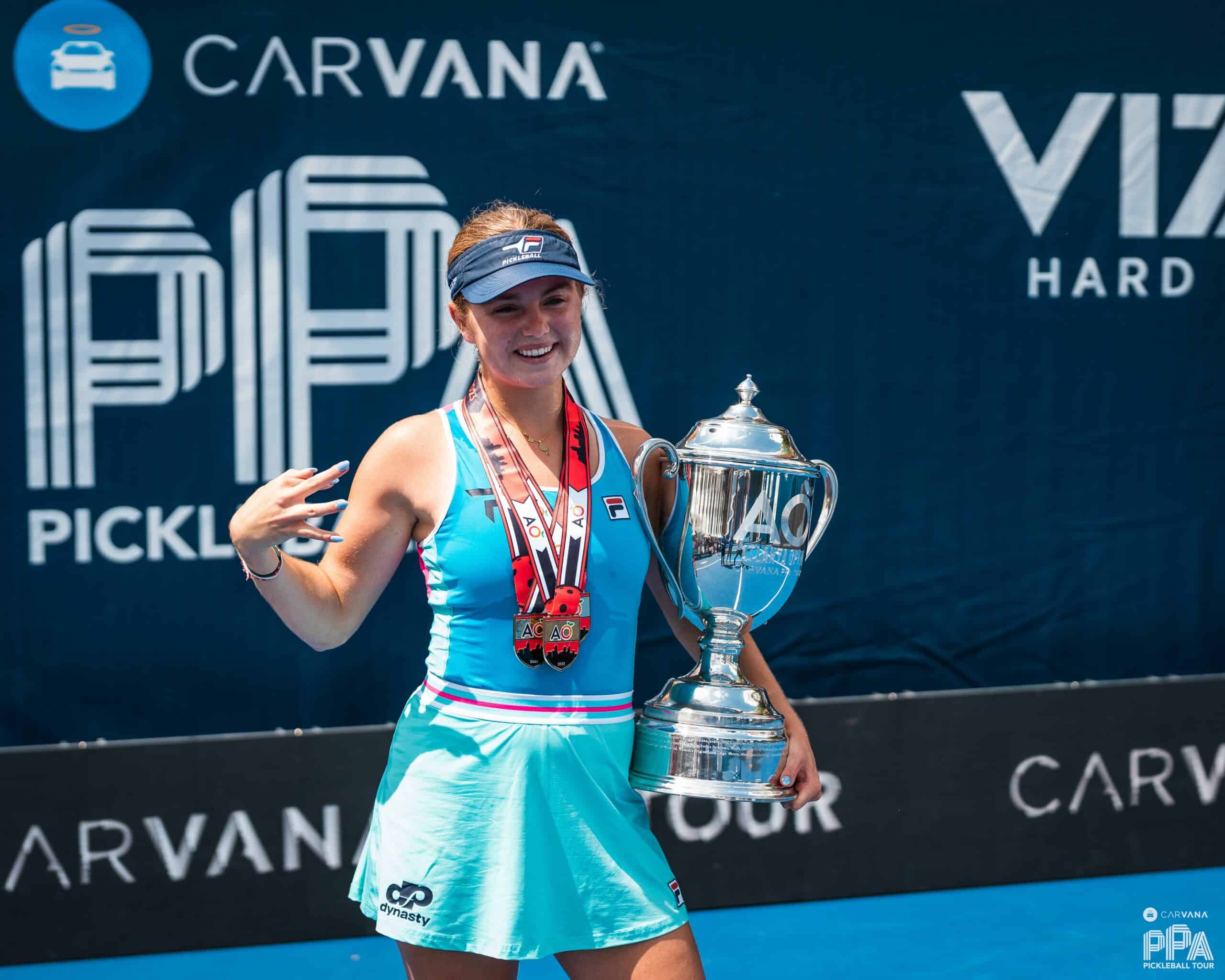 There was a moment after Anna Leigh Waters won her first of three titles Sunday in Atlanta where she caught herself and nearly changed directions.
No, not on the court where she was flawless on the day, wrapping up her fifth triple crown of 2023. It was actually just off the court in a post-match interview following her win alongside Ben Johns against Riley Newman and Parris Todd.
Waters was asked about the banter going back and forth between the two teams and she looked as though she was uncomfortable about the issue and was going to change the subject. Then she didn't. She leaned into it.
Waters wondered out loud why players were doing more talking at her than ever before. Waters actually looked mildly upset, but she was forthright and honest, questioning the motivation behind it all.
But here's the real question, why? Yeah, why would they? It doesn't seem to be the best idea and it clearly isn't working, unless the goal is to get Waters more focused.
She's 86-2 this season. Not even the Beatles have a better record than that. And after three more titles in three more events at the Atlanta Open, there doesn't appear to be anyone who can say or do anything that will affect her.
"I feel like it helps my game," Waters said. "I play my best when I'm moving a lot, and I'm moving and confident and screaming after points."
Sunday, against Todd and Riley there was more banter than a wine-fueled book club. Players were loudly cheering themselves and their partners on, and there were plenty of stares across the net, too.
Ultimately, it ended with an 8-11, 11-1, 11-6, 11-3 victory for Johns/Waters and finalized a 32-1 record in mixed doubles.
Last time out, in Charlotte, N.C., Waters played with Jack Sock and won gold against Newman and Allyce Jones. This time out, Waters learned a little something new.
"I feel like I play really well when I'm fired up and energized," Waters said. "I think I've realized that in the last couple tournaments. Playing with Jack [Sock], made me realize that, too. He's super vocal on the court, so I thought maybe I'll get a little more vocal. And other people have been more vocal with me which has brought more out of me."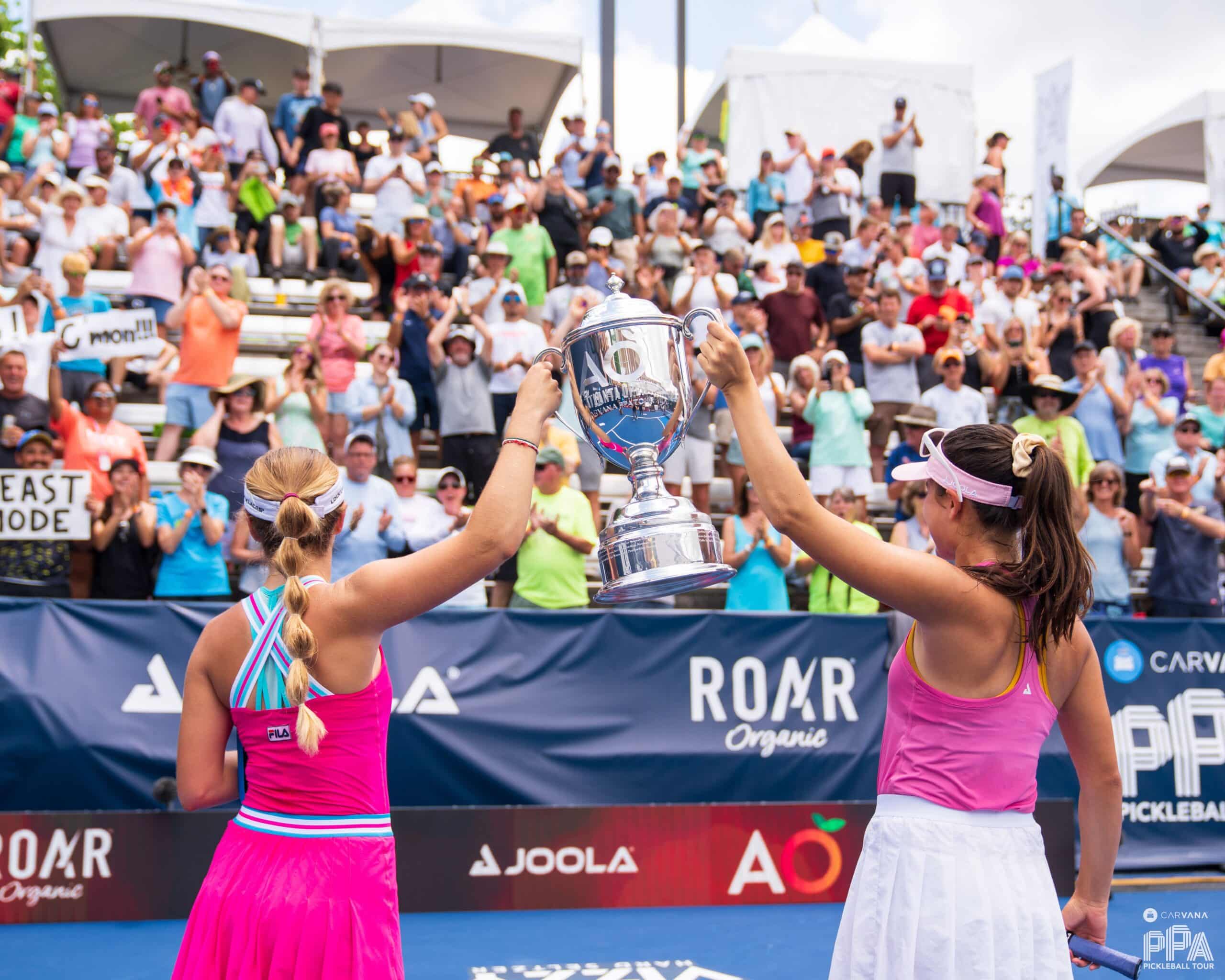 What else is in there? She's 16-0 alongside Anna Bright. The two blazed through the women's draw, beating Vivienne David and Jorja Johnson in the final, 11-4, 11-3, 11-5. That's the fourth gold medal in 2023 for Waters and Bright.
Meanwhile in the singles draw, Waters made it look easy with an 11-5, 11-4 victory over Mary Brascia.
That win makes her 26-1 in singles this season.
And now, despite all the prolific winning, is it possible Waters is going to be even more dynamic, vocal, and demonstrative on the court?
"My personality is to be more calm, and if i'm down, I need to figure out a way to get myself out of it," Waters said.
Being animated helps.
"I don't know if you'll see it the rest of the year, but we'll see," Waters said.