Tyson's Back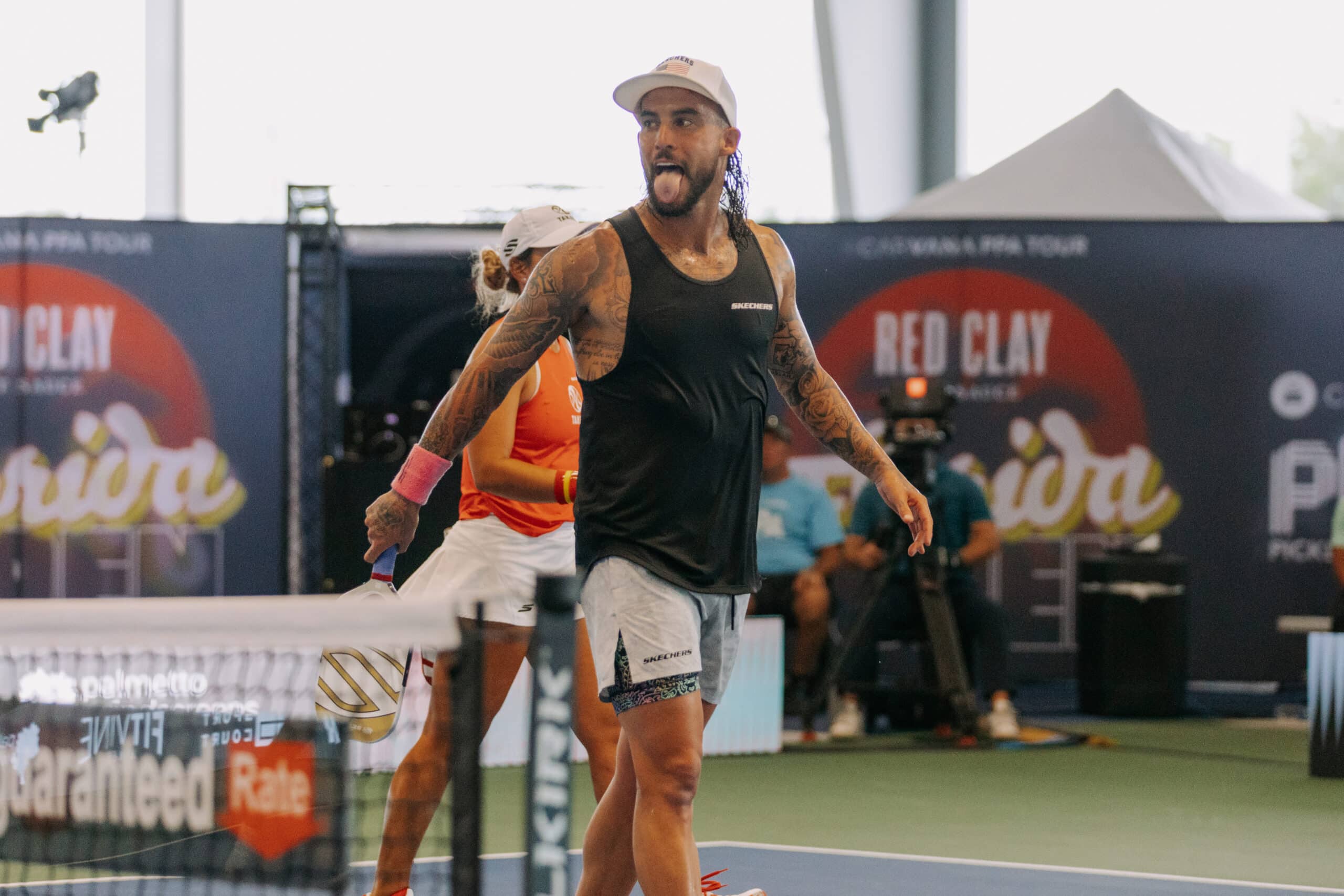 The hair looked flow-ier, if that's even a word. The mullet was even more mullet-like. The sweat was sweatier and the shots were all there. Nothing has changed. 
Tyson McGuffin is back and that's a good thing for pickleball.
After missing about six weeks due to a foot injury caused by plantar fasciitis and a number of other issues, McGuffin paired up with Catherine Parenteau Friday at the Florida Open, and the two charged all the way to a spot on Championship Sunday.
"It's just good, clean living," McGuffin said. "That's what it is, and it makes my life easier with Catherine here by my side."
Life looked back to normal for the effervescent McGuffin who looked as comfortable on the court as he did with a microphone.
"It feels great to be back, great to be back with the fans, and with the PPA team," he said. "My wife and kids are here. It's going to be a long season, but I'm happy to be back rockin-and-rollin again."
That's what McGuffin does and for a first showing of 2023, it looked, well, pretty McGuffin-y.
He and Parenteau didn't drop a game in four matches and rolled over JW Johnson and his sister Jorja in their semifinal, 11-6, 11-0.
After the win, McGuffin gave Parenteau a quick hug, tapped his paddle a few times, pointed to the crowd, and raised his arms. It was all on-brand for one of the tour's most eccentric players.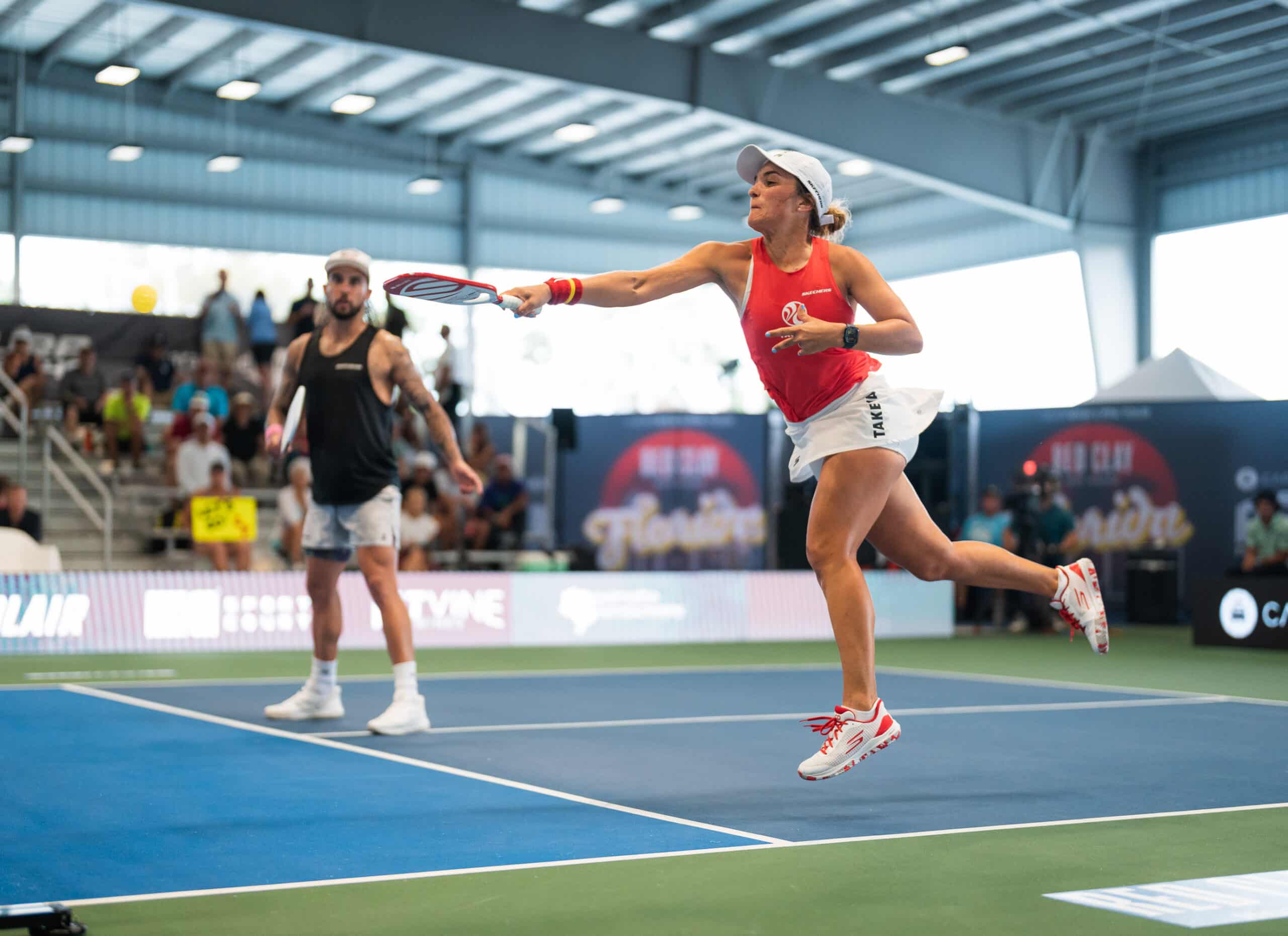 "I had some low expectations coming in, and luckily, I was able to bring the goods," McGuffin said. "My feet felt very heavy coming back from injury, but it seemed like today the ball slowed down a little bit and the ball got bigger. And now, here we are, and we're heading to Championship Sunday."
Championship Sunday for McGuffin and Parenteau where they will take on top-seeded Ben Johns and Anna Leigh Waters, and it's been a bit of a climb to get here.
McGuffin said he's been dealing with a torn labrum in his hip which ran down his left leg. "It made my whole left leg kind of wonky," he said. "It was an on-going injury, and one big thing I've noticed is that if you don't fix something, it usually leads to something else. I did four-to-five weeks of solid rehab and also had some tennis elbow I was dealing with, so I got an injection. I was banged up, but I feel like I'm back to 100 percent,"
McGuffin did withdraw from singles on Thursday, but said he was planning on playing all events coming up.
"I have a mental coach and a good support system around me," he said. "It's a tight team and a circle that's supportive. The toughest part of being injured is mentally thinking about not playing. I was talking to my mental health guys a few times a week and that was very beneficial."
And McGuffin offered a bit of advice, too.
"If you're injured, keep your mental game in check and make sure you have the right people around you."
McGuffin will team with another of the tour's outspoken players, James Ignatowich, on Saturday in men's doubles. The pair come in as the sixth seed.
Meanwhile, Parenteau's win with McGuffin Friday means she will be playing in at least two Championship Sunday finals. Parenteau will take on Lea Jansen in the singles final as well. Parenteau is playing alongside Waters as the top seed in the women's draw.
Jessie Irvine and Jay Devilliers earned third place in mixed doubles, beating the Johnsons, 11-5, 12-10.