Resides: Austin, TX
Turned Pro: 2016
Birthday: March 18, 1999
Age: 23
Height: 6′ 0″
Plays: Right-Handed
Meet
Ben Johns
Ben Johns is considered by many to be the greatest pickleball player of all time. Ben has been the #1 player in all three divisions for most of the last three years. His dominance has included a 108-match winning streak in singles. With over 80 PPA Titles to his name (and growing), and more Triple Crowns than any other male in professional pickleball history (where a "Triple Crown" refers to winning gold medals in all three divisions during a single tournament), he is destined for the Pickleball Hall of Fame.
At only 24 years old, he's one of the youngest players on the PPA Tour.
Ben's sponsors include JOOLA Pickleball and Jigsaw Health. He plays with his signature Joola Hyperion CFS 16MM paddle, which he helped develop.
Outside of pickleball, Ben recently completed his studies at the University of Maryland in Materials Science & Engineering. His other hobbies include traveling, reading, weightlifting, playing various other sports (including spikeball, golf, chess, and table tennis). He is the co-owner of two businesses: Pickleball Getaways (all-inclusive vacations with pickleball instruction), and Pickleball 360 (instructional video subscription service).
Johns grew up in Laytonsville, Maryland and now resides in Austin, Texas. He is the middle child of seven children.
Ben's brother, Collin, is Ben's regular doubles partner, and his sister, Hannah Johns, works for the PPA Tour as a sideline reporter.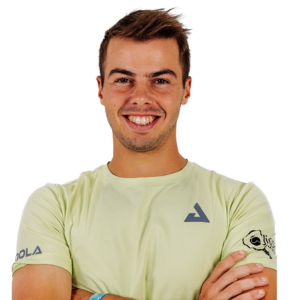 Follow Ben Johns on Social Media!