Preview to the Takeya Showcase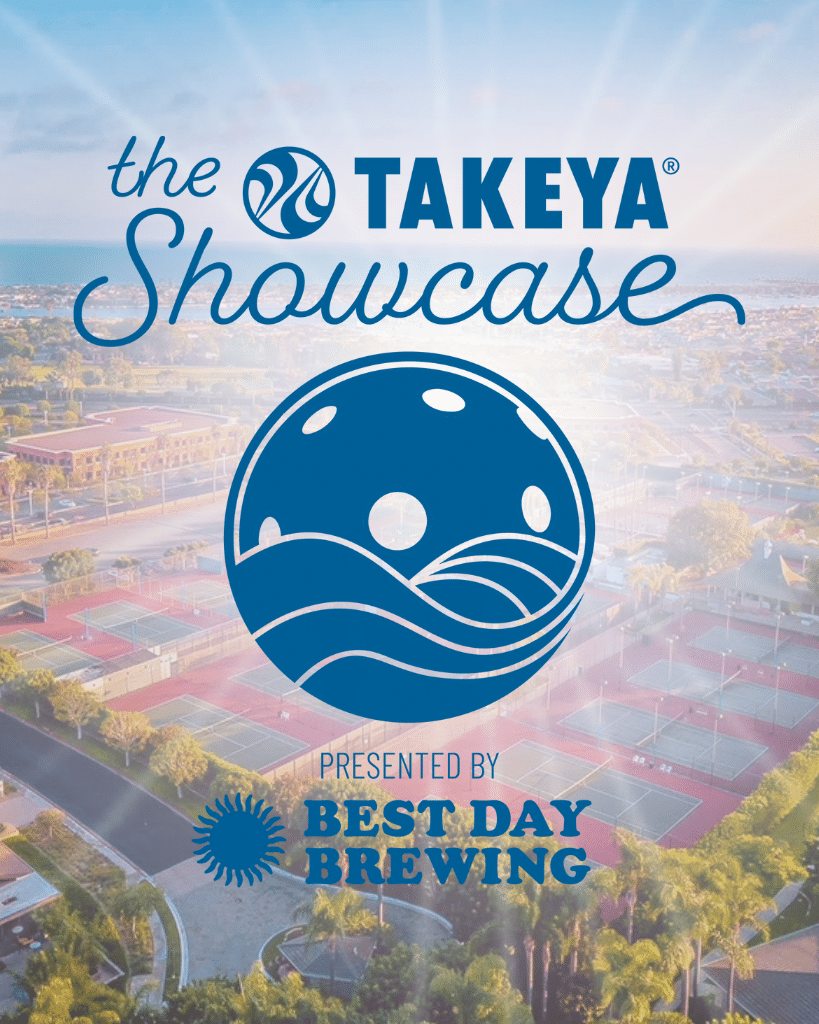 After a thrilling week of drama-filled matches in Texas, the biggest names in the PPA return to action in Newport Beach, California. We've got two intriguing storylines heading into the Takeya Showcase Powered by Best Day Brewing. Will we see a continuation of the crowd-pleasing drama this week? Will the Californian athletes impress the home crowd?
MEN'S SINGLES:
Tyson McGuffin revived a historic rivalry that many feared was coming to an end. After a handful of consecutive defeats to Ben Johns, McGuffin finally managed to flip the script in Texas. Down 9-4 in the second set, McGuffin mounted an unfathomable comeback with a string of passing shots. McGuffin and Johns enter the Takeya Showcase as the top two seeds, so what will Johns need to do to snatch the metaphorical "championship belt" back from McGuffin? If we see a rematch in the final this week, Johns will need to hit more penetrating approach shots in order to gain the advantage. Julian Arnold, a California native, should also be on everyone's radar this week. Arnold made a nice run in Texas and defeated Johns not too long ago, so he has the potential to pull off an upset in Newport Beach with the crowd behind him.
WOMEN'S SINGLES:
Four months ago, Parris Todd knocked out Anna Leigh Waters to complete an unforgettable championship run in California. We might just see another one from Todd in Newport Beach, since Waters will not compete this time around. Todd earns her victories by moving opponents from corner to corner and covering the court well. She might have to avenge a recent defeat to Catherine Parenteau to score some more California gold. Todd will also need to watch out for Lea Jansen, Anna Bright, and Salome Devidze. Jansen has gotten the better of Parenteau the last couple times, while Bright and Devidze have exceeded expectations recently. California-based hopefuls Mary Brascia and Emily Ackerman haven't made a deep run in PPA tournaments yet, so root for them if you'd like to watch a Cinderella story unfold. Believe it or not, Brascia resides in Newport Beach and regularly practices at the event venue!
WOMEN'S DOUBLES:
Anna Bright's latest attention-grabbing results have also occurred in women's doubles. Bright has scored two major upsets over top-seeded Lucy Kovalova and Callie Smith since the start of October. Although she had two different partners in those two matches, she followed both of those upset wins with strong performances against Leigh and Anna Leigh Waters. Bright and Irvine won't be partners this week, but expect high-quality pickleball from both of them. Bright pairs up with Parris Todd – a partnership that upset Kovalova and Smith at the PPA Championships not long ago. Will we see a rematch between these two? If we do, pay attention to how Kovalova handles the pressure when Bright/Todd target her on the big points. Irvine, who will play with Lindsey Newman, is the top-ranked Californian women's doubles player, so expect her to be extra motivated this week. Another inspired team, Mary Brascia and her sister Maggie, would become hometown heroes with a deep run in Newport Beach.
MEN'S DOUBLES:
The most exhilarating PPA rivalry continues to live up to the hype. A closely contested Texas Open final between Ben/Collin Johns and Riley Newman/Matt Wright extends an incredibly long streak of drama-filled matchups between these two teams. If you're hoping to end up at the edge of your seat during a PPA match, just watch these two frontrunners if they make the final in Newport Beach! When you watch this matchup, you'll enjoy the anticipation that builds as you wait for someone to pounce at the net after a handful of dinks. Although there are no Californians in the two top pairings, Callan Dawson leads an extensive list of Californian competitors in the men's doubles bracket. Dawson and Tyler Loong are a sneaky dark horse team, and Loong almost pulled off a seismic upset against the Johns brothers in Texas. Your California miracle would be DJ Young and Spencer Smith. Smith played alongside Loong in that near upset of Ben and Collin, while Young, along with his partner Dylan Frazier, came close to a Texas-sized upset of Newman/Wright.
MIXED DOUBLES:
For the first time in months, the unbeatable team of Ben Johns and Anna Leigh Waters will not compete together on the PPA Tour. That means the time to take down Ben Johns is now, so get ready to witness some thrillers. Nonetheless, Johns and Catherine Parenteau enter the event as favorites. Another hot team, Riley Newman and his sister Lindsey, played an epic final against Jessie Irvine/Jay Devilliers at last year's PPA Championships, so cross your fingers for a rematch in Cali! Irvine and Devilliers overcame the Newman siblings at last year's main event by zeroing in on Lindsey, so watch out for that strategy to make the difference again this week if these teams meet. If Irvine can remain standing after this potential blockbuster, this could be her best chance to win gold in her home state. Callan Dawson, the top-ranked Californian man in mixed doubles, teams up with Meghan Sheehan-Dizon and could give the crowd a pleasant surprise.
Tune into the action via PPA TV and Tennis Channel+ all week long! Rumor has it that former No. 11 ranked tennis player, Sam Querrey, will be joining the team of announcers in the booth on Thursday-Friday to give his input on pickleball…