Preview to the n2grate D.C. Open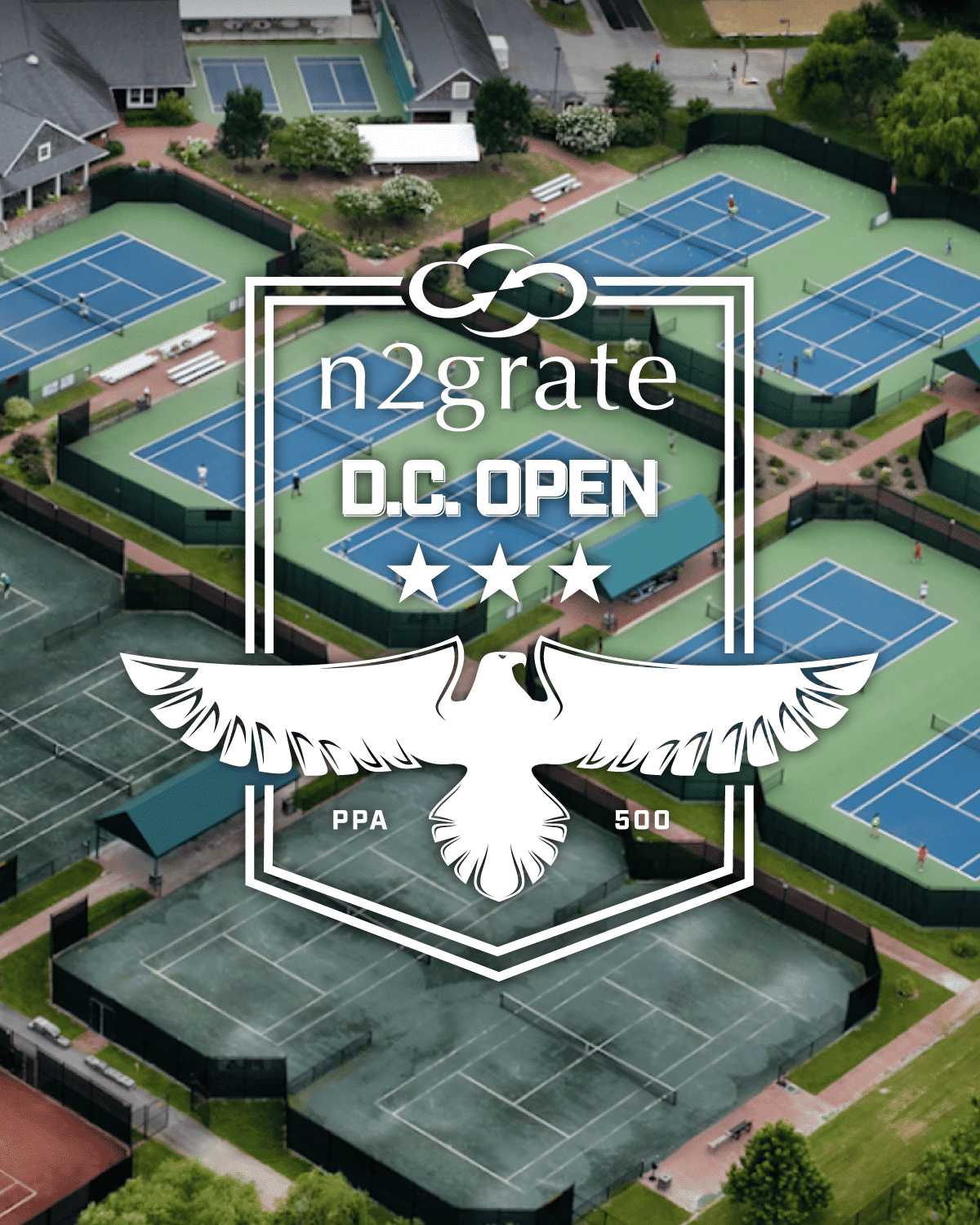 An action-packed month of PPA pickleball in the month of October concludes at the prestigious Junior Tennis Champions Center (JTCC) in College Park, Maryland. This will be the first-ever PPA event held at the JTCC (or in the DMV area generally!), so the question at hand is, which athletes will become the first champions at the new venue?
MEN'S DOUBLES
Riley Newman played machine-like pickleball in Frisco last week during his gold medal run. With Matt Wright returning to his side after their massive victory in five epic games at the PPA Championships, oddsmakers would likely favor Newman/Wright in College Park. 
However, in an interesting twist, the brother team of Ben and Collin Johns, who have been the toughest opponents for Newman/Wright up until now, have the home court advantage. Expect the crowd to stand behind Team Johns, who were both born and raised in Maryland, with Ben graduating from University of Maryland just a few miles away from the tournament facility.
Ben and Collin will need to keep Newman/Wright pinned at the baseline as much as possible, especially right out of the gate. There can be no slow starters this time around in order for Johns/Johns to come out ahead. Newman/Wright sprinted to an 11-2, 11-2 lead against the Johns Brothers in the Vegas final. Keep an eye on Tyson McGuffin/Jay Devilliers and Callan Dawson/Tyler Loong, two teams that shouldn't be taken for granted.
WOMEN'S DOUBLES
Leigh Waters returns to the court after sticking to commentating for the PPA celebrity event last week in Frisco, and (no surprise) she'll partner up with daughter Anna Leigh Waters at the D.C. Open. Based on recent results, Leigh and Anna Leigh enter as the tournament favorites.
Vegas finalists Anna Bright and Parris Todd will not compete at the DC Open, which gives Lucy Kovalova/Callie Smith better odds to meet Team Waters in a No. 1 vs. No. 2 final. Teams should avoid peppering all their shots at Leigh, who played impeccably at the PPA Championships.
Catherine Parenteau and Lea Jansen have had great results in 2022, and they'll be the third-ranked duo at the DC Open. Keep an eye on Jessie Irvine too, who's been in great form lately and will pair up with Irina Tereschenko for this one after coming off a gold medal finish with Jansen in Frisco just last week.
MIXED DOUBLES
The super-team of Ben Johns and Anna Leigh Waters shouldn't have any problems at the n2grate D.C. Open. They might lose a game or two en route to their highly anticipated gold medal, but these two are a pickleball wall that have seemed just unstoppable this year. If you get the chance to watch them play, you'll be dumbfounded by their incredible reflexes and shot placement.
Team Johns'/Waters' stiffest test could be Catherine Parenteau/Riley Newman, who performed well against different teams at the PPA Championships and captured the title together in Frisco last week. Jessie Irvine/Jay Devilliers and Callie Smith/AJ Koller (who took a tight game off of Johns/Waters when they met in Vegas) could also add some twists to College Park's stacked mixed doubles bracket.
MEN'S SINGLES
Ben Johns has a handful of new worthy challengers in singles, but several of the most dangerous ones are absent from the College Park bracket. The last two players who managed to defeat Johns in singles, Julian Arnold and Tyler Loong, won't make it to Maryland. J.W. Johnson, who has given Johns some trouble in singles in the past, is also not playing.
Tyson McGuffin is playing, however, and holds the top spot in the singles rankings, so fans might get to see the next chapter of the McGuffin-Johns rivalry. If the top two seeds advance to the finals, McGuffin will need to serve big to have any chance against Johns. Watch out for singles No. 4 Jay Devilliers, who is playing phenomenal and might find some new inspiration after becoming a father to his third son last week. AJ Koller and Frank Anthony Davis could ruffle some feathers as well.
WOMEN'S SINGLES
Anna Leigh Waters' ferocious backhand and powerful overall game shines in singles. You would think the n2grate D.C. Open's smaller bracket would benefit her, but it'll do just the opposite. All of the top five singles players will compete at this tournament, so Waters will very likely face another formidable player early on in the day. If Waters ends up playing Callie Smith in her semi, you won't want to miss that match! Smith gave Waters a battle at the Peachtree Classic in September, transitioning effectively from defense to offense.
Catherine Parenteau, who scored a satisfying win over Parris Todd in the PPA Championships semifinals, should meet Waters in the final unless singles No. 3 Lea Jansen can score an upset. Rounding out the top five is Irina Tereschenko, who could also come full of surprises and sick tricks at this event.
The n2grate D.C. Open will air on CBS, CBS Sports, Tennis Channel and PPA TV from Thursday, October 20 to Sunday, October 23. Don't miss it! For specific dates and times, refer to our TV Guide.