The Hyundai Masters mixed doubles bracket featured a whole host of exciting new teams, with no easy matches in the main draw. Pickleball fans have been waiting eagerly to see how Jessie Irvine/Riley Newman and Catherine Parenteau/Tyson McGuffin would perform together as two noteworthy partnerships debuting in 2023. Could a new team finally crack the code against Anna Leigh Waters and Ben Johns?
Waters and Johns gave what seemed to be a resounding 'no' on Friday as they breezed through their draw, dominating all six games in their first three matches. The most impressive result of the day came in the quarterfinals, where Waters and Johns won 11-3, 11-1 against an extremely dangerous team, Anna Bright/Dylan Frazier.
Waters and Johns were finally put to the test in their semifinal against Parenteau/McGuffin. Parenteau/McGuffin gave the top seeds everything they had, coming an inch away from taking game one. Waters and Johns worked to expose their opponents' weakest point, which was that they were still learning to play together. As Waters/Johns played to openings in the court, they created chaos between Parenteau/McGuffin over who would take which balls. McGuffin began to accumulate unforced errors early on in the second game, so Waters and Johns kept as many balls on his side of the court as possible and rode this strategy to the finish, winning with a final score of 12-10, 11-3.
"It's always tough to play against a new partnership, but I think it's good for the sport to see different matchups," Waters said. "We really had to focus after going down 10-7 in the first, and once we switched to the better side, we took it from there."
The biggest new threat to Waters and Johns, though, are still alive. Second-seeded Jessie Irvine/Riley Newman had a tougher ride on Friday to their slot on Championship Sunday, but the blockbuster final is set. Irvine/Newman received their first test in the quarterfinals against the sibling team of J.W. and Jorja Johnson. After falling behind a game, Irvine and Newman made the adjustment of zeroing in on Jorja, who, although extremely talented, has the fewest matches under her belt. The strategy helped the second seeds complete a 10-12, 11-3, 11-6 comeback win.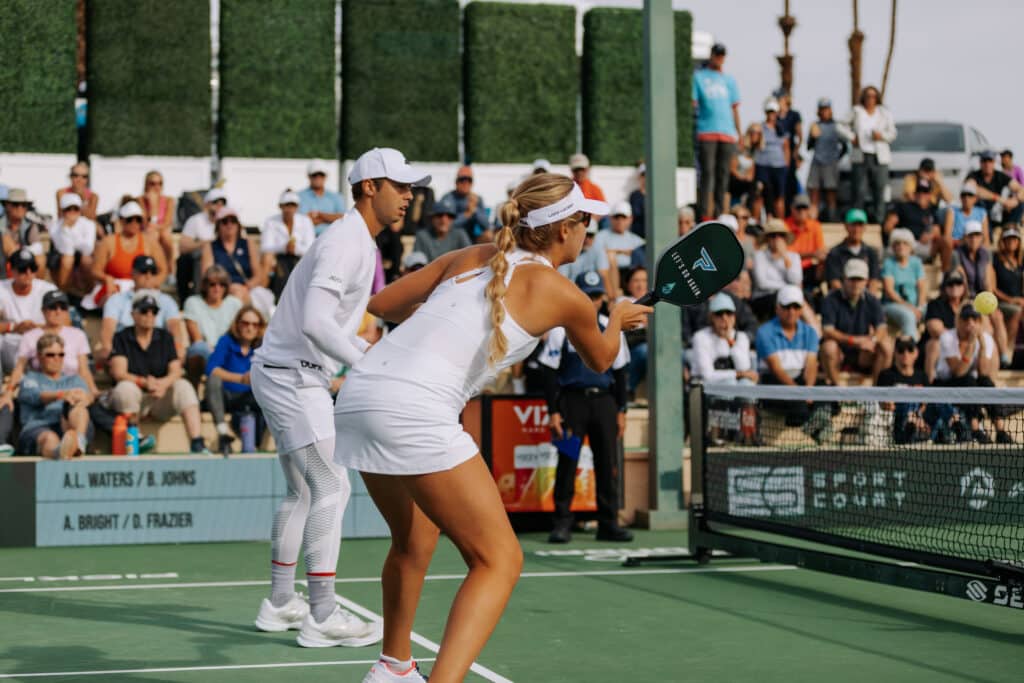 Irvine and Newman were expecting to battle Lucy Kovalova and Matt Wright in the semifinals, but they were in for a surprise, as 11th-seeded Vivienne David and Thomas Wilson were the Cinderella story on Friday. David/Wilson stunned sixth-ranked Callie Smith/Jay Devilliers and third-ranked Kovalova/Wright on their way to reaching the final four and played absolutely brilliantly all day.
David/Wilson's Cinderella story features some scary moments, however, as Wilson battled through an abnormally elevated heart rate and was forced to take a medical timeout and receive care at 11-5, 9-3 – only 2 points away from victory against Wright/Kovalova in the quarterfinals.
"Toward the end of the second game, when the adrenaline gets going, my heart rate gets high, my heart goes into arrhythmia, and it like goes 208 or something crazy," said Wilson after the match. "So the physician's kind of looking at my wife, who's an NP, a little concerned, so then I'm concerned as well." 
Somehow David/Wilson managed to find their game after losing 8 straight points in game two. They came back to win in nerveracking match that had fans holding their breath as Wilson held a hand to his chest throughout and struggled to moderate his breathing and heartbeat. The final score was 11-5, 9-11, 11-6 to propel David/Wilson into the semifinals.
David/Wilson's inspired play earned them the first game against Irvine and Newman in the semis, but Irvine got laser-focused from that point forward. The match, which was filled with high-quality points and great defense, was won by Irvine/Newman 9-11, 11-2, 11-6.
"Even though it's a new partnership, we both fight hard and we both want to win," Irvine said. "The most important part of a new partnership is communication, we're there for each other and staying positive."
David and Wilson did not finish their day without reward, however, and battled through the backdraw to capture the bronze medal 11-8, 11-8 against Parenteau/McGuffin. Expect great things from this team in future.
Saturday is men's and women's doubles, with rain expected in the afternoon. Stay tuned in all day long via PPA TV on YouTube, plus Tennis Channel coverage starting at 1pm PT.