Navratil, Koop get chance at first medal since April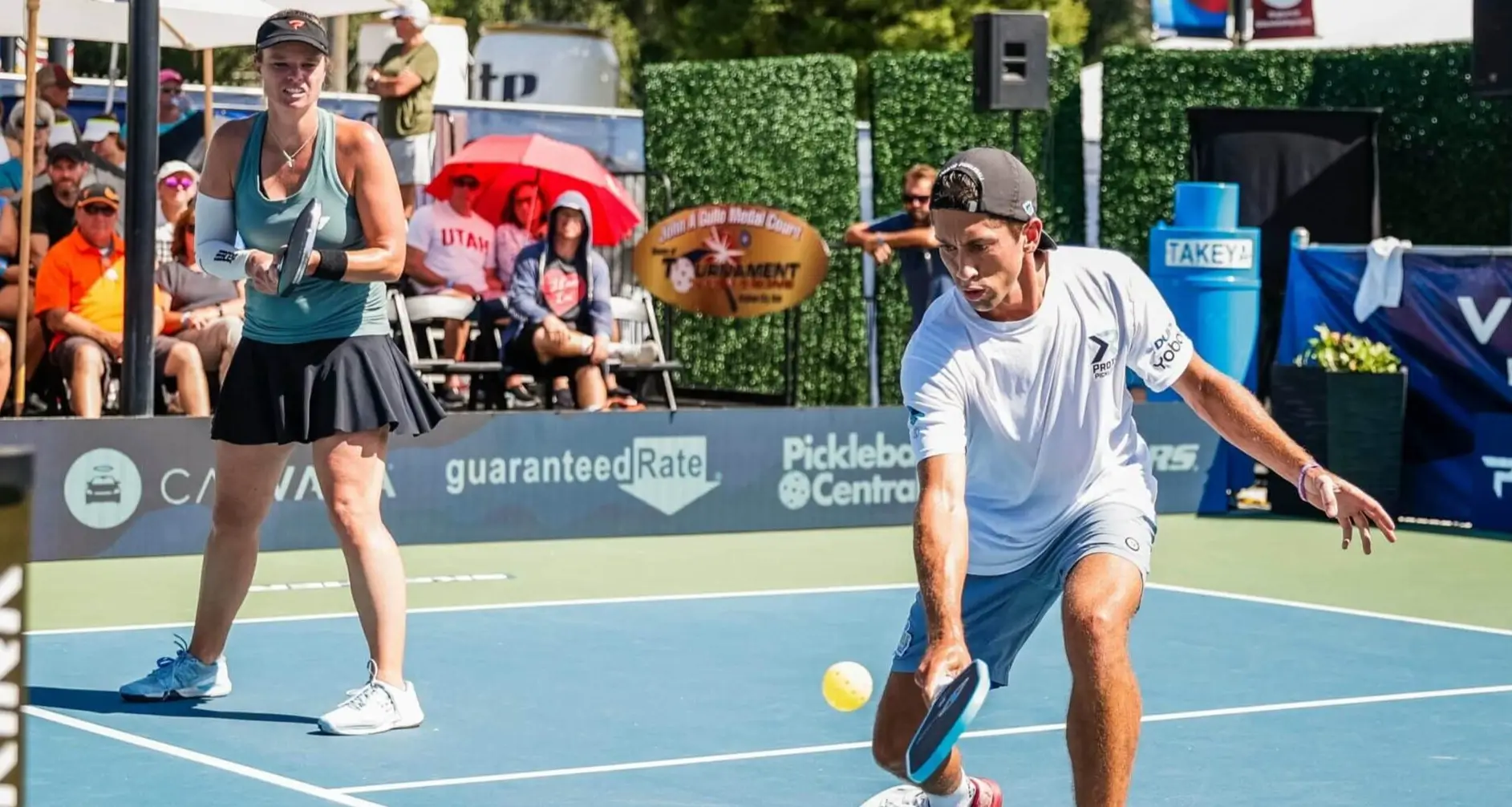 Zane Navratil is back. Well, kind of.
"I don't know," he said. "Sure. I guess I'm back."
Navratil didn't care about the semantics of it all – call it what you want – but after a semifinal showing at the Tournament of Champions Thursday, it's safe to say he is.
Navratil has been everywhere in pickleball. He's got a gregarious disposition. He's all over the social media pickleball scene, from posting to podcasting, and he's been in the game a long time, compared to so many on the PPA Tour.
He just hasn't been on the medal stand in a while.
"It's been disappointing in terms of results," he said of the past year. "But I'm still practicing and playing hard. I'm out there grinding and doing my thing."
His "thing" is energy, packed efficiently into a compact frame, experience, and attitude. And Thursday at the TOC in Brigham City, Utah, Navratil got the results to match up with his energy and attitude.
Paired with partner Andrea Koop, the two came into the tourney as the 15 seed. They caught a bit of a break when second-seeded James Ignatowich and partner Anna Bright lost in their first match, and then outlasted Mary Brascia and Dylan Frazier in three games to reach the semifinals.
"Yeah, I'd like to be playing more medal matches," Navratil said. "I guess I'm process-focused, not results-focused, so I count it as a win if I've played well on a given day." 
He and Koop played well Thursday. After a weather delay that postponed the semifinals to Friday morning, the pair fell to Patrick Smith and Tina Pisnik. This dropped Navratil and Koop down to the bronze medal match, giving Navratil a chance at his first medal since April at the PPA's Red Rock Open.
"I don't think a medal changes anything," he said "I want one, but I will train and play the exact same way. It's just a nice accolade."
Ultimately, however, despite their desire to play, Navratil and Koop made the decision to withdraw from the bronze medal match against Riley Newman and Jessie Irvine, due to Navratil experiencing a slight injury.
Still, it was nice to see Navratil paired up with Koop. The two have lots of experience and a great vibe. 
"Koopy and I have unbelievable chemistry," he said. "That's all I needed. She makes things more fun and I play best when I'm having fun. We both needed to add a tournament and this one worked out well. We decided to reunite the Dream Team. Objectively, we've been around longer than most on tour. There are so many new faces and that's great."
So, what's next for Navratil?
"Hopefully I can keep getting partners like Koopy who can carry me," he said.