Mixed doubles day at the Guaranteed Rate PPA Championships, held at the Darling Tennis Center in Las Vegas, Nevada proved to be another thrilling display of the best mixed doubles pickleball in the world.
37 teams made up the talented pool of men and women players, all vying for a shot at another coveted Grand Slam title.
Spectators both on-site and online were anxiously awaiting the return of the brother-sister duo, Riley and Lindsey Newman, together again, creating their magic. They certainly did not disappoint, using their discipline and unrelenting defense to break down their opponents.
Another formidable partnership was Catherine Parenteau and JW Johnson, who landed themselves in Championship Sunday after taking down No. 3 seeds, Matt Wright and Lucy Kovalova. Wright/Kovalova are fan favorites and are usually expected to end up on Championship Sunday, but they will not have that opportunity after competing in Friday's massive draw. They lost in their quarterfinal match to the No. 6 seeds, JW Johnson and Catherine Parenteau: 9-11, 11-1, 11-4.
The world's number one mixed doubles team, Ben Johns and Anna-Leigh Waters, were also in action on Friday, racking up the wins and proving yet again why they are the best in the sport.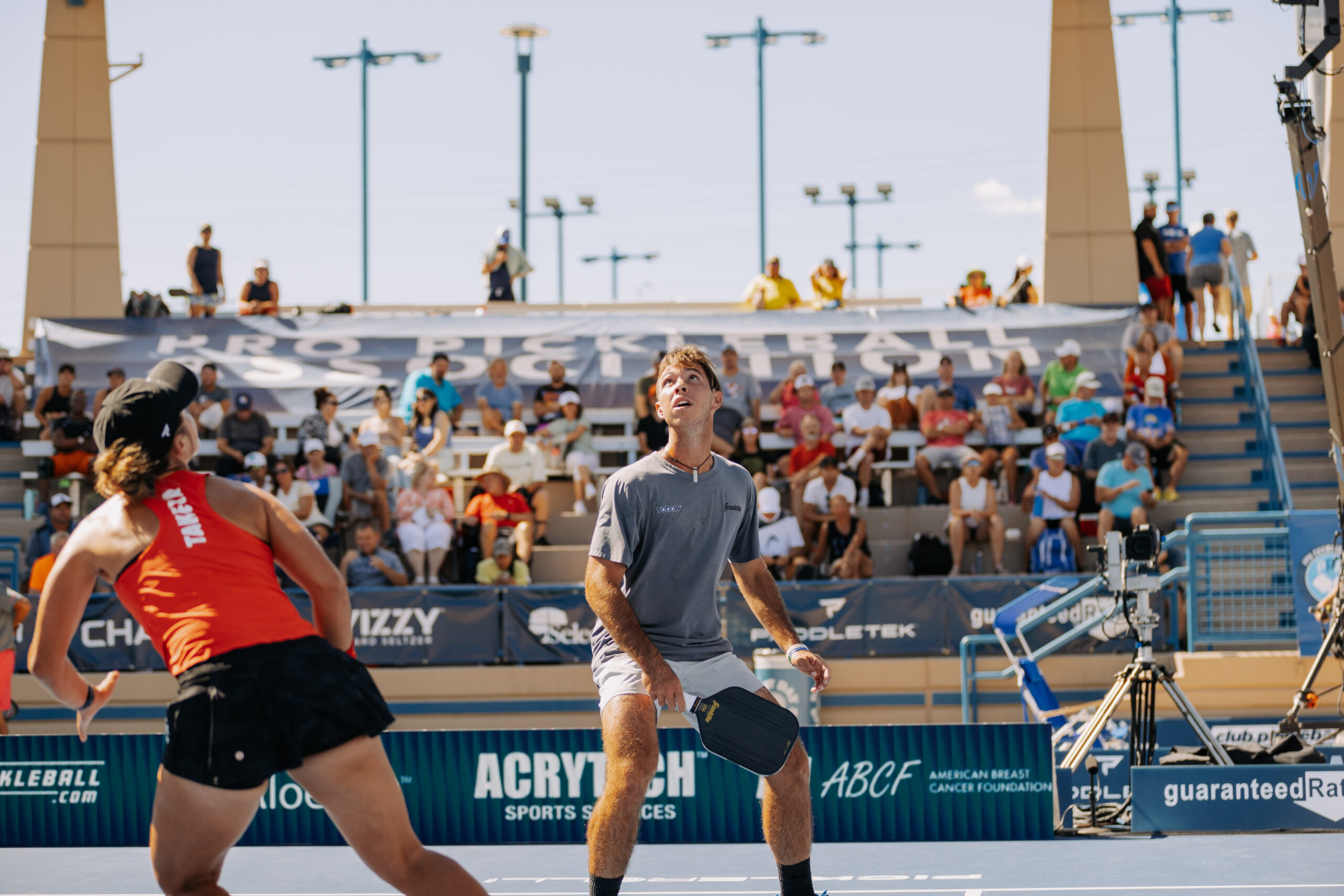 In a first round match, the No. 14 seeds, Parris Todd and Dylan Frazier, came up against the no. 19 seeds, Mary Brascia and Federico Staksrud. Todd and Frazier lost the match 11-8, 11-6, taking them down to the consolation bracket. Todd and Frazier then went on to have quite the run in the backdraw, beating Vivienne David and Zane Navratil 15-12, Brooke Buckner and Steve Deakin 15-8, Matt Wright and Lucy Kovalova 15-5, and Jessie Irvine and Jay Devilliers in a nailbiting match 18-16. Although Todd and Frazier succumbed to the Newman siblings in the round before the bronze medal match, losing 15-6, it was a great day and a great run for the team of Todd and Frazier.
Another surprising first round loss was that of Dekel Bar, and his partner Lacy Schneemann. They lost to Maggie Brascia and James Ignatowich 11-6,13-11. Bar and Schneemann, who were the No. 13 seeds, had three good wins in the consolation bracket until they went out to No. 5 seeds, Leigh Waters and Tyson McGuffin 15-4.
In their quarterfinal match between Tyson McGuffin and Leigh Waters, the Newmans displayed why they are the strongest and most successful brother-sister duo team out there in the professional pickleball world. Lindsey, as one of the most patient and disciplined players out there, gets nearly every ball back in impossible fashion.
After the 11-1,11-6 win against McGuffin and Waters in the main draw, Riley spoke glowingly of her sister's play during his post-match interview with Hannah Johns.
 "Lindsey was her backboard self. It's fun to play with your older sis."
McGuffin and Waters fought their way through the backdraw and earned a shot at revenge against the Newmans in the bronze medal match, but fell to them once again. This gave the Newmans the bronze medal, proving that they can play brilliantly together no matter how much time has passed.
An electric quarterfinal match, No. 10 seeds Anna Bright and Tyler Loong upset the No. 2 seeds Jessie Irvine and Jay Devilliers 11-6,11-1.
Anna Bright said after the match, "We were well rested, we had a game plan, and we executed." 
They sure did. Bright and Loong are a phenomenal combination of left and right handed players, utilizing their two forehands in the middle to perfection. When asked after the match how they were able to win so convincingly, Loong mentioned focusing on being aggressive.
"We were taking more balls out of the air sooner."
Bright and Loong lost their semifinal match to the No. 6 seeds Catherine Parenteau and JW Johnson in a great 3 set match 11-3, 9-11, 11-4. Anna Bright showed that she is certainly a force to be reckoned with. She dominated the game with her speed-ups and attacks, which led to jaw-dropping hands battles.
All this means that Championship Sunday will see the number one team in the world, Ben Johns and 15 year old Anna-Leigh Waters take on the No. 6 seeds JW Johnson and Catherine Parenteau in the mixed doubles final.
Funnily enough, these four players are also the four athletes who will be competing in the singles finals on Championship Sunday. Ben Johns will take on JW Johnson on the men's side and Anna Leigh Waters will take on Catherine Parenteau on the women's side.
Today is Men's and Women's Doubles! Watch via PPA TV and Tennis Channel.