Jackpot: Waters Hits for Three Golds in Vegas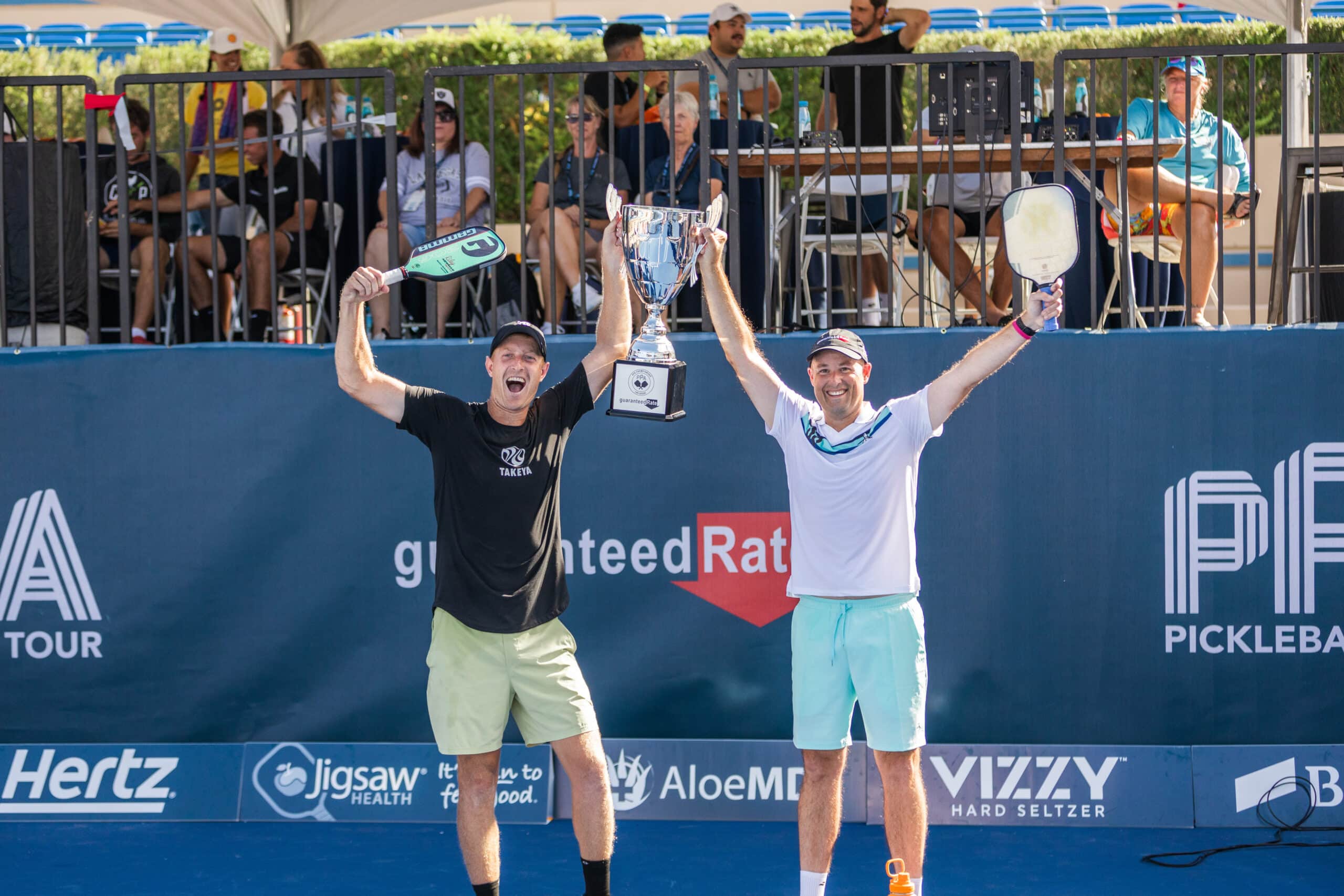 Sunday in Vegas felt like a major.
The best pickleball players in the world: Check.
The best matchups in the field: Check.
Big crowds cheering hard for their favorites: Check
Drama: Check.
And even some controversy, too. The PPA's Guaranteed Rate Open at the Darling Tennis Center was home to all the elements to create an extremely memorable Sunday.
Anna Leigh Waters earned three titles in three matches, finishing off the day with an 11-2, 11-4, 11-6 flawless singles victory over second-seeded Catherine Parenteau and was finally able to exhale while holding another trophy.
"I honestly don't know how," she said about winning her third match of the day, "Every time is so tough. Being here today, I was feeling good. I won't remember half this match; I was in a weird head space the whole time."
That's probably because she was non-stop pickleballing for the better part of Sunday, and for that matter, for the better part of this season on tour.
Anna Leigh also won a championship alongside her mother Leigh with a 11-8, 11-8, 11-9 victory over Anna Bright and Parris Todd in the women's final. The match was hailed as a harbinger of many more battles to come between these teams, and the recorded score didn't do justice to how high-quality the play was.
Bright and Todd earned accolades from AL Waters after the match as she noted their phenomenal performance and the fact that they weren't missing a single ball to start the match.
"I know we're never out of it," Leigh Waters said. "Sometimes we lose focus. We called a timeout and pumped each other up with some familiar talk that we do when we're down."
The day began with Anna Leigh Waters winning the mixed doubles title, as she teamed with Ben Johns for an 11-3, 11-9, 14-12 win against Parenteau and JW Johnson.
That makes three triple crowns in the past four tournaments for Anna Leigh Waters. And in the tournament where she didn't win three titles, she won two of the three. Out of the past 12 events she's played in, Waters has won 11 of them. What a run this year for the fifteen-year-old.
Take a breath, Anna Leigh. You deserve it.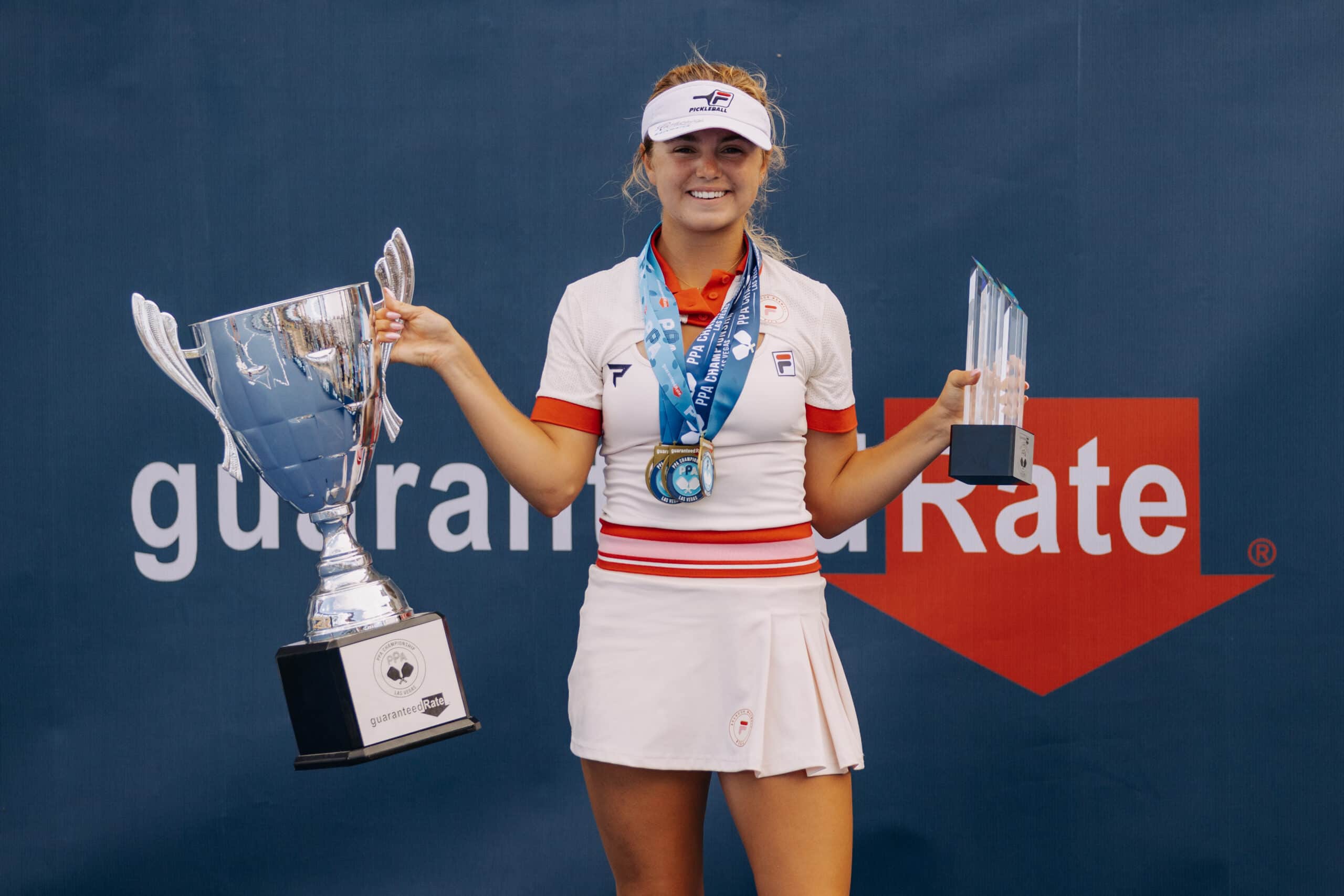 Meanwhile, Johns could probably use a day off on Monday. He played three matches as well, winning the mixed doubles along with Anna Leigh Waters to start the day and winning the singles match against Johnson to end the day. Johns also played and lost in the match of the day – a five-game thriller against Riley Newman and Matt Wright, 11-2, 11-2, 9-11, 9-11, 11-8.
"It's a theme," Wright said of the Johns' near-comeback at the end. "They are never down and out. They are so mentally strong, and it can be demoralizing when they win that third game. We had to get some energy back for game 5, because we were demoralized. We played the big points well and escaped."
Escaped after a bit of verbal jockeying. There were dueling line challenges within about five minutes in the deciding fifth game, some long stares across the court, and a bit of arguing, too.
"There was some back-and-forth," Newman said. "That's going to happen when it goes five games. There's going to be some controversy. There's going to be some drama. I think everyone likes that."
It made for a great match between the two best men's doubles teams on tour. Ben and brother Collin Johns lost the first two games 11-2, 11-2 and fell behind 7-2 in game three, but won 15 of the next 21 points, winning game three and then game four. They then had a 8-7 lead in game five before Newman and Wright rallied.
"This tournament is special to us," Wright said. "The louder we can get the crowd, the better it is."
Johns might have been down about losing the men's final, but it didn't show against Johnson in the last match of the day. He dominated, winning in three games 11-5, 11-8, 11-1
"Primarily, I'm exhausted," Johns said afterwards. "It's good to end on a high note. The second match was kind of a killer after the comeback. It's a little bit of a heartbreaker to lose that, so I'm glad I could come out a little more fresh for this one and perform well."
The PPA Tour doesn't stop. The field is set for the PPA Roundup in Frisco, Texas next week and that event is followed by the n2grate D.C. Open on Oct. 20-23.