Frazier and Johnson Make Case for No. 1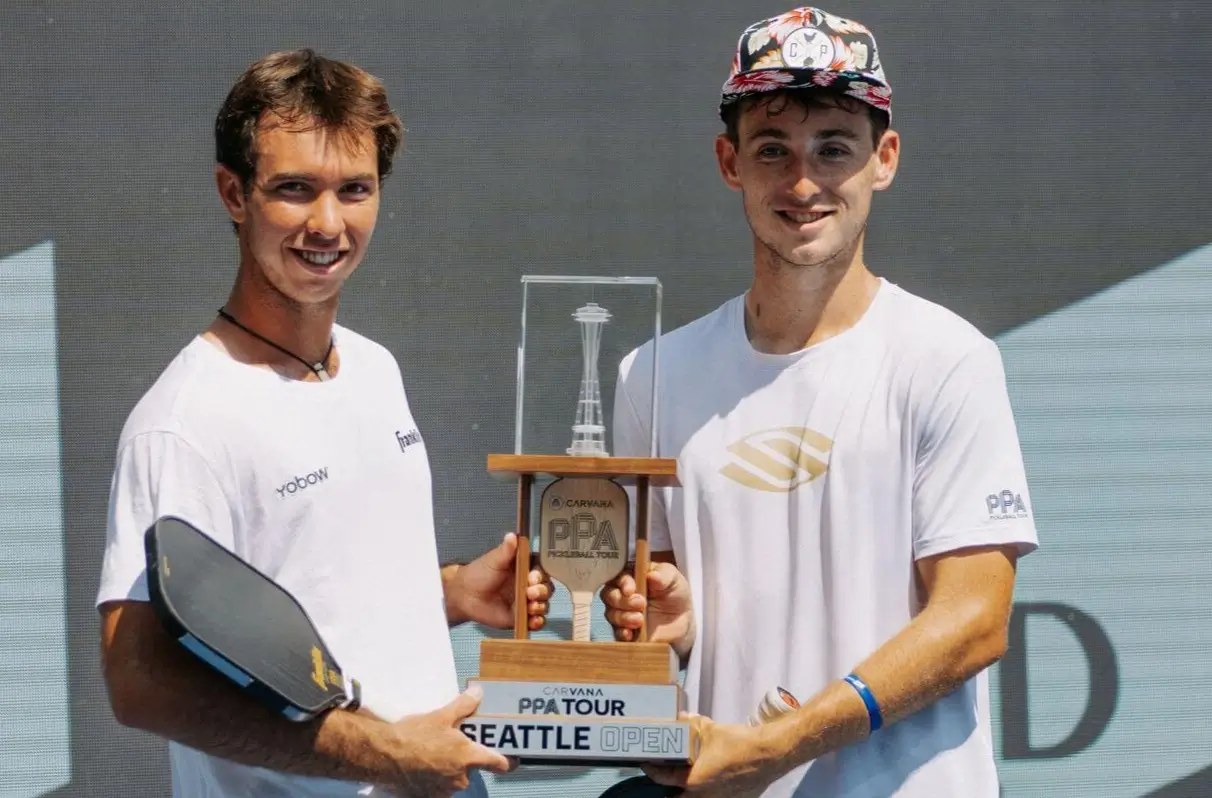 Dylan Frazier wasn't ready to say if he and J.W. Johnson are the second-best team in pickleball.
"I guess it depends on who you ask," Frazier said. "But I like to think we can beat anyone on any given day. I guess that's my answer."
Well, run the metrics, the numbers, and check any other barometer you want, Johnson and Frazier won another gold, and the gap between the top and Frazier and Johnson is closer than ever.
"We came out and played like we know we're capable of playing," Frazier said. "There have been tournaments where we haven't executed and haven't played with a lot of confidence, but today we were firing on all cylinders. It worked out."
Worked out? Yeah, you could say that. The two dropped game three to Federico Staksrud and Pablo Tellez, but the championship at the Seattle Open was never in doubt, and now the ascension is on.
That's three golds since February for the pair, including this one, an 11-7, 11-7, 8-11, 11-3 victory. It was a run to the finals that included not losing a single game until the final.
And the victory also means the three golds along with two silvers this season are more wins than anyone not named Ben or Collin Johns.
The Johns brothers made a quick exit from the Seattle Open, losing in the second round, opening up the tournament for the rest of the field and providing just enough of an opening for Frazier and Johnson, the No. 3 seed. The Johns brothers had won the previous four tournaments.
And all of pickleball seems more open now, not just with the Johns' falling in the quarters, but also with Matt Wright and Riley Newman splitting up after a long run that saw them continuously battling for the top spot.
Now all of that is up for grabs.
"We were surprised," Frazier said of Johns and Johns losing. "First of all, because it doesn't happen very frequently. You want to be that team that takes them out, but at the same time it opens up the draw a little bit and gives you a better chance."
Johnson and Frazier out-dinked Staksrud and Tellez when they would prefer to punch and counter-punch, but because the two are so familiar with each other, they were able to adjust and make the changes necessary.
"That was the most dinking I've ever done," Frazier said. "It was probably boring to watch. I'm happy to come out with that one."
Another victory at another tournament for Frazier and Johnson, as the two have spent the most time playing together than any other pair on tour aside from the Johns. That familiarity can only help and will help the two get closer to that top spot they are challenging.
"We haven't talked about playing together in the long term," Frazier said. "But at least in the short term, we're going to keep playing together. We both feel confident. There's things we talk about and there's room for improvement but for the most part we played pretty well."
---