ESPN and the Professional Pickleball Association Reach Agreement to Cover Eight Tournaments in 2023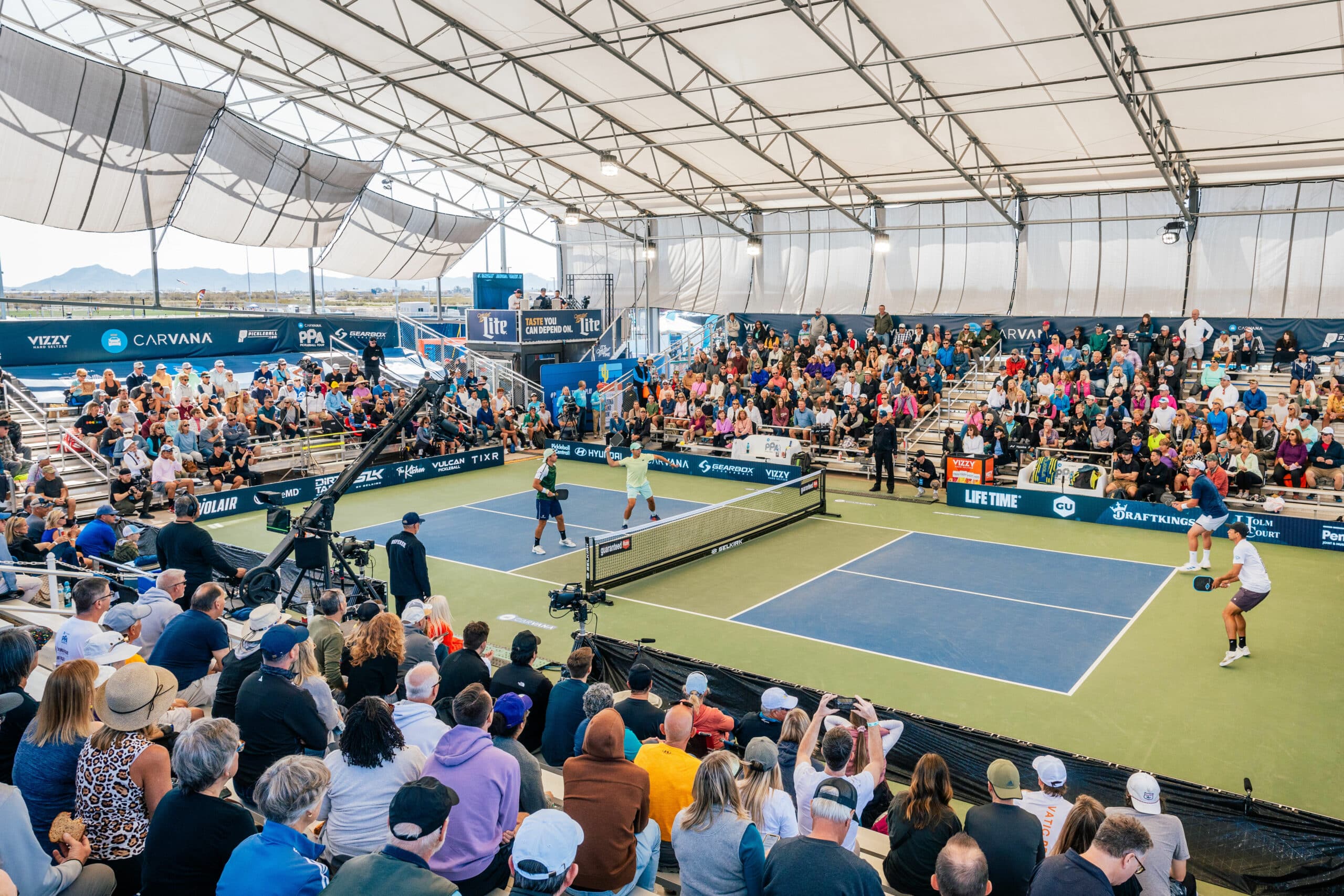 SALT LAKE CITY, UT (May 5, 2023) – ESPN and the Carvana Professional Pickleball Association (PPA Tour) today announced an agreement to broadcast eight PPA Tour tournaments this year beginning with the OS1st North Carolina Open this Sunday, May 7. The events will feature top pickleball athletes competing at renown venues across the country for the biggest payouts in the sport.
"As pickleball continues its meteoric rise, and as fans are increasingly excited about watching televised competitions, we're thrilled to serve up ESPN coverage of some of PPA's key 2023 tournaments, starting with this weekend's North Carolina Open," said Tim Bunnell, Senior Vice President of Programming and Acquisitions, ESPN.
"Feeding the overwhelming demand for world-class pickleball content is an integral part of what we do and is something ESPN is helping us to accomplish," said Connor Pardoe, CEO of the PPA Tour. "Pickleball is a sport with global appeal, an insatiable fan base, and endless opportunity. Our broadcast partnership with ESPN is another resounding indicator of that."
Full details of the 2023 Carvana PPA Tour schedule are available at PPA Tour.
The PPA Tour will produce coverage of its events in association with ESPN.
PPA 2023 Tournaments (All times ET)
| | | | |
| --- | --- | --- | --- |
| Date | Time | Tournament | Platform |
| May 7 | 6 p.m. | OS1st North Carolina Open | ESPN2 |
| June 4 | 5 p.m. | Selkirk Texas Open | ESPN (live) |
| June 23 | 2 p.m. | Select Medical Orange County Cup | ESPN2 |
| July 3 | 7 p.m. | Select Medical Orange County Cup | ESPN |
| July 15 | 2 p.m. | Denver Open | ESPN2 (live) |
| July 23 | 5 p.m. | Denver Open | ESPN |
| July 29 | 12 noon | Baird Wealth Management Seattle Open | ESPN (live) |
| Nov 12 | 4 p.m. | USA Pickleball National Championships (Dallas) | ESPN (live) |
About ESPN 
ESPN, the world's leading sports entertainment brand, features eight U.S. television networks, direct-to-consumer ESPN+, ESPN Radio, ESPN.com, endeavors on every continent around the world, and more.  ESPN is 80 percent owned by ABC, Inc. (an indirect subsidiary of The Walt Disney Company) and 20 percent by Hearst. 
About Carvana PPA Tour
The Carvana PPA Tour is the professional tour of pickleball, organizing events and rankings for the top male and female pickleball players worldwide and awarding more than $5.5 million in annual prize money with equal play and pay. The Carvana PPA Tour is set to host 25 events in 2023 at world-class facilities like the Lindner Family Tennis Center in Cincinnati, Mission Hills Country Club in California, and the Darling Tennis Center and Mandalay Bay in Las Vegas. Inviting all to compete and "play where the pros play," the Carvana PPA Tour offers amateur divisions of play for every level, unparalleled experiences for fans and spectators, gorgeous venues, pro player meet-and-greets, food/beverages, live entertainment, VIP upgrades, giveaways and games, shopping, vendors, and more. Founded in 2018 and based in Salt Lake City, UT, the Carvana PPA Tour is operated by parent corporation, Pickleball.com. For more information, go to www.ppatour.com. See Pro Player Profiles and follow us on social: Twitter Instagram YouTube Facebook LinkedIn.
Media Contacts:
ESPN | Ardi Dwornik |  ardi.r.dwornik@espn.com
Carvana PPA Tour | Hannah Johns | Director of PR & Content | h.johns@ppatour.com