Clean Sweep for PPA Touring Pros at Nationals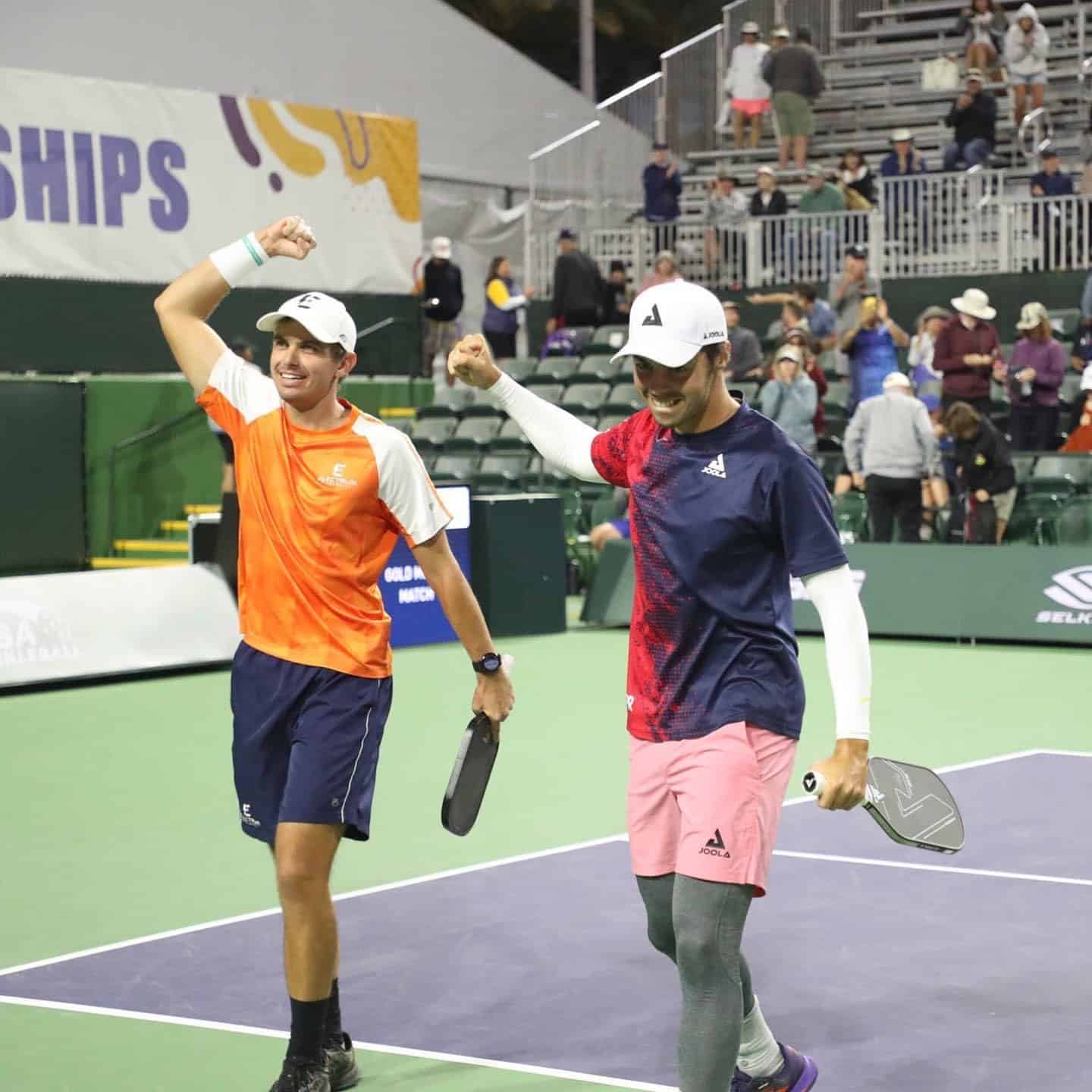 The PPA Tour wasn't in action this past week, but the best of the PPA dominated at the USA Pickleball National Championships in Indian Wells, California. While the PPA's contracted athletes play exclusively on the PPA Tour, the U.S. Open and Nationals were named in 2022 as exceptions to the PPA's pro agreements.
PPA Touring Pros took gold in all five divisions: men's doubles, women's doubles, mixed doubles, and both men's and women's singles. That's 8/8 golds for PPA players.
Not too shabby.
In the women's bracket, top-seeded Catherine Parenteau and Anna Leigh Waters went undefeated, including coming back from down two games to beat fellow PPA star Jessie Irvine and her partner Anna Bright, 7-11, 9-11, 11-9, 11-9, 11-4.
Meanwhile, in the men's field, Collin and Ben Johns did things the hard way, coming from out of the loser's bracket to earn gold by double-dipping Dekel Bar and JW Johnson 11-7, 11-4, 11-5 and 15-6 in the tiebreaker game.
Johns and Johns, the No. 2 seeds, were upset by fellow PPA players, Jay Devilliers and Tyson McGuffin, 11-8, 11-8 in the third round. From there, the Johns brothers won five matches in the loser's bracket, including a 15-4 rematch victory over McGuffin and Devilliers to reach the medal round where they beat the top-seeded team, as well as PPA players, Riley Newman and Matt Wright, 11-9, 6-11, 11-8. Wright and Newman went on to earn the bronze.
It was a field of 31 teams in the mixed doubles division at the National Championships, and it was an all-PPA affair in the gold medal match, despite some different pairings.
Those who consistently tune in to the PPA Tour noted an interesting diversion from the typical as Waters, who usually plays with Ben Johns on the PPA Tour, teamed up with Newman. Johns chose to partner with Parenteau, who is Newman's usual set partner. Ultimately, Waters and Newman took down Johns and Parenteau in the final, 11-3, 11-0, 11-3.
In the men's singles field, Ben Johns, who was coming off a defeat to McGuffin at the Texas Open final, managed to beat McGuffin in the semifinals, 11-2, 11-4. Johns then topped Julian Arnold in an epic four-game final, 12-10, 7-11, 11-7, 11-0. McGuffin ended up with the bronze, adding to the growing list of PPA players making it to the medal stand.
In the women's singles field, PPA pros again triumphed over the field, with top-seeded Anna Leigh Waters beating fourth-seeded Lea Jansen in three games, 11-5, 11-7, 11-6. Salome Devidze, an up-and-coming name in women's singles, earned the bronze.
The PPA Tour is back at it this week for the Takeya Showcase in Newport Beach, California which will feature stacked draws and the sports' favorite athletes. Play runs Thursday-Sunday and live streaming can be found daily via PPA TV (YouTube).