Bright, Kawamoto cruise into semis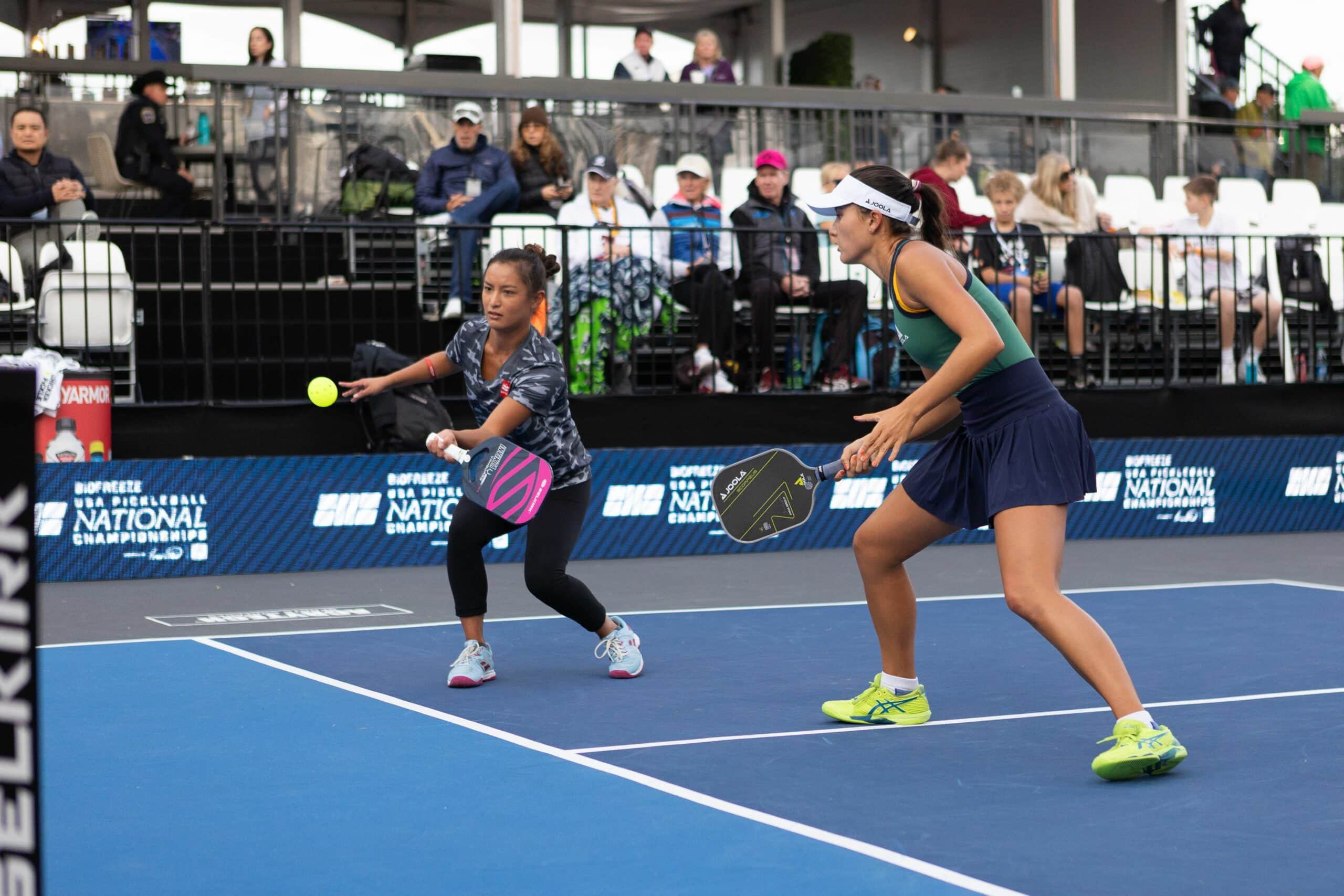 To be the best team in women's pickleball, Anna Bright knows she and partner Jade Kawamoto will have to play something better than how they played Friday in Dallas at the National Championships.
Seriously? Because things looked pretty impressive in their quarterfinal victory.
Truly, it's kind of hard to fathom how things could be more seamless than they were in their victory against Tina Pisnik and Lindsey Newman.
Kawamoto and Bright, opponents last weekend in the MLP championship match here on these same courts in Dallas, have looked comfortable as teammates in this tournament, ripping into the semis with a 11-2 11-8, 11-5 victory.
The two were on offense the entire match, had little trouble, except for an early, second-game hiccup when Pisnik and Newman got out to a 5-0 lead, and showed too much speed, court coverage and range for Newman and Pisnik.
"They are just a great defensive team," Bright said. "I was overplaying things at the start of the second game and I was getting a little impatient, but for the most part, we played a solid match."
It will take something north of solid to keep up with the game's most prolific winners in women's pickleball in Anna Leigh Waters and Catherine Parenteau, but Bright and Kawamoto look like they are more than capable. Of course, nothing is for certain. Waters and Parenteau aren't gifted a finals appearance, but they certainly stand to be a heavy favorite to make it.
Bright and Kawamoto gave up just six total points in their round of 16 victory and just 15 in three games Friday. Meanwhile, Waters and Parenteau are headed into Friday's late match against Vivian Glozman and Lauren Stratman after allowing only seven points in three games in the round of 32.
"We're pretty much going to have to be perfect," Bright said of moving on in Dallas. "It will take a totally different game style than this."
A potential matchup against the No. 1 seed will have to wait, though. Bright and Kawamoto will face the winner of the Parris Todd and Jessie Irvine vs. Maggie Brascia and Mary Brascia match on Saturday.
For now, Bright and Kawamoto are just happy they are teammates and not opponents.
"I didn't think much about it," Kawamoto said of teaming up with Bright after winning with her D.C. Pickleball Team against Bright's Orlando Squeeze. "I've always wanted to play with Anna, so i'm just excited for this opportunity."