Ben Johns Eclipses the 100 Title Milestone Mark in Cincy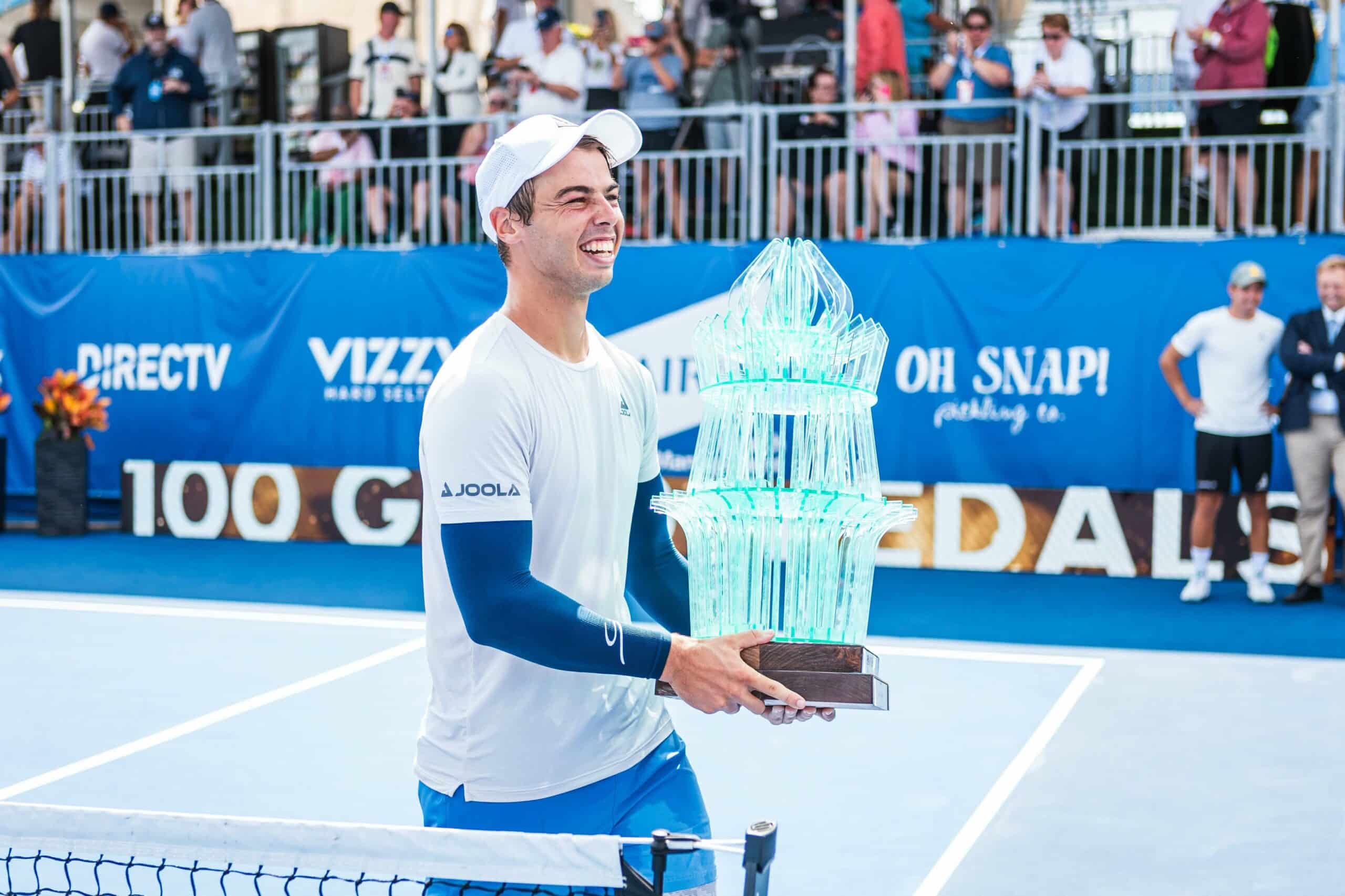 It was a bittersweet ending to Ben Johns' centennial-eclipsing 100th title weekend in Cincinnati—he finished with 101 titles but did not punctuate the festivities with a Triple Crown. 
Taking the court side-by-side once more, Ben and Collin Johns scraped and clawed their way to perhaps their grittiest-ever PPA Tour men's doubles title. They saved nail-biting match points in the quarterfinals against Pablo Tellez and Federico Staksrud and were just two points from defeat against Thomas Wilson and Riley Newman in the semifinals. In the best-of-five final, against the young duo of Dylan Frazier and JW Johnson, the brothers won 11-6, 11-6, 8-11, 11-8. Although the victory was worth the effort, all that extra play in doubles may have come back to bite Ben in the singles final. 
The men's doubles win captured B. Johns his much awaited 100th title, a moment that was celebrated with an award ceremony, a custom trophy constructed of 100 individual pieces, fireworks, a fully metal JOOLA paddle, and a JOOLA gold collector's edition paddle.
From there, Johns went on to capture the mixed doubles championship with Anna Leigh Waters, dropping just one game to Vivienne David and Thomas Wilson. The Johns/Waters duo appears to be as dominant as ever, despite recent upsets for Johns and Waters in singles. We can hope that the standard the two set inspires the next generation's mixed doubles teams. It's difficult to see them losing in the foreseeable future, paired together as they are with complementary weapons and play styles. 
While it's extremely rare to see Ben Johns run out of gas physically, that's exactly what happened in the singles final. Up 8-3 in game three against Staksrud – arguably the second-best singles player in the game – Johns' energy began to flag.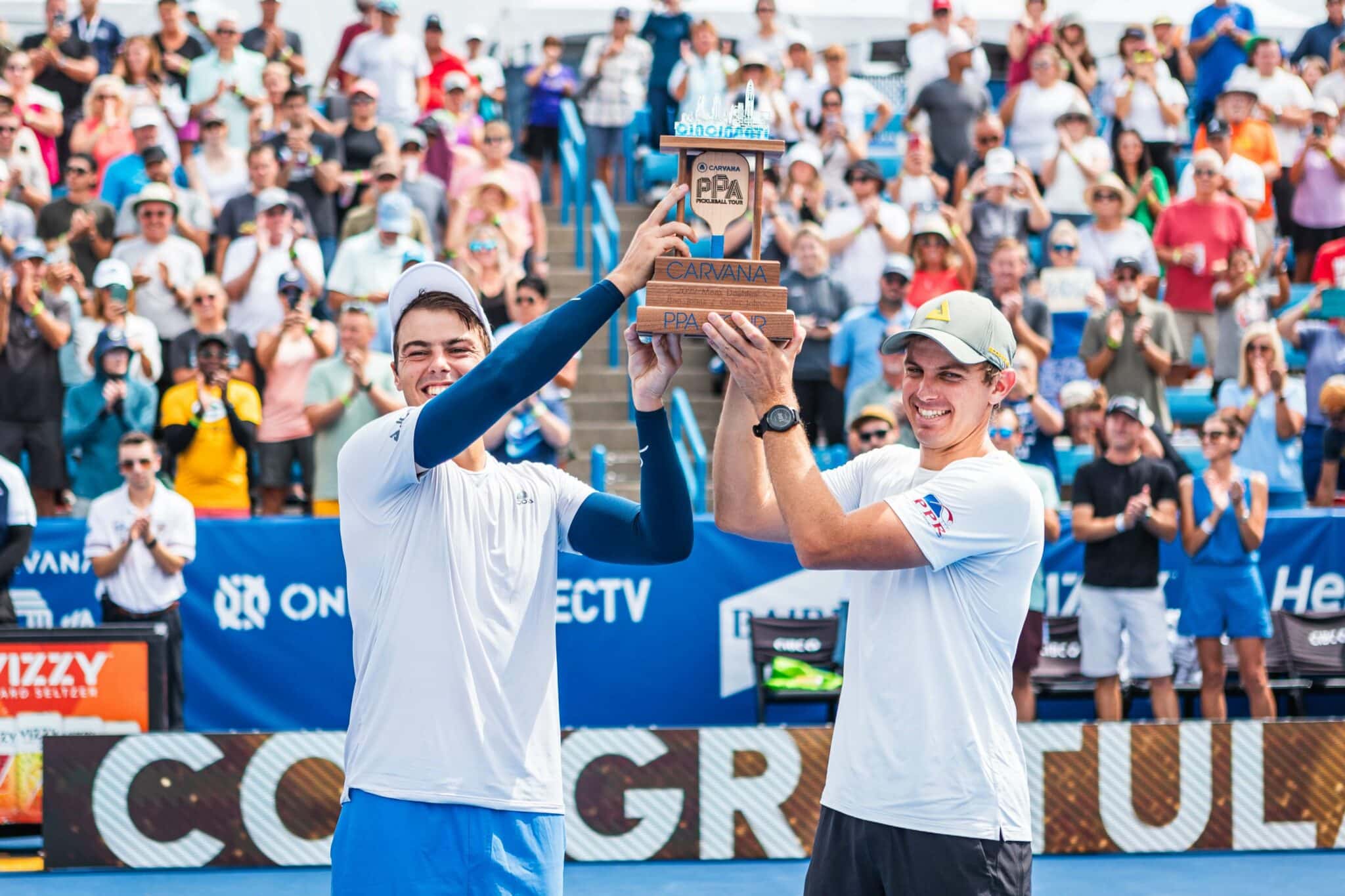 The Argentine, with the help of a fortuitous net-cord, reeled off five consecutive points to tie the contest at eight points apiece. Staksrud raised his level, while Johns simultaneously lowered his. 
After a few side-outs and some incredible points, an exhausted Johns gave the ball back to Staksrud for the last time.
"This was such a battle," Staksrud said after defeating Johns in a final for the first time. "I was down by a lot, but the crowd kept me pushing. This was just because of the crowd, the passion and the mental fortitude was because of them… I love playing pickleball."
The improbable victory is a huge moment and a massive confidence boost for Staksrud, who had lost his previous four finals against Johns.
It was a great weekend for the GOAT, but Johns will not be content anything less than a complete run of the table, especially after being just three points away from another Triple Crown.
On the women's side, ALW cruised to both the singles and doubles titles herself, while capturing gold in mixed with Johns. This locked up yet another Triple Crown for her, tying her and Johns at 18 Triple Crowns apiece.