Andy Jones: A Pickleball Ambassador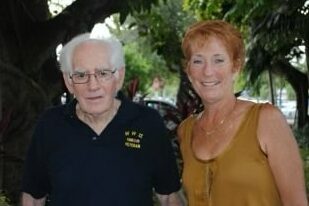 This isn't a story about how Andrea Jones and her husband won more than $20 million in the Pennsylvania lottery.
Although, that's a doozy of a tale. It ends with a winning ticket, but really the story is about luck and regret, divorce and reconciliation. Look it up. Google it. You'll love it.
But this isn't a story about that. And this isn't a story about how Andy, which is what her friends call her, sought out and found her father Jack after never knowing who or where he was for nearly 50 years. Now, that story is a heckuva ride. Andy wrote all about it in her memoir, "Andrea Marcell."
Well, hang on a second. Maybe this story is a bit about Andy and her dad. Maybe because without knowing about that relationship – without knowing a bit of what Andy has gone through, we wouldn't know where she's going or where she might even end up.
Netflix could do a six-episode documentary and not get to everything Jones has seen, done, written, and experienced.
"I've never looked back and I've never blamed anyone," she said. "Growing up, I had to adapt. I survived on my own. I always needed help but never got what I needed. My mom did the best she could. My father deserted me, and now I feel the need to help others. It had nothing to do with winning the lottery. I've felt this way way before that."
Growing up, Jones lived with her grandmother and then moved into a group home for kids. She went to nine different schools as a child. "I learned quickly from moving around so much and being with different people how to get along with all different kinds of people," Jones said.
That attitude, along with a "kill 'em with kindness" approach, has taken Jones from a newbie buying a pickleball paddle for the first time all the way to the non-volley zone line as a pro referee at the USA Pickleball National Championships.
It's been a journey.
"I lived with my grandmother for a while," Jones said. "She did the best she could. She always told me that it doesn't cost anything to be nice and kind. I've always thought about that."
Shortly after she started playing pickleball, Jones went back to her home in Allentown, Penn., and became an avid player. She went to the city and said they needed to paint pickleball lines on the tennis court, instead of just having people tape them when they wanted to play.
"I'm not sure why they listened to me, but they did."
The courts got painted and people in pickleball have been listening to Andy's spread of the pickleball gospel ever since. From taping courts to getting those courts in Allentown painted, Jones has given back to pickleball – first as an ambassador and then as a referee.
Jones has gone from an unpaid referee to a certified referee, has trained referees, and achieved her "bucket list" goal of reffing at the USA Pickleball National Championships, spreading more than her share of "pickleball love" across the country, and even still working her local courts in Pennsylvania helping players enjoy the game.
"She's just easy-going all the time," said veteran pro referee Ron Ponder. "She knows all the rules and applies them. I know she volunteers her time, teaches the game, and is always available to help."
See, there it is again. Helping. That's what Jones is most interested in doing, and pickleball provides that outlet.
"I'm not sure why I do all this stuff," Jones said, stopping herself before realizing that she knew the answer to her own question. "I do know. I want to help others."
Perhaps that's why pros from Ben Johns to Aspen Kern think of Jones as family.
"Aspen calls me, 'Mom.' Ben says I'm 'Aunt Andy,'" Jones said.
Over the years, Jones and her husband Joe have housed all sorts of players for every type of tournament and even hosted Dekel Bar in her Florida home for a year when Bar, an Israeli native, got stuck in the USA during COVID-19. Dozens of pro and amateur athletes have stayed with the Jones' over the years and speak fondly of their time there.
"We've [Ben, Collin, and I] all stayed with Aunt Andy and Joe many times over the years," said Hannah Johns, PPA Tour sideline reporter and sister to the Johns brothers. "They are just the sweetest, most generous couple with so much love and compassion. It's rare to see that kind of kindness these days – the type that wants nothing in return and gives freely."
That's what you do when you want to give a bit back, even if there were times before the lottery windfall where she couldn't give back and was instead borrowing $10 from her extended family to help with the kids. Because that's what you do when you land in foster care as a child and don't have a lot.
"I didn't need anything from my father," Jones said. "I didn't need anything from him. But I was on a mission. I wanted to find him. I had no connection to him, but I found out where he lived and I just showed up on his doorstep in North Carolina one day. It was about finding him. I learned he loved helping children and in my head, I was thinking that I was the one who needed help. I was wondering, 'Where were you when I needed you?'"
"I guess I want to help people because people didn't help me. I don't blame him. I don't blame anyone. I just want to keep looking on the bright side of things."