The Best of Both Worlds: Triple Crowns & First Time Titlists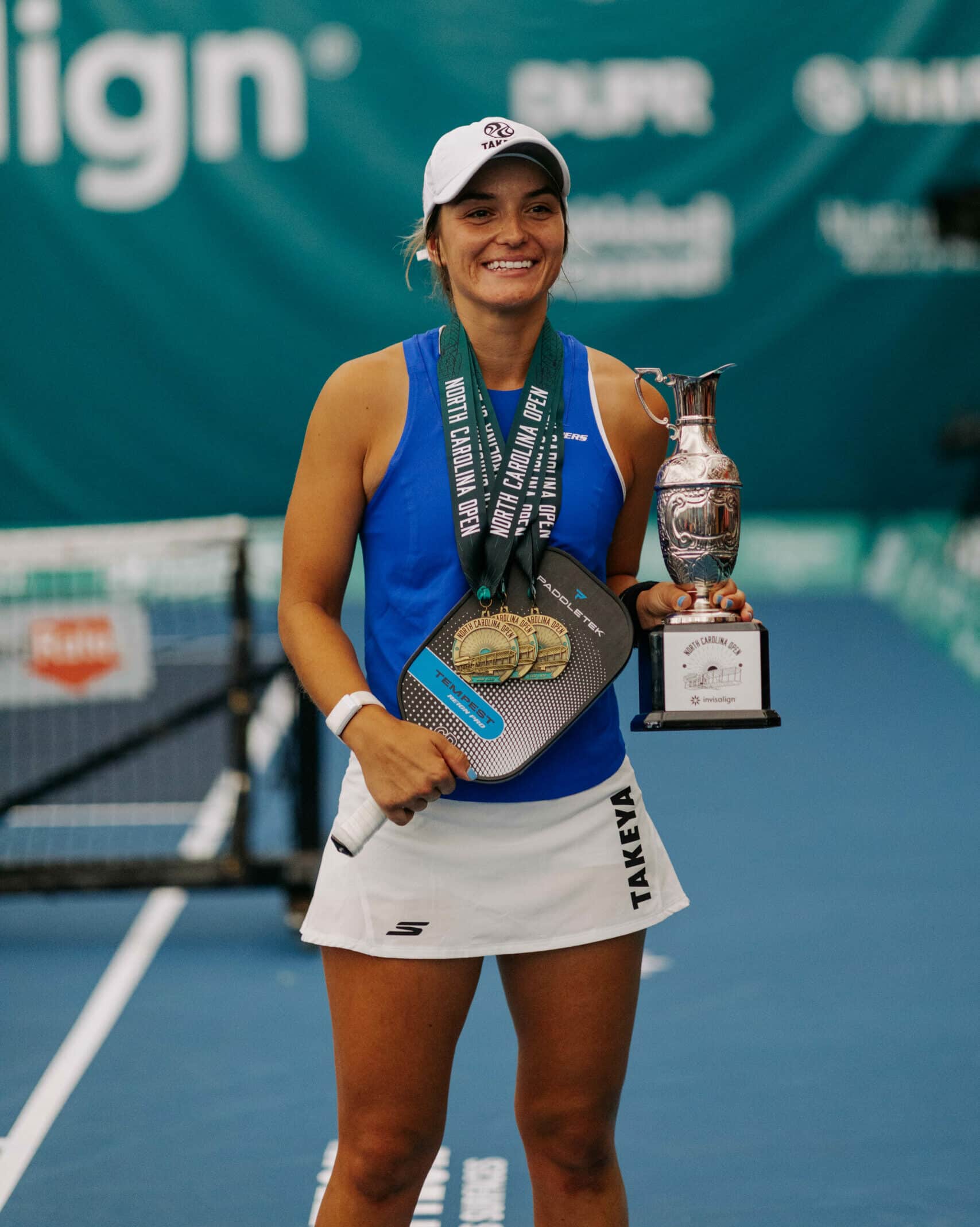 Championship Sunday did not disappoint at the PPA Invisalign Open, which was the largest pickleball tournament ever held in North Carolina to date.
The day began with women's doubles between Lucy Kovalova/Callie Smith vs. Catherine Parenteau/Lea Jansen. This was an epic battle between the two-handed backhands of Parenteau and Kovalova, Parenteau's sharp angles and lines, Smith's incredible defense, and Jansen's laser-focus and pinpoint overheads.
Despite only one Ernie in the match by Callie Smith in game five, there was no lack of skilled play, as both teams moved their opponents effectively around the court to create opportunities. The match ended on a unique note: Jansen called Callie Smith's return out on match point, but then proceeded to challenge her own call to ensure that their victory was won on the fairest of terms. Video replay confirmed that the ball was out, which made Jansen and Parenteau the victors. This earned them their first PPA gold medal as a doubles team together with a final score of 9-11, 11-3, 2-11, 11-5, 11-5.
Next on the schedule was the men's doubles match of Tyson McGuffin/Tyler Loong vs. Matt Wright/Riley Newman. One challenge that Wright/Newman faced was the left-handed Loong paired with righty McGuffin, which put two powerful forehands in the middle. It took losing the first game for Wright/Newman to rework their strategy and switch court positions, where Wright, who usually plays on the right side, switched to the left for two games. They found success in this change. When they switched back to their normal positions in the final game, Wright still carried his confidence and aggression from the left side with him. He and Newman came away with the gold: 8-11, 11-9, 11-8, 11-2.
Jansen, whose pre-point routine (paddle taps to her left shoulder, right thigh, right shoulder, left thigh, then closing the sequence with a right leg kick and double tap to left shoulder) has caught the attention of the nation, was set to take the stage next against Parenteau. However, Jansen (who battles diabetes) experienced a dangerous spike in her blood sugar that landed her in the hospital directly after her doubles final and forced her to withdraw from singles. Due to Jansen's inability to compete, Parenteau was awarded women's singles gold by forfeiture.
Mixed doubles teams of Wright/Kovalova and Newman/Parenteau squared off next on Championship Court. The first game saw what was turned out to be the longest rally of the day: forty-three shots. Although Wright/Kovalova fought off three match points and won five points to bring the score close in the final game, Newman/Parenteau won in straights: 14-12, 11-9, 11-8. This victory earned Newman two gold medals and Parenteau her first-ever Triple Crown.
"Saving the best for last" was never truer than in the Men's Singles final between Ryan Sherry (who was playing his first-ever Championship Sunday) and the energetic and athletic ex-college tennis player, Julian Arnold. It wasn't long into the first game before Arnold yelled his first of many "Andiamo" exclamations (which means "let's go!" in Italian). As announcer Dave Fleming accurately predicted, it was a "high octane" match of five physically-grueling games that showcased Arnold's speed and athleticism as he attempted to chase down Sherry's surgically precise shots. 
Both Arnold and Sherry were rewarded frequently with short returns due to their aggressive serves. This strategy opened the door for them to close on the kitchen line and look for a put-away, even if it meant missing a serve or two along the way. After no fewer than six shirt changes and despite four foot faults, Sherry bested Arnold in the end: 4-11, 11-4, 11-9, 11-2.
Championship Sunday was an exemplary demonstration of professional pickleball that capped off this year's PPA Invisalign Open and was a day that spectators will not soon forget!