Catherine Parenteau said she had to trust her game.
Yeah, but what happens when that "game" results in an 11-0 loss? How much trust is really left?
Apparently enough.
Parenteau got behind big early, but the rally was even bigger later, earning her a spot in Sunday's singles final with an improbable 0-11, 11-5, 11-7 victory over sixth-seeded Parris Todd in the Guaranteed Rate Championship in Las Vegas. This was Todd's first PPA singles tournament since her Cinderella story run at the Orange County Cup that left her clasping the title. However, it was Parenteau who fought her way back and came out on top yesterday.
"I went into the match today knowing I had to trust myself and trust my game," Parenteau said. "And I was able to execute. Parris is a great player, and I knew I was going to have to play well to win that match."
Parenteau, the No. 2 seed, was overwhelmed by Todd in game one, but reversed her course, won game two, and then built an 8-2 lead in game three before closing out the match at the Darling Tennis Center.
It was the second match in a row that Parenteau lost the first game. She also fell behind against Anna Bright earlier in the day, losing 11-8 in the first game before winning the next two, 11-6, 11-4.
All of that hard work puts Parenteau opposite top-seeded Anna Leigh Waters in the Sunday singles final. Waters cruised past fourth-seeded Irina Tereschenko, 11-0, 11-1 in the semifinals. Waters didn't drop a game in her three matches on Thursday, but needed to fight off multiple game points in game one against Mary Brascia and slip by with a 13-11 win. Waters beat Brascia 11-1 in game two.
Salome Devidze won the bronze medal. She got past Brascia, 17-15 before facing off against Bright for the bronze. Bright came through the loser's bracket, beating No. 3-seeded Callie Smith and then Tereschenko to earn her spot in the bronze medal match. Devidze then beat Bright, 11-8, 12-10.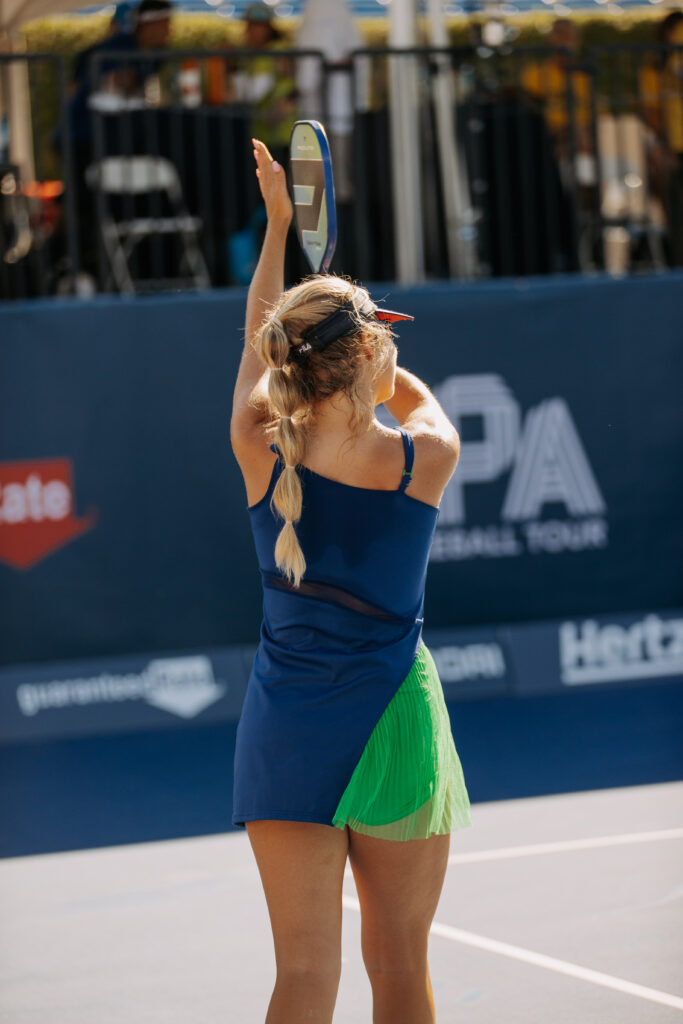 On the men's side, it will be another face-off between No. 2-seeded Ben Johns against No. 4-seeded JW Johnson Sunday for the singles championship.
Johnson won all four of his matches without losing a game. Johns dropped just one of his games in his four matches, Johns topped No. 3-seeded Jay Devilliers, 11-8, 11-7 in the semifinals, while Johnson got past No. 9-seed Federico Staksrud, 11-5, 11-4.
Johns had a few words about the tournament itself after clinching his spot in Championship Sunday.
"The PPA Championships definitely has a 'Major' kind of feel to it, and that makes it mean a significant amount to me. It definitely makes me look to perform my best, play with a lot of energy, and try my absolute hardest to win."
No. 12-seeded Dylan Frazier beat Staksrud to capture the bronze, 11-7, 8-11, 11-2.
Today in Las Vegas, we will see mixed doubles, and the field is huge. It features top-seeded Johns and Waters and also includes top PPA players like the fourth-seeded team of Riley and Lindsey Newman, No. 5 seeds Leigh Waters and Tyson McGuffin, and No. 2 seeds, Jessie Irvine and Devilliers.
The mixed doubles field has 37 teams. Others to watch include the No. 14-seeded team of Todd and Frazier, the No. 17 seeds Zane Navratil and Vivienne David, and the No. 6 seed, Parenteau and Johnson.
Catch the action on PPA TV starting at 10:00am PST and on Tennis Channel starting at 1pm PST.