Newman Creates Magic with Todd; Duo Plays Together on Championship Sunday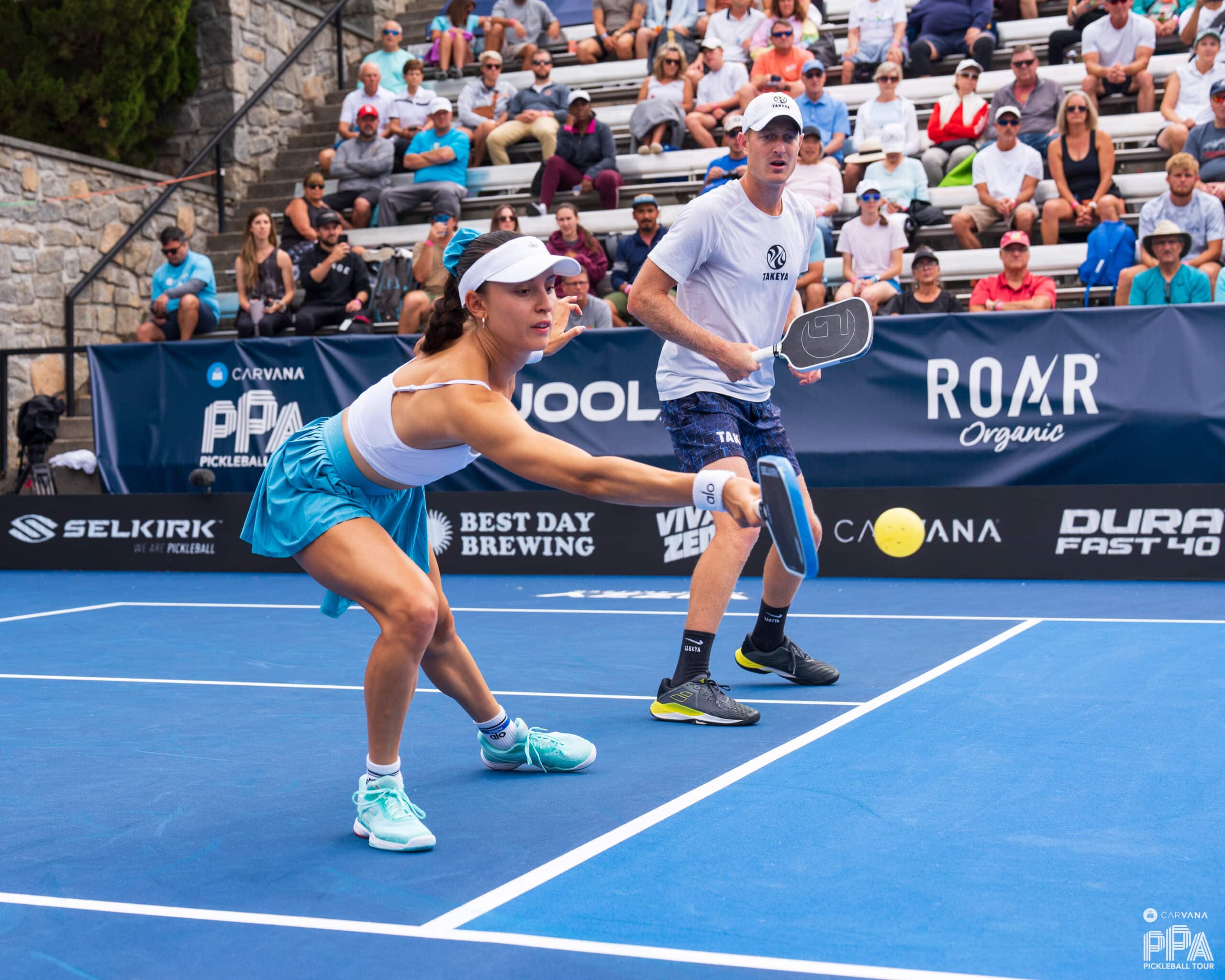 There was a moment after Riley Newman and Parris Todd lost their first game of the semifinals on Friday evening that Riley Newman started talking.
A bit of banter. You know, the trash talk that he admits to dishing out. "Nothing against my opponents, it just makes me play a little better," he said.
Neman might have been talking to his opponents, but when he had conversation with Todd, the duo got the result they wanted.
"She stayed positive and calm," Newman said. "After that first game she told me, 'I can handle my own.' I think I was being too aggressive and that's natural for me. What she did was move the ball around and that set me up. She told me what to do, and I'll listen to the girls. It worked out."
So Newman talked a little more to his opponents, listened a bit more to his partner, and earned himself another final appearance, joining Todd on Championship Sunday at the Atlanta Open after a tight 8-11, 11-5, 11-1 victory over Catherine Parenteau and Tyson McGuffin.
Newman was hyper-aggressive, which can definitely be defined as his style, in the game one loss, but part of that could be attributed to the fact Newman was playing with a new partner. He played with Allyce Jones his last time out, falling in the mixed final in Charlotte. So, with Todd, things were sort of new.
"I did the classic-Instagram thing and sort of slid in the DMs," he said laughing, when asked how he and Todd had made the decision to team up. "Luckily, she was available."
"There were some shifts that moved around, and, ultimately, it worked out that I got to play with Riley," Todd said. "It's a lot of fun, and he's been playing so great." 
While Newman plays a heavy PPA schedule and is planning on missing just one tournament this season, Todd was playing in her second PPA Tour event of the year.
"Playing with Riley, there's pressure and expectations," she said. "This is only the second tournament I've played on PPA this year and there are a lot of things to overcome. But ultimately, it's really fun being out there."
Very fun for the pair, especially since she was able to get Newman to listen to her and find some serious chemistry together.
"We had a conversation after that first game," Todd said. "Riley said, 'What are we gonna do?' I said, 'Give me a little more space. Let me hit a few more.'"
It worked. Todd got freed up a bit, Newman played even better, and the pair, who came in as the No. 6 seed, will face the top-seeded team of Anna Leigh Waters and Ben Johns on Sunday.
Johns and Waters didn't play together last time out. Johns sat out the North Carolina Open and Waters paired with Jack Sock in the mixed doubles bracket, winning the title. Waters and Johns didn't lose a game in any of their matches Friday.
"The expectation is to be in Championship Sunday every time," Newman said. "The event doesn't matter. If I have a good partner, which I do, it's a disappointing day when I don't make Championship Sunday. Do I put a lot of pressure on myself, yes? That's just my expectation."
And that expectation sometimes leads to Newman trying to do too much. He realized that after the loss in the first game to McGuffin and Parenteau.
Todd expressed her satisfaction with their performance, going on to say. "He [Riley] played incredibly and I'm excited for Championship Sunday."