Koop Doubles Up With Twin Titles in Newport Beach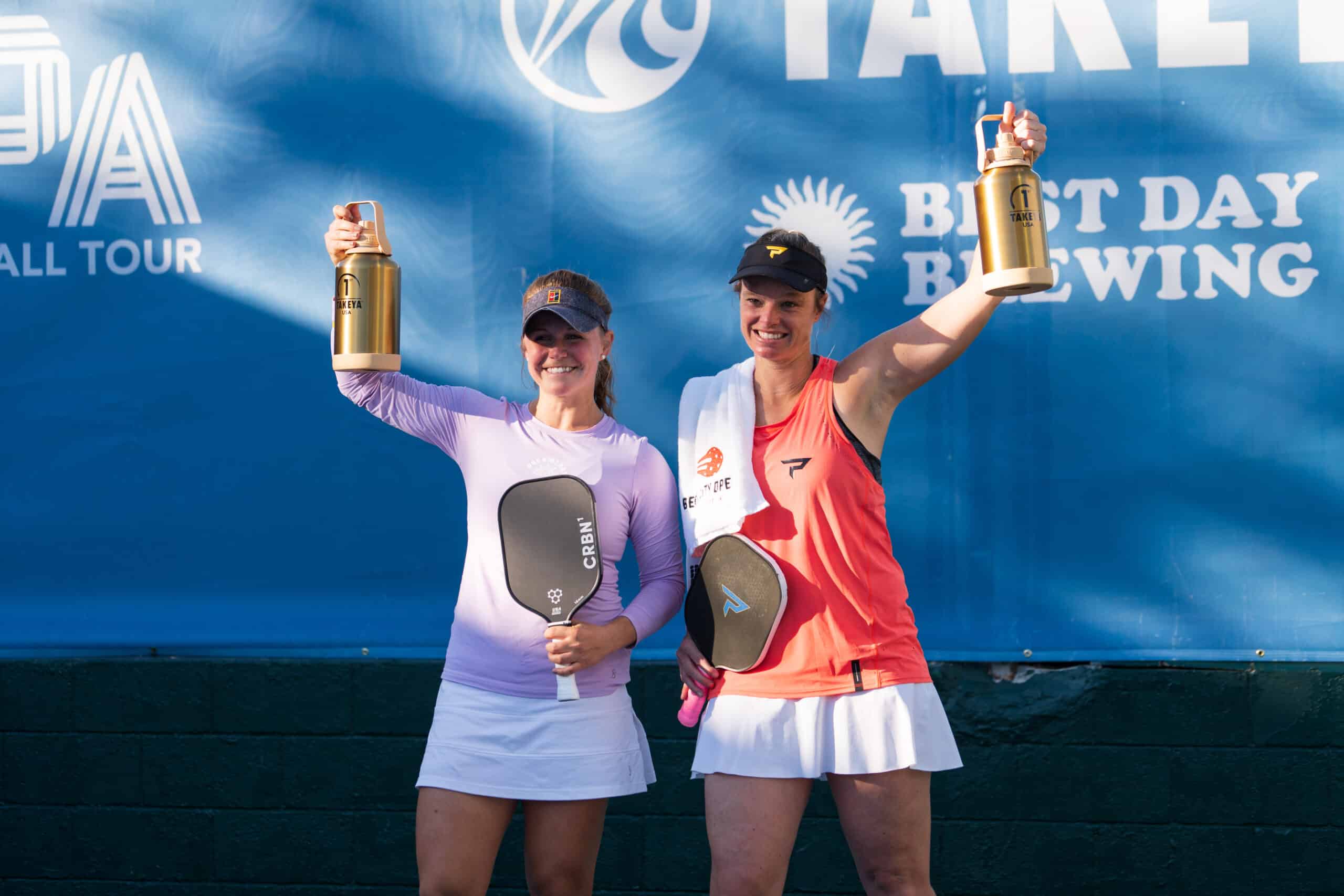 There were no Triple Crowns in play on Championship Sunday at the Takeya Showcase but there were a trio of players going for two titles.
And only one did it.
And it's not the player you think.
Matt Wright didn't get it done. He won the men's doubles final with Riley Newman but fell short in the mixed doubles final.
Ben Johns couldn't make it happen, either. He won the singles title, but lost to Wright and Newman in the men's final.
It was Andrea Koop, who only competes part-time on the Pro Tour, who converted on both of her finals. Bet you didn't see that one coming.
"We're going to celebrate with some margaritas tonight," she said with a big smile.
Koop won with partner Vivienne David in the women's final against Irina Tereschenko and Etta Wright and started the day with a mixed doubles win with partner AJ Koller over Lucy Kovalova and Matt Wright.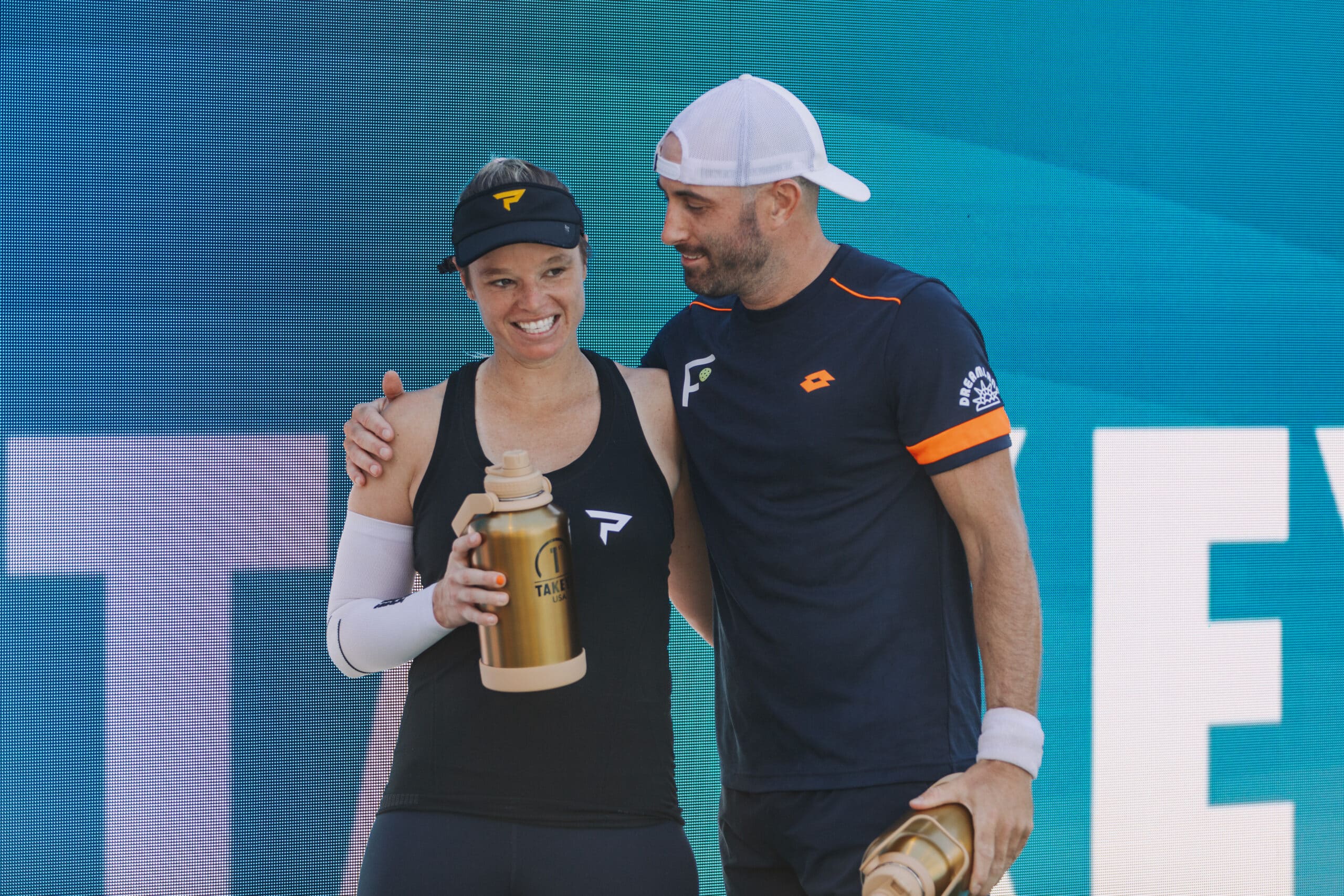 What a way for Koop to earn her first PPA title. Apparently she figured she might as well go ahead and make it a pair of titles on Sunday in Newport Beach, Calif.
"I don't know how it happened, it got ugly at the end, and a lot of these girls get a lot of praise, but let me tell you, Koopy has some game," said Koller after he and Koop beat Wright and Kovalova, 11-7, 11-6, 9-11, 11-9.
Koop and Koller teamed up for the first time and finished things off with a big hug and lots of smiles.
"We came in confident," Koller said. "I woke up this morning and it felt right. I knew it was our day."
The match had plenty of emotion, with Koller audibly commenting on Wright's request to get a cracked ball changed out and then jokingly demanding to check the new ball himself, which Koller chuckled about in his interview.
"You know, whatever you [Matt] wanna do," Koller said cryptically when asked to clarify his comments on-court. "It's not going to happen."
It didn't happen in that match for Wright, but it did for Koop, who marks her first mixed doubles title of the year with her win on Sunday.
"It feels good to get one," she said. "It feels like home here. I have some friends from UCLA [Koop's alma mater], and they came to cheer me on. I feel really fortunate to win in front of my family and friends."
Meanwhile, in the women's championship match, Koop and David held off two game points in game one and earned a narrow 13-11, 11-6, 8-11, 11-7 win against Tereschenko and Etta Wright.
"She's just super easy to play with," said David. "She was in beast mode, and I'm just there to support her."
Johns was getting plenty of support from the California crowd Sunday afternoon as he beat Tyson McGuffin, 11-1, 11-5. That makes Johns 7-1 against McGuffin in 2022 and gives Johns his ninth singles title of the year. McGuffin has three, including one two weeks ago in Texas when he beat Johns for the gold.
"I would guess we've played each other like 60-some times," Johns said. "Lots of wins and lots of losses. Always fun to play against him."
And how much fun was Catherine Parenteau having Sunday? She sported her well-known huge smile after a wild comeback in game three, taking the singles title over Salome Devidze, 8-11, 11-1, 11-8.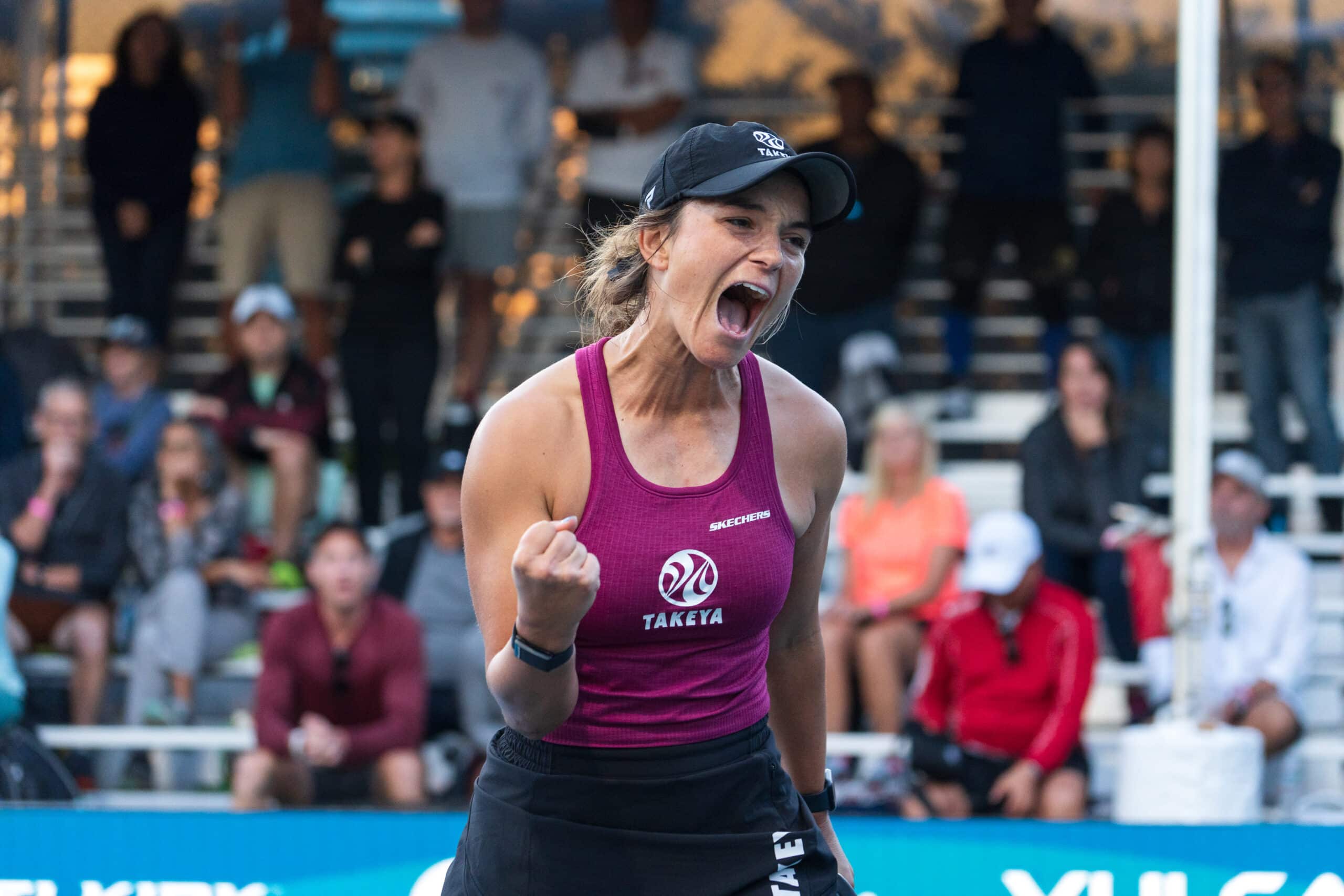 Parenteau was ahead 6-0 in game one, but lost the game when Devidze went on an 11-2 run to finish it out. However in game three, it was Parenteau who went down 6-0 to start and followed this up with a 11-2 run to take the championship.
"I'm so happy," Parenteau said. "I reminded myself the same thing happened Thursday when I was down 7-0 against Mary Brascia. Might as well just try and fight."
Johns and McGuffin are familiar foes in singles and so are Ben and Collin Johns and Matt Wright and Riley Newman. The two teams had met 11 times previously heading into Sunday's men's final.
The 12th meeting went to Newman and Matt Wright, who beat the Johns brothers, 6-11, 11-5, 11-7, 11-4.
The Johns brothers still lead the head-to-head competition this year 8-4, but Newman and Wright have made their match-ups a lot more competitive in recent months and seem to have discovered a formula for victory.
"I told Riley I was going to be ready, and I won't let him down," Matt Wright said. "It worked out well for us."